It may be a commonplace pantry staple, but don't underestimate its influence: honey, and its use in a controversial online trend, is making the rounds on TikTok, with related videos racking up over 1 billion views on the app.
As Newsweek reported on Tuesday, TikTokers have been making headlines for freezing containers of honey (usually in repurposed, disposable water bottles) until the condiment reaches a nearly-solid, gel-like consistency—at that point, the chewy, sickly-sweet substance resulting from the experiment is squeezed out of its container and tasted.
The trend has seen enormous popularity over the past month. As of August 10, the hashtag #FrozenHoney alone has amassed 856.9 million views. The related hashtags #frozenhoneychallenge and #frozenhoneytrend have been viewed 116.3 million and 209 million times, respectively—meaning that, in total, the number of views relating to the honey trend easily surpasses the 1 billion view mark.
As a result, individual creators on the platform are reaching massive audiences after uploading their own versions of the honey trend. Influencer @lalaleluu is one such TikToker, whose video racked up 7.4 million views at the time of writing. "Tastes like honey," she says in the clip. "It's very sweet. I don't think I can eat a lot more of this."
The sheer quantity of frozen honey videos is staggering. For example, TikToker @gcvlogstv, whose version has been viewed 5.7 million times, notes in his caption that he "[likes] how chewy it was."
Meanwhile,@eloisefoulladger dramatically pours out two entire squeeze bottles of honey for her clip, viewed 2.6 million times. In one particularly hilarious example, upon taking a bite of the frozen honey, TikToker @iamtoothlessandruthless dislodges her bottom dentures, thanks to the concoction's viscous texture. "So, that's a no," she laments afterwards.
The massive appeal for these clips appears to be twofold: watching the gelatinous rope of frozen honey get squeezed out of its container is undeniably satisfying—and the varying reactions of TikTokers, which range from absolute disgust to glee, are equally compelling. Says TikToker @londonbruncher in her version of the trend: "It's refreshing, chewy, and completely addictive."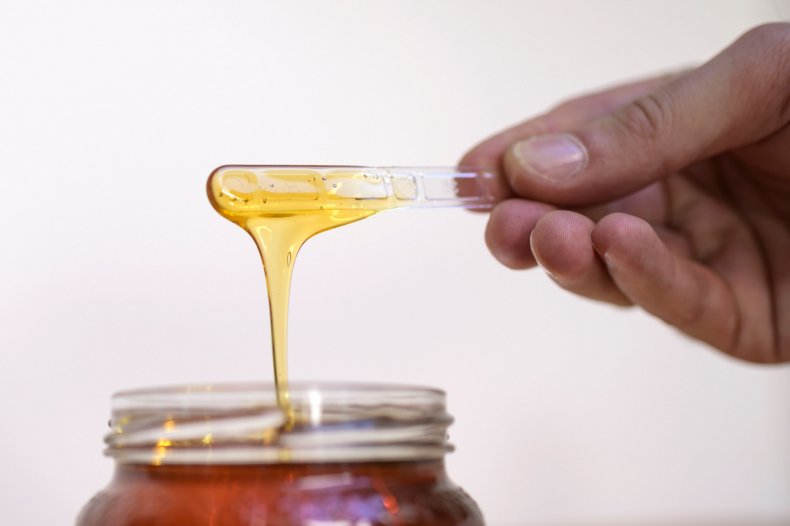 According to The New York Times, the seemingly random trend began with Dave Ramirez, known to his 5.5 million followers as @daveyrz. His first frozen honey clip, which dates the fad back to at least July 9, has since been viewed 10.8 million times.
In the following weeks, the trend has evolved, taking on new life as TikTokers experiment with freezing honey (or corn syrup) mixed with anything and everything—some highlights include, boba, Nerds candies, Kool-Aid, and Nutella.
Despite the trend's enduring popularity, experts advise against partaking. Raw honey can be a source of botulism, caused by a bacteria that freezing does not kill off. Furthermore, ingesting excess honey can lead to stomach aches, tooth decay, and blood sugar spikes.