Latin American Unity Remains a Pipe Dream | Opinion
It's been nearly two centuries since South American independence hero Simón Bolívar convened the Congress of Panama in an attempt to bring Latin America closer together. But, as last month's summit of the Community of Latin American and Caribbean States (CELAC) demonstrated, Latin America remains as divided as ever.
Conceived in 2011 in Caracas at the urging of then-Venezuelan president Hugo Chávez and Cuba's Castro brothers, CELAC's ostensible purpose was to create a unified Latin American bloc that would resist U.S. influence and counterbalance the Organization of American States (OAS), which Chavez and the Castros saw as an instrument of gringo imperialism. In all, 32 countries belong to the organization. (Canada, like the United States, is excluded.)
It's no exaggeration to characterize the CELAC meeting, held in Mexico City, as a farce, worthy of the legendary Mexican comedian Cantinflas. And I'm not just referring to the antics of Peruvian president Pedro Castillo, who refused throughout the meeting to remove his sombrero. The entire summit could have been a Cantinflas comedy!
Mexican president Andrés Manuel López Obrador, host of the meeting, set the tone by declaring it was time for CELAC to replace the OAS. But, as somebody should have explained to the Mexican president, there are several problems with this slapstick idea—not the least of which is the fact that Brazil, the region's most powerful country, quit CELAC last year, stating that it's unacceptable for a regional organization supposedly seeking unity to have three dictatorships (Cuba, Nicaragua and Venezuela) playing prominent roles.
You could argue that Brazil's refusal to participate in CELAC's witches' Sabbath was predictable, given Brazilian president Jair Bolsonaro's conservative politics. But he was not the summit's only absentee. Chile's and Colombia's center-right leaders, Sebastián Piñera and Iván Duque, also stayed away. Both have been highly critical of Venezuela, which continues to meddle in their internal affairs (particularly in Colombia).
Also missing was Argentina's left-leaning president, Alberto Fernández, who stayed home to deal with his country's economic and public health crises, efforts in which U.S. assistance has been very helpful.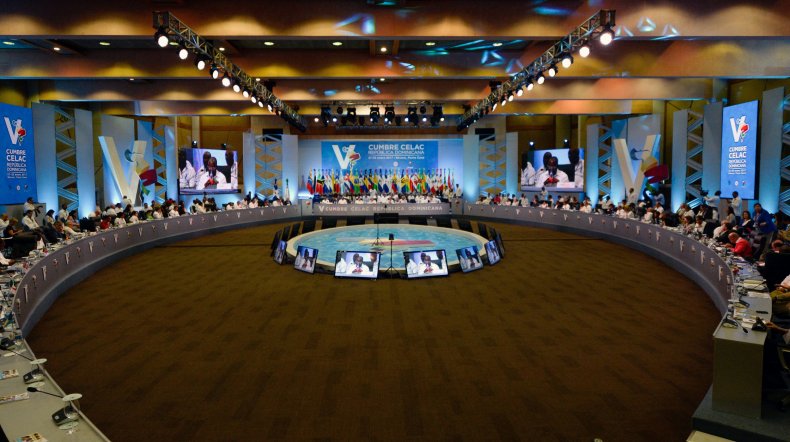 And then there is the host country itself. Let's state the obvious: until recently, Mexico's government, which is generally aligned with the region's bad guys, has been acting as the U.S. government's unofficial border patrol agency, preventing countless Central Americans (and others) from reaching the U.S. southern border. To make matters even more interesting, after all the demagoguery President López Obrador displayed at CELAC, his foreign minister, Marcelo Ebrard, politely tiptoed around a proposal by the leftists at the summit to make Mexico CELAC's permanent headquarters. Am I alone in envisioning the Three Wise Monkeys: "see no evil; hear no evil; speak no evil?"
But all that can be characterized as mostly theater. The main obstacle to Latin American unity is the fact that the region remains sharply divided ideologically.
Even without Brazilian, Chilean or Colombian leaders in attendance, the leftists were by no means the only voices to be heard in Mexico City. In fact, three presidents—Uruguay's Luis Lacalle Pou, Paraguay's Mario Abdo and Ecuador's Guillermo Lasso—openly criticized the region's leftist dictators (the main supporters of CELAC).
To be sure, the region's politics would be much less interesting without these huff-and-puff summits with their customary grandstanding and squabbles.
But the sad story is that since 1826, when Bolivar's Congress of Panama failed to produce unity, the nations of Latin America have remained divided on the principles and practices that would make integration a realistic possibility. And without a basic consensus on human rights, democratic pluralism, rule of law, international trade and other key issues, nothing remotely resembling the European Economic Community (the European Union's predecessor)—which López Obrador cited as a possible model for Latin America—will ever be possible.
It remains a pipedream—or as Cantinflas might have it, a joke.
Álvaro Vargas Llosa is a Senior Fellow of the Independent Institute, Oakland, Calif. His latest book is Global Crossings: Immigration, Civilization and America.
The views expressed in this article are the writer's own.