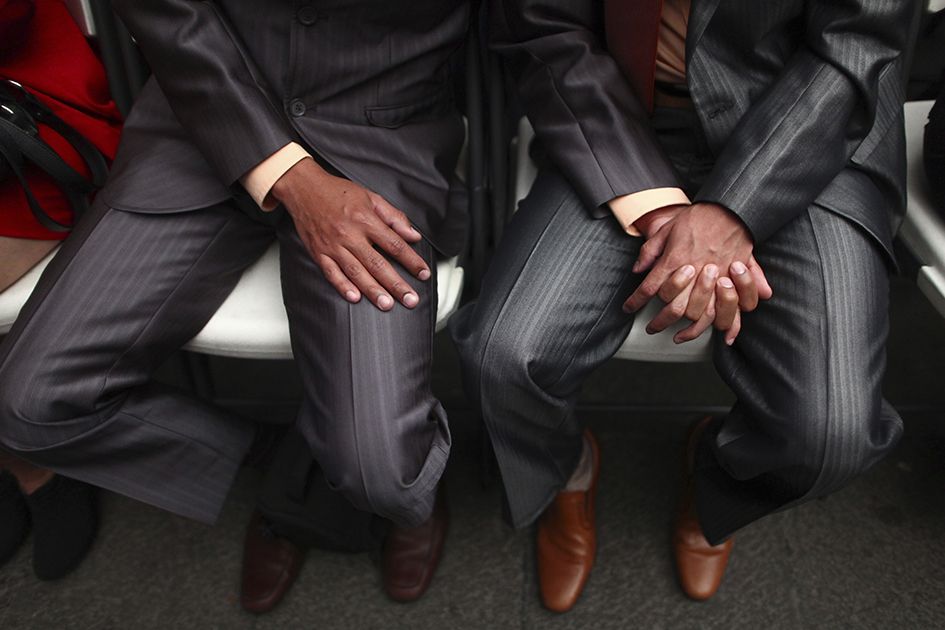 "Dad, I'm gay." The words stumbled out, finally unstuck from my mouth where they had been lodged for the last seven hours of the road trip. Dad immediately, instinctively, drove off the road down a dirt track. In the ensuing confusion of righting us, the announcement was not mentioned. For three days I held my breath while nothing was said, waiting for the anger and disappointment.
With its mixture of machismo, conservative family values and ardent Catholicism, the Latino community might seem like an ideal environment for a festering homophobia. Coming out to my Mexican dad was hard because that was the ideology he grew up in, and that was the culture I imagined he understood.
Yet increasingly it is becoming quite the opposite: Latinos are among the most progressive and supportive of LGBT rights in America and across Latin America. A 2013 Public Religion Research Institute study found that 55 percent of Hispanics supported same-sex marriage, in contrast to 53 percent in the general population. This represents a significant change in attitudes towards LGBT rights: In 2006, according to the Pew Research Center, 56 percent of Latinos were opposed to same-sex marriage.
The change has been a long time coming. When Celso Cardenas from the Association of Latinos/as Motivating Action (ALMA) was growing up in a Mexican family in Chicago, "sexual identity and cultural identity seemed to be at odds with one another."
Catholic values have often been an important obstacle for many gay Latinos to overcome, but that's changing. According to a report from Trinity College based on an American Religious Identification Survey, the number of U.S. Latinos who claim no religion rose from less than a million, or 6 percent of the Latino population, in 1990 to nearly 4 million, or 12 percent, in 2008. According to a Pew Research Center study, support for marriage equality is at 78 percent among nonreligious Latinos.
Even among the religious, there's been a shift. According to the same Pew study, among Latinos who identify as Catholic, 54 percent support same-sex marriage. And despite resistance among evangelical Latinos when President Barack Obama endorsed gay marriage in 2012, a number of Latinos in that community voiced their support, including Baptist minister Dr. Miguel de la Torre, president of the Society of Christian Ethics. "As a heterosexual minister of the gospel of Jesus Christ, I commend the president in taking a first step toward marriage equality," he said.
Changing demographics are helping. In 2008, 43 percent of 18- to 29-year-olds identified as nonreligious. In the Pew survey, 68 percent of that age group supported marriage equality. When you consider that the median age of Latinos in the United States is 27, it becomes apparent that there is a swelling section of the population that supports LGBT rights.
There is also a growing trend in Latin America that has affected Latinos in the United States. Gay marriage is legal in Argentina, Brazil and Mexico City; Uruguay allows civil unions and same-sex adoptions. Anti-discrimination laws are far more pervasive in the region than they are in the United States.
Undoubtedly, the American LGBT movement and the portrayals of LGBT characters in mainstream media have affected the region's progress. However, as professor Omar Encarnación argues in his forthcoming book,Latin America's Gay Rights Revolution, the idea of gay rights in Latin America as solely a byproduct of the U.S. movement is a misguided and simplistic notion.
Rather, Encarnación suggests, there are indigenous "social and political factors that have made Latin America very receptive to gay rights." These include a deepening of democratization, a waning of religious devotion and the rise of what professor Elisabeth Jay Friedman, director of Latin American studies at the University of San Francisco, calls "savvy social mobilization." She says following the end of dictatorial rule across the region, activists used an existing human rights framework to promote the rights of the LGBT community.
The ALMA's Cardenas says one of the things that make Latino culture unique in the U.S. is the ability to "retain our culture and stay connected to our home country." As such, "the political and social climate of our country is certainly going to influence how we think and perceive certain issues." So a thriving gay scene in Mexico City translates into greater acceptance for LGBT Latinos in the United States.
Monica Trasandes, GLAAD's Spanish-language media director, says there has been a much higher level of coverage in U.S. Spanish-language news and current affairs on LGBT issues. Moreover, the nature of this coverage has evolved "from being this controversial issue to being something more personal in a way that didn't treat the LGBT community as 'the other' but as part of the culture—these are LGBT Latinos."
There have been more LGBT contestants on reality TV programs like Nuestra Belleza Latina and Mira Quien Baila and central characters on telenovelas like ¿Donde Esta Elisa? On English-language programming, LGBT Latino characters like Santana Lopez on Glee and Sara Ramirez's character on Grey's Anatomy have become the norm.
Latino gay celebrities and LGBT allies are also having an influence. Trasandes emphasizes the significance of Ricky Martin, whose coming out was "incredibly important" for the LGBT Latino community. This year GLAAD recognized Jennifer Lopez with a Vanguard Award for her role in producing The Fosters: in her acceptance speech, Lopez highlighted the importance of "spreading the message of love and acceptance in English and en Español. El amor es el amor."
There's still progress to be made: LGBT Latinos made up just 4 percent of LGBT characters on U.S. broadcast television last year. And Trasandes says that particularly in comedy, "there is an attitude that the only way to write a funny LGB or T character is to use a really broad stereotype and make that person the butt of the joke."
Still, Cardenas says, the power of visibility cannot be underestimated. "My parents were born in a small little town in Mexico, they didn't have television, they barely had radio—they lived in this little bubble. Being able to have that exposure makes it so they can start thinking and processing."
Increasingly too, values that might seem diametrically opposed to LGBT issues can evolve. For Andres Duque, from the Queens Pride House in New York City, traditional family values are becoming a positive force, as Latino families are more and more likely to fiercely embrace their LGBT youth. "In Latino culture blood is thicker than water," he says.
Heriberto Sanchez-Soto, executive director at New York's Latino Pride Center, says that in his work with LGBT Latino youth there has been a significant change in family attitudes, "Ten years ago 99 percent of parents were totally disengaged. Now I'd say probably 60 percent are involved on some level."
For me, the conversation did come. Three days later, after my dad had had time to process things, we took another drive, and this time there was no veering off track. I had to explain a lot, and to this day there are still questions. But the conversation always ends with "Hijo, I love you, I'm proud of you no matter what."
Oscar Lopez is a writer for Latin Times. To see more of his coverage on LGBT progress and other issues in the Latino community, click here or follow him on Twitter @oscargibson