Latino Dems Who Beat Swing State Election Deniers Will Run 2024 Elections
When two Latino Democrats won their respective races for secretary of state in Nevada and Arizona, defeating election-denying opponents in the 2022 midterms, it showed that voters could reject that brand of politics. Similar defeats of election deniers around the country served to relieve some of the anxiety around the possibility of compromised elections in 2024 battleground states.
But newly elected Nevada Secretary of State Cisco Aguilar and Arizona Secretary of State Adrian Fontes both say that the fight to protect the integrity of fair elections has just begun.
Fontes told Newsweek that the problem isn't that elections are exhausting and endless, it's that "fascism manifested in denialism is exhausting and endless."
He added that the administration of elections is just fine, save for the "insidious industry of grievance" around elections that has emerged as a "profit center" for malcontents who "can just keep complaining and making money" around false election claims.
The position of secretary of state has always been an important cog in administering elections, but the spotlight on that job increased considerably after the controversy and potential legal action stemming from then-President Donald Trump's phone call to Georgia Secretary of State Brad Raffensperger in which he pressured him to overturn the 2020 election results in his state and flip the presidential election in Trump's favor.
The election denial movement produced Republican opponents for Fontes and Aguilar in November who campaigned on the the Big Lie that Trump had won the 2020 election and fanned baseless voter fraud claims.
Aguilar in his victory speech in November said that "American democracy hinged on this outcome."
"Nevada is going to determine who the president is in 2024," he said at that time, "and my victory means that we will have elections we can trust."
His singular focus now is based on an understanding that elections are about people, and in an interview with Newsweek called "taking care of people" a central theme of the early weeks of his term.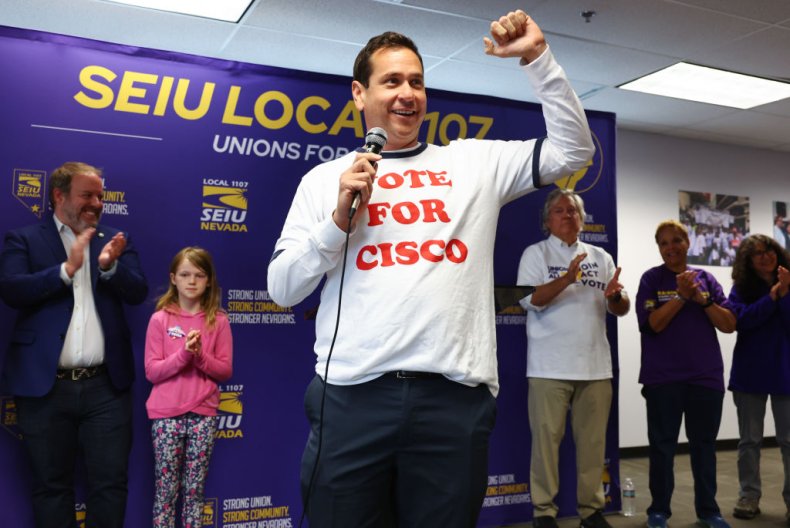 Aguilar is looking to increase the pay of state workers, and has proposed an election procedure manual as well as new training every two years for city and county clerks after the turnover of more than half of Nevada's county election officials since 2020.
One of his signature goals is a bill making it a felony to harass and threaten election workers, who have been increasingly at the center of wild conspiracy theories that could put these workers in danger.
Aguilar served on the Nevada athletic commission and is a lawyer by trade, as is Fontes. He calls Andre Agassi an inspiration, as someone who achieved success but gave back to Nevada. He also participated in a grueling ironman race to prepare for the the campaign.
The two men know each other, having both grown up in Arizona in "typical Mexican families." There's even a family connection, as Aguilar's mother told him her cousin is married to a cousin of Fontes' father.
"The fact that we were sane and reasonable and civilized has a lot more to do with our wins than being Latino," the straight-shooting Fontes said. He described Aguilar as an attorney with many years of practice and "a smart business guy" with a similar profile to his.
"Outside of ethnicity, what we represented was non-chaos, normalcy, and an open for business kind of approach, even though we're both Democrats," Fontes added. "As I tell the Chamber of Commerce, we can't do warm and fuzzy Democratic projects unless we have a strong economy to back them up."
Fontes argues the economy is served by sensible election leaders like them, and the cowboy boot-wearing Marine Corps veteran and mariachi performer says that his priorities begin with creating a big tent for people involved in the conversation around election administration, including "talking with all sides of the political aisle."
It's not just talk, however.
Fontes held court at an early February event attended by 120 people along with Maricopa County Recorder Stephen Richer, a Republican, to debate and discuss election administration in Arizona. Why was this noteworthy? Richer had beaten Fontes for that seat in 2020, in a heated race Politico dubbed "a bitter, acrimonious election."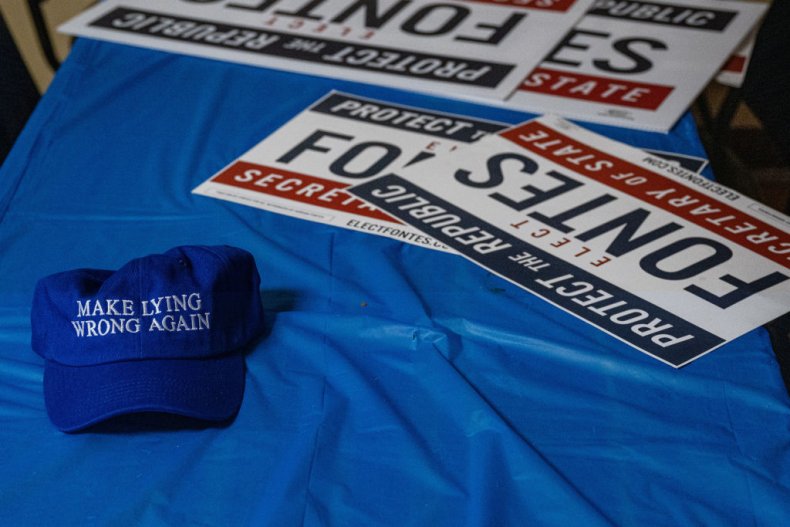 Looking forward, Fontes believes the fight for fair elections must go beyond Democrats, and he proposes that Republican donors, some of whom backed him during the campaign because he promised a safer climate for business interests due to well-managed elections, will have a key role to play moving forward.
While he said that GOP donors have many options, he stressed there is "soul-searching on whether they will choose profit over country."
Republicans are usually seen as more business friendly, but "fascism is really bad for business," he argued. His message is that their bottom line is served by people who know how to run elections and happen to have massive state budgets, which leads to "job building spaces, roads, bridges, dams, and infrastructure."
For both men, fulfilling their agendas is also a game of compromise in swing states where members of both parties must work together or face gridlock.
For his part, Aguilar has a Democratic state legislature, but must contend with newly elected Republican governor Joe Lombardo, who defeated incumbent Steve Sisolak in a tight race.
Aguilar, who called Lombardo to congratulate him on his win, says he sat down with the governor for an hour and a half to talk about each other's priorities. While he acknowledged there are parts of his agenda Lombardo doesn't agree with, he said they are aligned on supporting state workers. There, he said, Lombardo is doing a "great job."
"Supporting workers is where we do agree," Aguilar said. "As the former sheriff of Clark County he understands that election workers should be able to do their work in a safe environment."
Looking ahead to the 2024 election, Aguilar believes the implementation of the Voter Registration & Elections Management Solution (VREMS), a $30 million centralized database to collect and store voter information that voters can log into to see the status of their ballot, will mark success in his role.
"A voter can sign in and track their ballot like when you order a pizza on Postmates," Aguilar said of the system he'd like to see implemented by June 2024. "A voter should know where their ballot is."
Fontes added that the average citizen doesn't realize how far ahead the state has to plan to make sure elections go off without a hitch, citing the "urgency" his office is operating with now.
With a March 19 primary on tap for his state and 27 days of early voting, that means ballots will have been in the hands of voters for a couple weeks at this point next year, he said. Success a year from now relies on things like hiring and training people right now.
In these high-profile roles and with the nature of politics, there is of course the chance that Aguilar or Fontes could use their time supervising elections in key battleground states to move up to seek major positions in the future in their states, where they can still work towards election integrity.
Asked about the possibility, Fontes, who enjoys a good fight, offered something of the standard demure political answer—with a twist.
"We have a hell of a fight coming now in 2024 against the forces of anti-American denialism," he said. "I won't be making decisions about my own political future, at the earliest, until December 2024."