Latino Voters for Biden on Horseback in Nevada Go Viral: 'This Is My America'
Videos posted across social media showing Latino voters on horseback in Nevada, showing their support for Democratic presidential candidate Joe Biden, went viral over the weekend.
Several photos and videos were posted to Twitter by Biden's Nevada press secretary Adrian Eng-Gastelum.
In one of Eng-Gastelum's videos, re-posted by Twitter user Rex Chapman, hundreds of Latino voters can be seen riding horses through the streets holding flags in support of Biden and his running mate, California Senator Kamala Harris.
"Nevada: Biden voters. Latinos. On horseback. In style. This is my America…" Chapman wrote as a caption to the video.
In this video, following behind the group in horseback another Latino supporter is seen riding in his pick-up truck with several Biden flags flying in the back.
"Biden baby! Come out and vote. Make sure your voice must be heard so come out and vote for Biden, baby," the man in the pickup truck says to the camera. "Let's make it happen."
Hundreds of others supporters, who decided to steer away from riding on a horse, are seen following behind in their cars, beeping and yelling to show their support for the former vice president.
In another video posted to Twitter by Eng-Gastelum, the supporters on horseback can be seen again as well as others in cars following behind.
"Nevada Latinos for Biden Cabalgata to the polls! Vote early, vote for your community, vote Biden-Harris," Eng-Gastelum wrote as a caption.
The show of support from the Latino voters in Nevada come as several polls show the former vice president leading President Donald Trump in the state.
In one poll, conducted by the Las Vegas Review-Journal, 44 percent of 512 likely voters in Nevada said they'd vote for Biden, while 42 percent sided with Trump.
Among those who identified as Hispanic, 41 percent said they'd vote for Biden, compared with 28 percent who said Trump.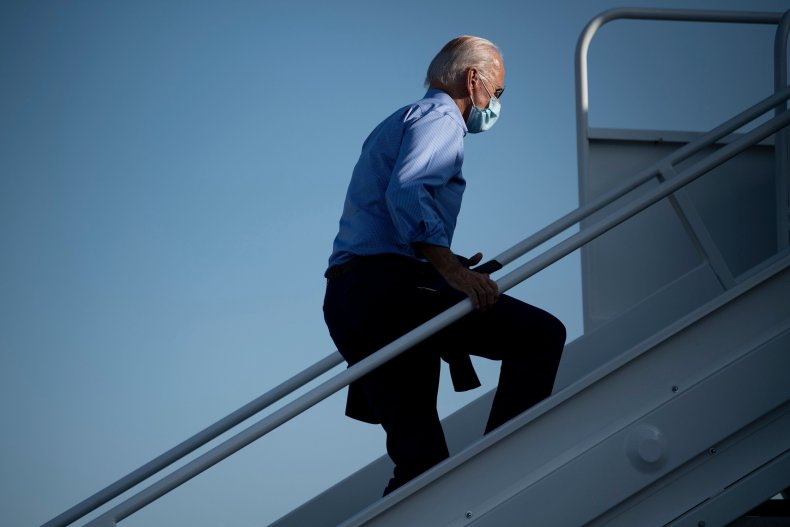 This poll was conducted from October 7 to October 11 and reported a margin of error of plus or minus 4.4 percentage points.
Another poll, conducted by CBS News/YouGov, found Biden with a larger lead among likely voters, as 49 percent said they'd vote for him, while 43 percent said Trump.
Across different racial demographics, the poll found Biden more support from Hispanic voters in Nevada, while Trump led among white voters. According to the poll, 65 percent of Hispanic voters in Nevada said they'd vote for Biden, while 32 percent chose Trump.
This poll surveyed 1,052 registered voters in Nevada from October 6 to October 9 and reported a margin of error of plus or minus 4.1 percentage points.
Newsweek reached out to Eng-Gastelum and Biden's campaign for comment but did not receive a response in time for publication.