With Election Day just a few weeks away, a new Pew Research Center report shows registered Latino voters in the U.S. are expressing growing confidence in Democratic presidential nominee Joe Biden's ability to handle key issues like the coronavirus pandemic, foreign policy and division within the country.
On the other hand, the report also indicates Latino views on President Donald Trump's handling of key issues have remained largely negative since June.
Roughly two-thirds of Latino registered voters say they are confident that Biden can successfully address five key issues pollsters asked about this month: handling the public health impact of the coronavirus, bringing the country closer together, making good decisions on foreign policy, effectively handling law enforcement and criminal justice issues, and making good decisions about economic policy.
The confidence in Biden has increased steadily in all five issues since June, according to Pew, with the largest increase being 15 percentage points for the ability to bring the country closer together, increasing from 55 percent confidence in June to 70 percent in October. Those who were confident in Biden's handling of the coronavirus pandemic, which has disproportionately impacted Latinos and other minority groups in the U.S., increased from 62 percent to 71 percent.
In a survey conducted last month, the center found that the economy, health care and the coronavirus outbreak were the three most important issues among Latino voters when deciding who to vote for president.
The report mentions that registered voters overall also show growing confidence in Biden tackling these same issues, but the confidence rating was lower and the increase more modest than among Latino voters.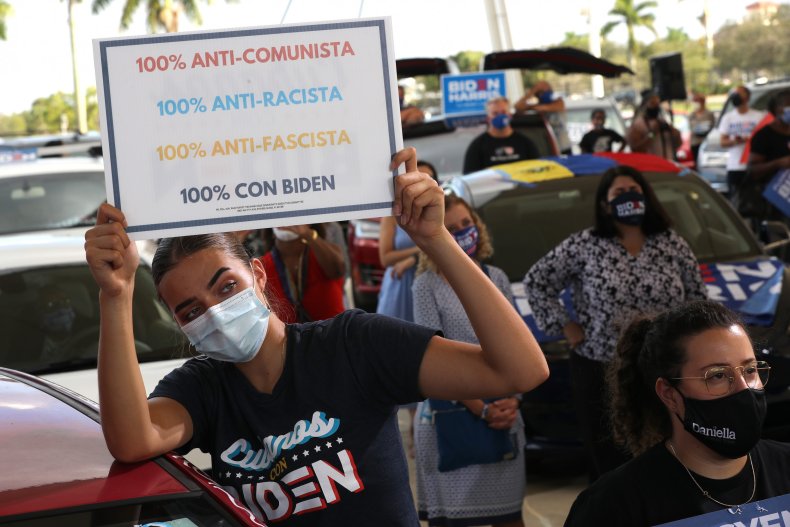 Fewer than half of the Latino voters surveyed said they are somewhat or very confident that Trump can handle the five issues, with only 29 percent stating that they are confident that the president can handle the impact of the coronavirus outbreak. Forty-four percent of Latino voters are confident that Trump can make good decisions about economic policy—down three percentage points since June—and only 20 percent are confident that he can bring the country closer together, an eight percentage point drop.
Notably, Latino voters' confidence that Trump can effectively handle law enforcement and criminal justice issues increased by two percentage points, 34 percent vs. 36 percent.
A record 32 million Latinos are projected to be eligible to vote in the upcoming election, which exceeds the number of Black eligible voters for the first time. In the key state of Florida, about 2.4 million eligible Latinos are registered to vote, making up a record 17% of registered voters in the state.
Although there has been a spike in Latino voter turnout, which has historically lagged, in recent years, the group made up only about 8% of all voters in 2018 compared to 10% in 2016, according to the research center.
Among all Latino registered voters, 63 percent say they will vote or lean more towards voting for Biden if the election were held today, compared to 29 percent for Trump.
The nine battleground states—Arizona, Florida, Georgia, Iowa, Michigan, North Carolina, Ohio, Pennsylvania and Wisconsin—have a total of over 6.3 million eligible Latino voters (not all of whom are registered.). Florida, with 3.1 million eligible Latino voters, accounts for about half of that total. Biden holds a narrower lead in these battleground states, 54 percent vs. 37 percent, reflecting the large population of Cubans in Florida who tend to lean more Republican compared to the nationwide Latino vote.