More Latinos in El Paso Enroll in Concealed Carry Gun Class After Mass Shootings, Store Says
The mass shooting in El Paso last weekend has prompted more Latino residents there to sign up for classes to get certified for carrying a concealed gun.
Gun Central, one of the biggest gun stores in El Paso, had more than 50 people attend a gun class on Saturday and about the same number on Sunday, and most were Latino.
"I normally have approximately seven," Gun Central's general manager Michael McIntyre told the Associated Press about attendance for the class.
"We actually had two people buy guns here who were actually in the Walmart on the day of the shooting," McIntyre said. "The other people are just saying, 'Hey, you know I want to be able to protect myself in the event of something going on.'"
Gun Central had twice as many gun sales the week after the August 3 shooting at a Walmart that killed 22 people in the predominately Latino border city. McIntyre said the store did not experience such a spike in gun sales following other mass shootings in Texas, including the Sutherland Springs church massacre in 2017 and the Santa Fe High School massacre in 2018.
"This is not the last mass shooting we're going to see," McIntyre said.
Among Latinos who attended a class at Gun Central was Guadalupe Sergovia, 35, who went with her two children and has a husband in the military who had been telling her to get a concealed-carry license, which allows someone to hold a gun in public under clothing or in a purse.
"I'm still going to be scared, even carrying a weapon," Sergovia told AP, adding that she wants her sisters to take the class as well.
"I've already told them, 'Let's go practice. Let's go practice,'" Sergovia said. "It's not just this one time that we have to keep coming to ranges and so you can feel familiarized with a weapon and be OK with it."
Sergovia said she wants gun laws to be reformed to make it more difficult for young people to obtain firearms.
"I think weapons should be a privilege and for safety, not to go and kill people," she said.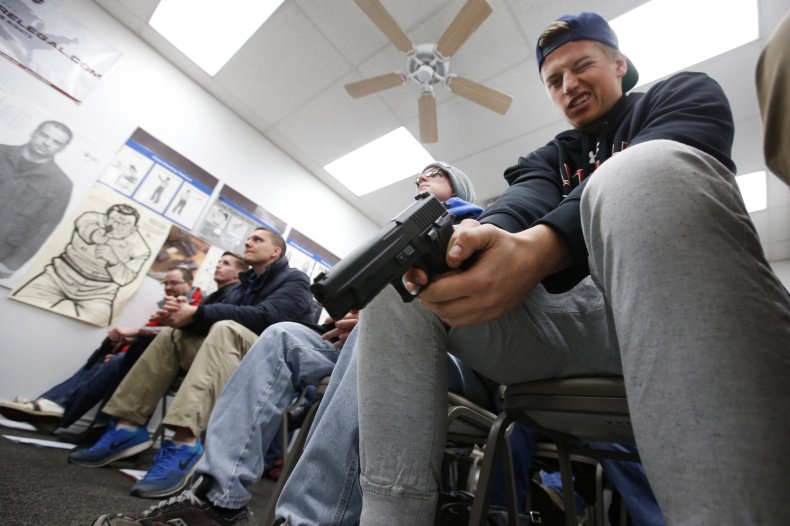 The alleged El Paso shooter, Patrick Crusius, is 21 years old and is believed to have penned an anti-immigrant document with racist and white nationalist views. El Paso police believe that Crusius targeted Latinos.
At the Gun Central class, students are told to run in the event of a mass shooting, before trying to shoot a gun.
"One out of a hundred is a fire, the other 99 will run off," McIntyre said, explaining that only 1 percent of people fire back.
Amid a national debate about gun control, Texas Governor Greg Abbot recently signed nine bills that loosen gun regulations in the state. All the bills were pushed by the National Rifle Association.