Latinx Cake Makers Have Been on Strike for Weeks as They Seek $1 Raise, Better Conditions
Bakery workers in California have been on strike for over a month as they demand improved wages and better working conditions.
More than 100 members of the Bakery, Confectionery, Tobacco Workers and Grain Millers (BCTGM) Local 37 in Sante Fe Springs joined the picket line on November 3. The workers, who are primarily immigrant women, make products and decorate cakes under the Jon Donaire Desserts brand for Rich Products.
The cakes are sold at Baskin-Robbins, Safeway, Walmart and other stores.
"We worked all the way through the pandemic because we like our jobs and we are here to do a good job," Julissa Marquez, a shop steward, said in a statement posted to the union's website. "We make ice cream cakes that are sold worldwide. We want a one-dollar raise. That is all we're asking for. Just a fair wage and a contract."
Workers on strike told the media organization More Perfect Union that they're forced to work long past their eight-hour shifts, often with little notice. They also said the speed of production has ramped up significantly, and they're now making 13 cakes a minute.
"These conveyors have gone up excruciatingly fast," one woman said. Another said she had experienced "fingers hurting, with crampy fingers, arthritis, and back pains."
Women interviewed by More Perfect Union described the difficulty in getting days off approved, even in circumstances where employees need to go for cancer treatment. BCTGM said in a Twitter post that the women get only three sick days per year.
A GoFundMe created to support the workers on strike had raised more than $18,000 at the time of this writing. The page has a goal of $30,000.
"Please help support striking workers at the Jon Donaire plant in Santa Fe Springs. CA, mostly immigrant women that have been on strike for over 45 days," the page reads. "They are fighting for a decent living wage to provide a better life for their families and to be treated with respect."
Newsweek reached out to BCTGM and Rich Products for comment on the strike in Sante Fe Springs but didn't receive a response before publication.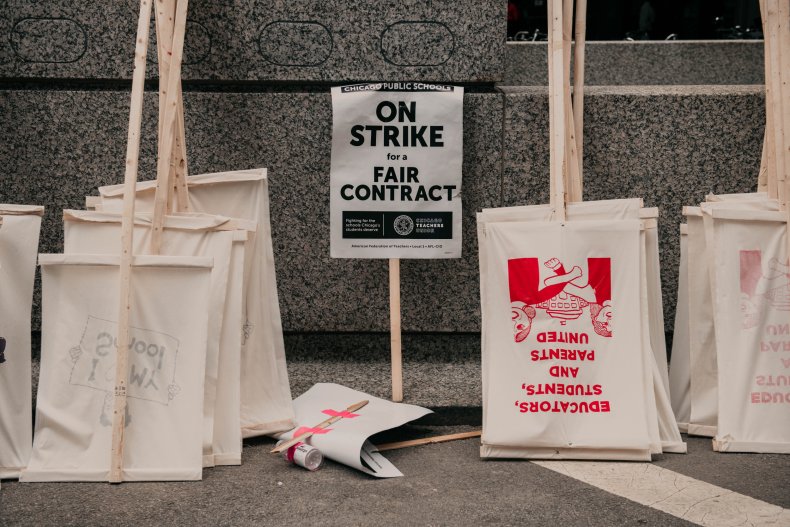 BCTGM is also the union behind the Kellogg strike that began in early October. More than a thousand workers in cereal plants across the country, including Tennessee, Michigan and Pennsylvania, have been demanding better living wages and working conditions.
A tentative deal was offered earlier this month but ultimately rejected by employees, forcing the strike to continue.
President Joe Biden released a statement last week condemning Kellogg's plan to hire permanent replacement workers.
"Permanently replacing striking workers is an existential attack on the union and its members' jobs and livelihoods. I have long opposed permanent striker replacements, and I strongly support legislation that would ban that practice," he said.