The debate surrounding the term "Latinx" has resurfaced on social media after Republican Mayra Flores flipped a House district in Texas in a special election Tuesday.
Flores won a seat in Texas' 34th Congressional District from her Democratic challenger, former Cameron County commissioner Dan Sanchez, becoming the first Latina Republican from Texas in Congress.
Flores has worked as a health care worker and previously praised her husband for being a Border Patrol agent in campaign ads. She was the leading candidate in polls ahead of the election.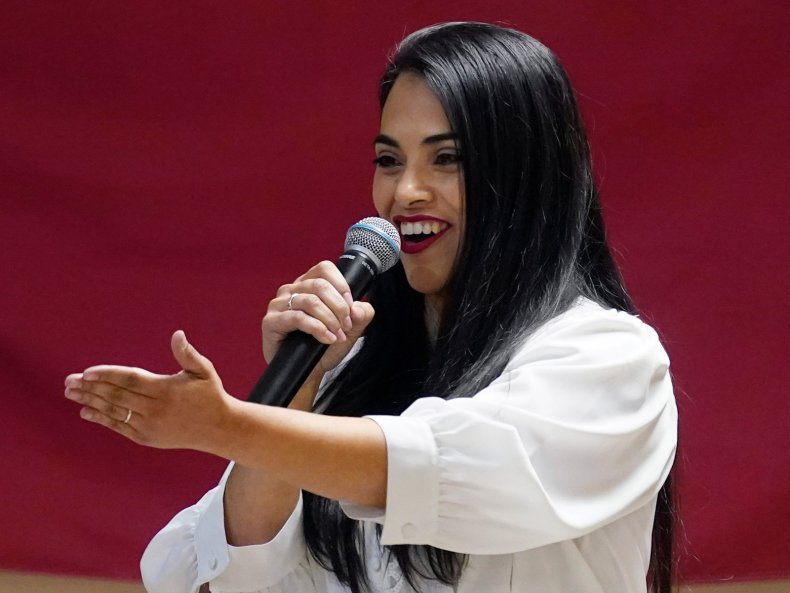 Shortly after her victory, the argument against the term "Latinx" began to surface once again.
"Latinx" was adopted in recent years as an alternative to gendered Spanish words, as feminine nouns typically end with the letter 'a' while masculine words end in 'o.' The word was used by gender non-conforming individuals, as well as politicians and activists who have worked to reach Hispanic voters with a more inclusive option.
However, the term has been widely debated. In a nationwide survey from December 2021, 40 percent of Hispanic voters said they found the term bothersome or offensive, and only 2 percent said they refer to themselves as Latinx.
With Flores' recent win, the debate sparked once again. CPAC host Mercedes Schlapp wrote on Twitter: "I'm shocked that Democrats are losing majority Hispanic districts in South Texas after destroying our border, attacking our traditional Christian values, and trying their best to make Latinx a thing."
Breitbart reporter Alana Mastrangelo tweeted: "Dems are crazy for thinking they could hold onto Hispanic voters forever. Hispanics and Latin Americans are religious, family oriented, hardworking, loathe communism, and don't like being called 'Latinx.' They're everything Democrats aren't, and they're starting to realize that."
Other users alleged that Flores' win on Tuesday was "proof Democrats using the word Latinx has a negative effect for them in elections," according to a tweeter.
Meanwhile, billionaire and Tesla CEO Elon Musk sparked a debate of his own after tweeting that he backed Flores, adding it was the "first time I ever voted Republican. Massive red wave in 2022."
Then New York Democratic Congressman Jamaal Bowman responded: "Elon Musk is not a leader. He's just another Republican billionaire who supports white supremacy and authoritarianism because he doesn't want his workers to unionize or to pay his fair share in taxes."
But others reacted to Bowman's tweet, with one user writing: "'Voting for a Latina is white supremacy' is exactly the message you should continue to run on going into November."
Newsweek reached out to Flores for additional comment.