Laughter as Cat Dad Makes Matching 'Battle Vest' for Pet Persian
A dedicated cat dad who made a matching outfit for his pet has left Facebook users in stitches.
Travis, 31, recently decided to make himself a "battle vest" by cutting the arms off a denim jacket. Instead of wasting the leftover material, he used the sleeves to make a matching vest for Mamie, his pet Persian.
The end result was posted to the THIS CAT IS G R O M P Y group on January 13 by Travis's wife, Kayla. Fellow cat-lovers couldn't get enough of the duo and their coordinating attire, with the post receiving over 7,000 likes and more than 8,000 comments.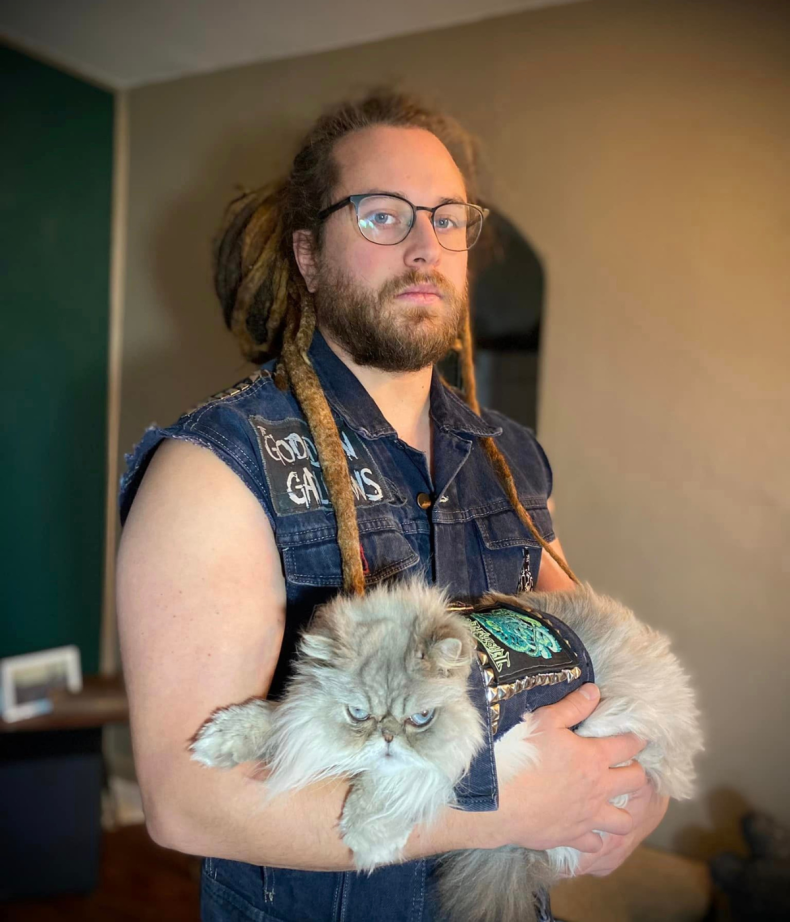 Should You Dress Your Cat Up?
There is nothing more adorable than a cat dressed up as an avocado or a mailman, but should you put your cat in a costume?
According to U.K. animal charity the RSPCA, it's fine to dress up your furry friends—as long as you make their comfort and happiness their top priority.
When putting clothing or accessories on your pet, it's important to make sure that their movement isn't restricted, that they won't become trapped or overheat, and to become familiar with the signs that your pet is anxious or uncomfortable, such as tail flicking and holding their ears back.
Plus-size model Amber Maureen Lu (@eatdrinkcat) regularly includes her Scottish Fold Harley in her photoshoots—including last year's '31 Days of Harleyween.'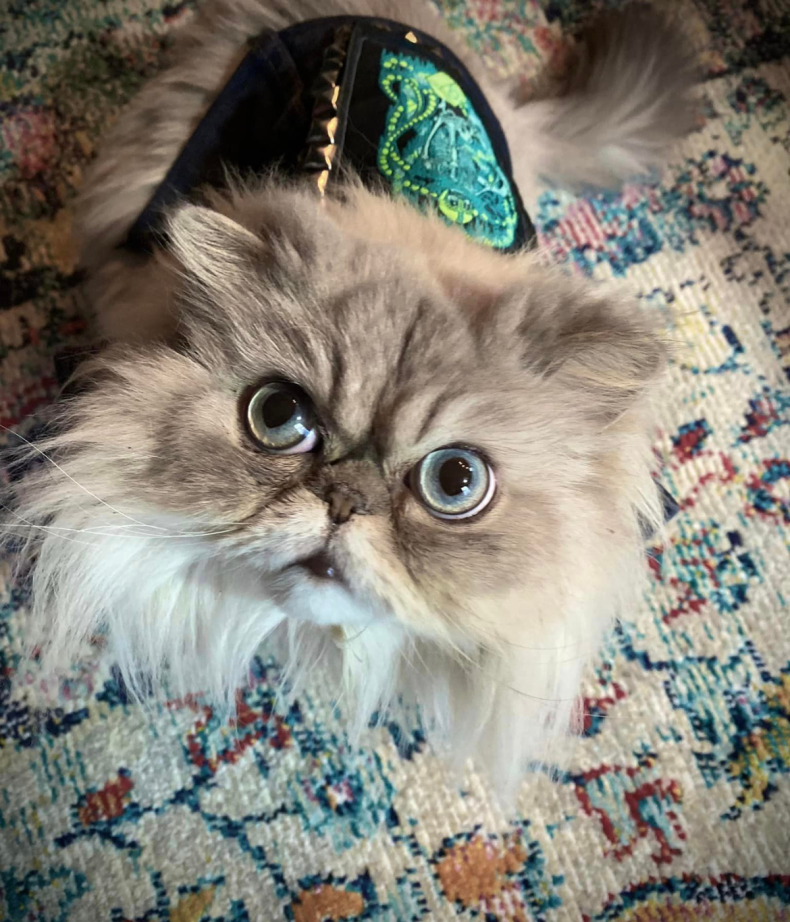 Lu recommends introducing your pets to items of clothing gradually, using treats as an incentive. She also advises that owners tailor clothes to ensure their animals are comfortable, and if your pet shows any signs of distress, take the outfit off immediately.
"There have been one or two times I've tried an outfit for Harley that she just really didn't like so, if that's the case, we don't do it," she told Newsweek.
"I think we have a great trust and respect for each other. She knows I'm going to take care of her and then I won't make her do something she doesn't want to do."
'This Cat Is More Punk Than I'll Ever Be'
Kayla told Newsweek that Mamie was a "foster fail." The 7- to 9-year-old Persian was found abandoned in a former school friend's yard, so the couple offered to foster her until she could be rehomed.
"I highly suspect she was used for breeding and dumped when she was no longer considered valuable," Kayla said.
"Clearly, this cat would not survive in the wild on her own, so it was clear she was not an outside cat. There were also physical indications that she had several litters of kittens in the past."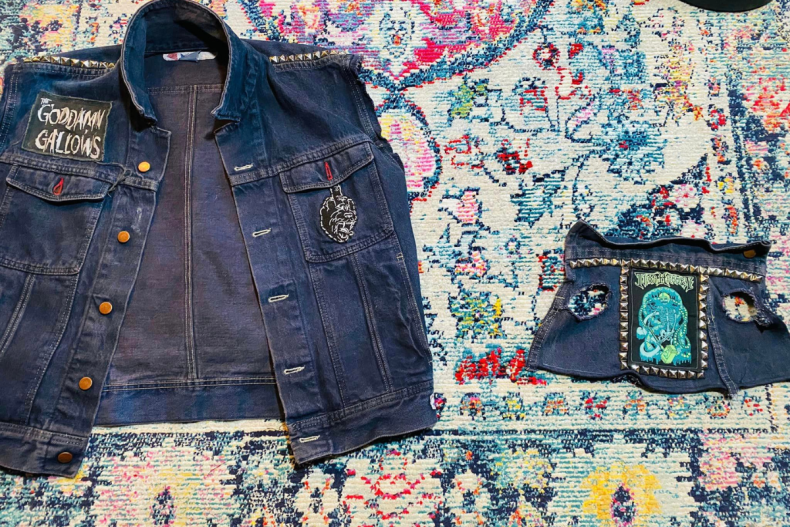 However, the couple fell in love with Mamie and decided to add her to the family permanently. Two years later, and the 8-pound puss is now the "alpha" in the house, which also includes two other cats—8-year-old Charlie and 5-year-old Frankie.
Travis decided to make Mamie the vest "on a whim." Ill and stuck at home, he found an old jean jacket and a studded belt, and was inspired to make himself a "battle vest" to wear to gigs.
After cutting the sleeves off, Travis realized they were the perfect size to make a matching, cat-sized vest.
"The inspiration came pretty easily, as I had an admirer watching my every move... my cat Mamie," he told Newsweek. "I mean, what would be cooler than a grumpy-faced sidekick to accompany me to all my favorite concerts?"
The cuffs of the sleeves made the perfect neck hole, and from there, "things escalated quickly."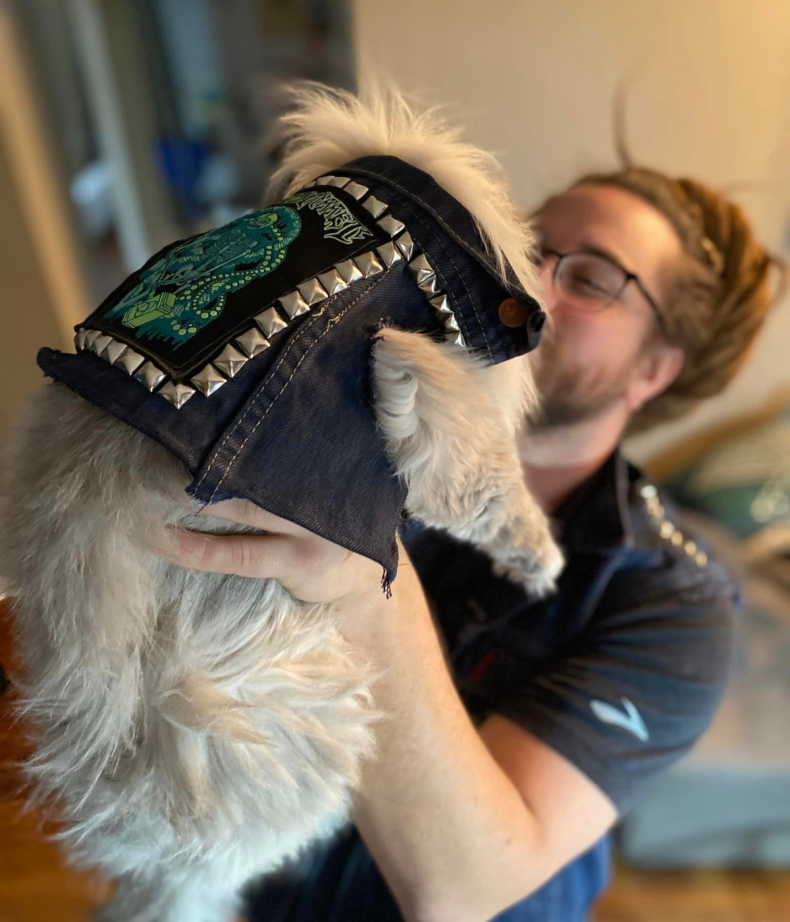 "When I completed the vest, it was time for a test fitting," he said. "Mamie, as you can see from her face, was not very amused by the jacket I poured my blood, sweat, and tears into making. It was off within the first 10 seconds after putting it on her."
Although this is the first time Travis has made Mamie an item of clothing, he has created wigs and funny hats for the pets in the past.
Travis added: "If she was maybe more grateful for the opportunity to have a custom wardrobe, I would totally devote my time to a calendar piece featuring a full clothing line for her to model, including some gym clothes, swimwear, and even some trendy high-end fashion pieces... I am only partially kidding."
Mamie may suffer from resting b**** face, but Kayla said her cat is very sweet-natured, if not a little high maintenance. "Mamie has a very raspy meow that she often uses to tell me to pick her up," she added.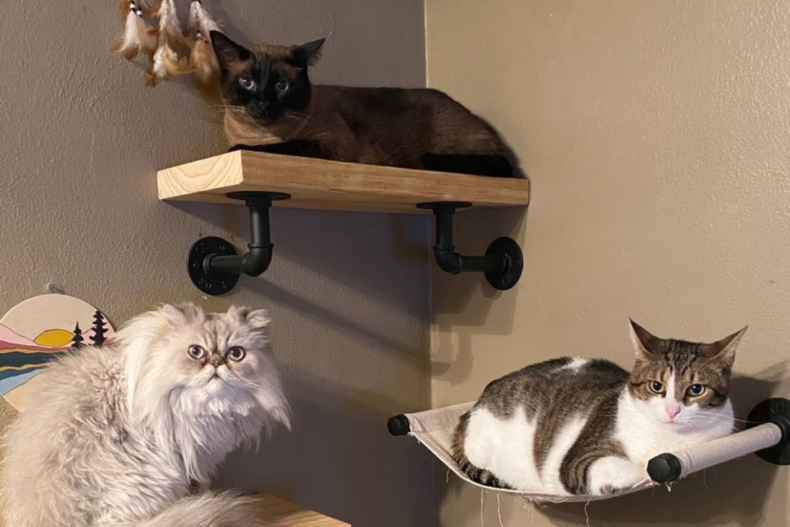 "She hates being ignored by humans and using her litter box when it isn't pristine. Her favorite food is turkey, which she gets as a treat after we clip her nails.
"Although her face looks quite grumpy, she is actually a very sweet and affectionate girl. She is never more than a few steps away from me."
Facebook users couldn't get enough of the fashionable feline, with Eryn Pearson calling the matching outfits "epic."
"Purrfection," agreed Hailea Dawn Marie Wolkosky, while Kieran Nathaniel commented, "Goals."
"This cat is more punk than I'll ever be," wrote Alan Davidson.
"What's the name of their band?" asked Sandra Lee, to which Kayla replied: "Murder Mittens."
"I don't think I've ever loved a cat I've never met so much," wrote Coree Culp, while Matthew Witham posted: "Thank you for this wholesome content."
Do you have funny and adorable videos or pictures of your pet you want to share? We want to see the best ones! Send them in to life@newsweek.com and they could appear on our site.