Laughter as Man Shares Sympathy Card From Kid After Brother Dies at 35
The sympathy card a man received after the loss of his brother has left the internet in stitches this week.
Andrew from Oklahoma shared a picture of the hand-made sympathy card on Reddit's popular r/funny forum, where it has received over 82,000 upvotes and thousands of comments.
The card was created by a child, and alongside a message that reads: "I am sorry for your loss," is a drawing of a grave, open and with a person situated inside.
The blunt nature of the sympathy card has left thousands of Redditors in stitches, and added a little humor to Andrew's day too.
"My brother died January 5th, a few days after his 35th birthday," he told Newsweek. "The card was made by a kid at my in-law's church. I don't know him, but I'm keeping it forever."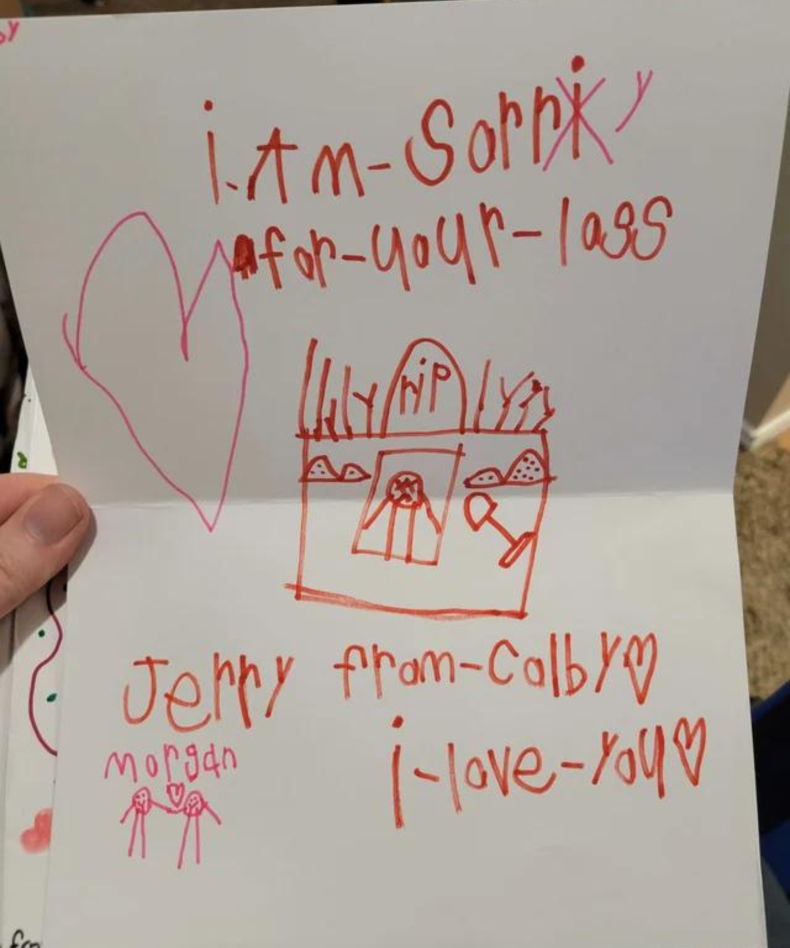 When he received the card, Andrew explained that he couldn't contain his laughter: "I just started laughing as soon as I saw the card. Immediately, I took it to show my spouse who also got a kick out of it so we shared it to a few friends," he said. "I decided to post it because I hoped one or two people would get a laugh out of it."
On Reddit, users were in stitches at the card and left reactions in the comments.
"What a sweet and hilarious card," said one Redditor. "I'm sure your brother would've cracked up too. A little spark of light in a terrible time."
Another commenter said: "It's funny, it's sad and it's thoughtful. Hits all the emotions."
"Kids are the best. I'm sorry for your loss, but grateful that you shared this with us today. I hope your days get better, internet stranger," said another reply.
As the card shared a little joy online, Andrew said that he thinks his brother would get a kick out of it too.
"My older brother would never let me be upset. Through all the bad times or terrible moods, he would prod me with jokes and idiocy until he could get me to crack a smile or laugh," he explained. "Finding that humor has helped me a lot with losing him, and I wanted to pass it on to anyone else who might need it."
Funny Cards
The handmade card prompted some others to share times they were presented with humor during a difficult time. One Redditor said: "When my grandma died the people I work with made me a card. One of my clients got mixed up and thought it was a birthday card, so she wrote 'Happy birthday, you look good for 21.' I laughed so f****** hard."
"I worked for a hospice and a third-grade class drew cards for our patients," shared another commenter. "We had to go through them with a fine-tooth comb. 'I'm sorry the doctors can't fix you, let's dance!' 'Sorry you're going to die.'"
"Kids are so sincere and have no idea when they're being way too blunt," said another Reddit user. "We donated some gifts to a women's shelter and asked the kiddies to write cards. The 10-year-old's first draft said something like, 'I'm sorry you're poor but at least we're giving you a present!'"
The viral reaction to Andrew's card surprised him but bought some smiles during a difficult time.
"It going viral was a nice surprise mostly because of the people sharing stories in the comments or reaching out to me privately saying how nice it was or how it got a laugh during a bad moment," he said. "There's been a couple that have asked about doing charity donations to commemorate my brother as well and that alone has made it all worth it.
"He may be gone, but his desire to improve the lives of others has continued as people have taken the chance to come together and help others all because some little kid drew my brother's final portrait."