Laughter Over Labrador 'Bowling' by Slipping on Ice and Knocking Over Owner
A clumsy dog has left the internet in stitches after a video of him tripping up his owner on an icy driveway went viral on social media last week.
In the clip, shared on TikTok on Friday by the dog's owner, under the username Madykk02, the dog can be seen sliding toward his owner, who's struggling to stand on the ice, accidentally knocking her over as he goes to her rescue.
The hilarious video, shot in Stephenville, Texas, has a caption that says: "Anyone want my dog," followed by: "Sick of his s***."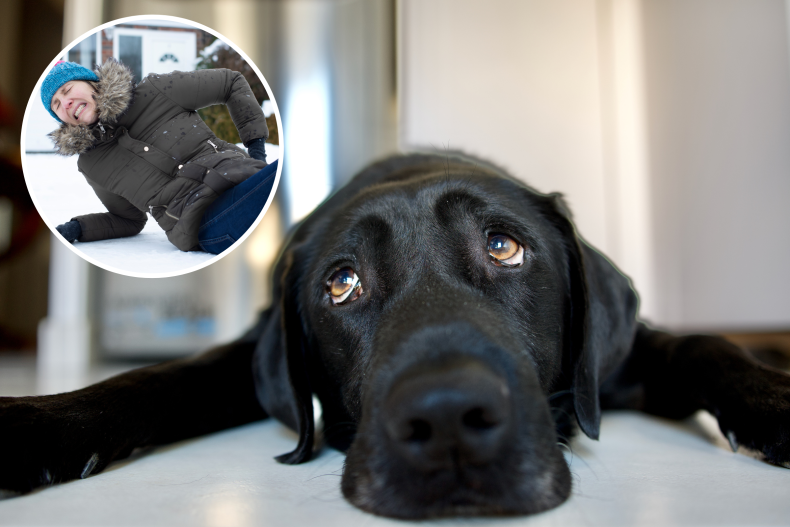 While this may look like a mean joke from the dog, that couldn't be further from the truth. That's because dogs can't be motivated by spite.
According to WagWalking, dogs aren't able to process emotions like spite or vindictiveness, because those feelings are too complex for animals that are stimuli-responsive.
"Dogs react to what we do and the situations put in front of them - they're unable to plot or plan any vindictive behaviors simply because you left them alone too long."
The video has attracted animal lovers from all over the platform, receiving over 3.8 million views and 202,400 likes so far.
One user, Allyson_Floyd_23, commented: "Is the poor doggie okay." And Trish Washington said: "I've never seen this type of bowling before." Shawn joked: "Hold on deary, help is on the way!"
Tinamonir wrote: "You are taking too long to fall, let me help you out." And Kristin Gonsalves said: "He couldn't help it was slippery. Glad u both are ok he looked scared when u fail." Kelly Chocolate added: "I want him."
Another user, KD Automotive, commented: "That looked personal." And bonafidebrat said: "My dude should be in the Super Bowl as he knows how to finish a tackle." mblais added: "aww...I hope the pup is okay...and like..you too lol."
Sky wrote: "Don't get mad at him! He was just trying to protect you, he saw you struggling." And simplyclaire234 said: "That's my dog all day." Goatsofiron added: "He was just trying to help you from falling. How could he no it was so slick. He can't read the weather." _xmdvx_ joked: "Perfect opportunity."
Newsweek reached out to Madykk02 for comment. We couldn't verify the details of the case.
Do you have funny and adorable videos or pictures of your pet you want to share? Send them to life@newsweek.com with some details about your best friend and they could appear in our Pet of the Week lineup.