Laughter as Woman Caught Skiing While She Should Be at Work: 'Oh No'
A woman who went skiing when she should have been at work has left the internet in stitches after a video of her on the mountain was shared on TikTok.
In the video that has been viewed 11.5 million times, 28-year-old Shelby Jeanne from Moab, Utah, in full ski gear exclaims: "You're not telling me I'm supposed to be working right now? Oh no."
"I am skiing right now," she said on the phone, to which an understanding boss replied: "Oh great that's awesome," as her friend behind the camera laughs.
A waitress at Moab Brewery, Jeanne had headed out backcountry skiing with a few friends.
"There is a mountain about an hour drive from Moab that gets a ton of snow in the winter," she told Newsweek. "We had been getting out almost every day for the last few weeks."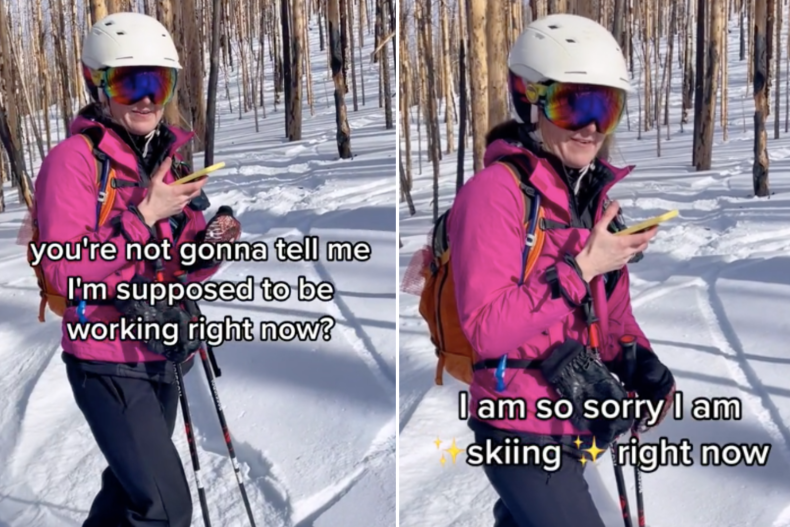 For most of the year, Moab is a high-traffic tourist destination. With just over 5,000 full-time residents, they can see over 1.8 million visitors a year through the spring, summer and fall.
"For those who stay to work for the winter, hours are heavily decreased. Through the winter I was down to working two days a week at the restaurant," explained Jeanne. "This gave me ample time to recreate and work on my own business. My work schedule is posted on Fridays and because I had been skiing almost every day, I forgot to check the Facebook page where they post the schedule."
Alongside her on-season job at the brewery, Jeanne also runs a business called Secret Ninja Society (SNS) who make skydiving apparel and polarized sunglasses.
"I started SNS two years ago after I got into solo skydiving. I was very disappointed to find there weren't any brands making cute skydiving themed clothes and accessories for women," she said. "So I decided to fill this hole in the market."
After assuming that there would be no changes in her working schedule, Jeanne missed that she had been put in for a Sunday shift at the brewery and headed out to ski.
"While skiing I missed a call and stopped to make sure it wasn't important," said Jeanne. "[I] panicked when I saw my managers name in red. I alerted my friends that I need to stop and make sure I'm not supposed to be working right then and my friend laughed and took it upon himself to start recording."
"I called my manager back on speakerphone and had a short conversation with her that I was, indeed, supposed to be working," said Jeanne. "I panicked and started calling as many of my coworkers as I could to see if they could cover my shift. No one was available. It took 1.5 more hours to get down the mountain, change, grab my work things and make it into the restaurant. I was scheduled for 3:30 p.m. It was 4 p.m. when I received that call. I arrived at 5:30 p.m. and clocked in to start working."
The viral video has delighted TikTok users who shared their reactions in the comments.
"As a former leader I just appreciate the blunt honestly lool," one said, while another wrote: "Now I'm gonna have a nightmare about missing work because I wanted to ski."
One TikTok user joked: "Her first mistake was answering the work call."
Her first time ever being even a few minutes late for work, Jeanne's management were very forgiving. "My management at the Moab Brewery is amazing," she said. "They were disappointed that I was late, but found the situation very comical. They were proud of me for not leaving them hanging and dropping what I was doing to show up for my shift."
She did get a formal write up, but explained that she understood this was a formality and she had made the mistake of being late.
"I am laughing at this situation right along with the rest of the world! I had no idea something like this would generate this much attention. It has been fun and entertaining to read through all the comments," said Jeanne.
Have you had a workplace dilemma? Let us know via life@newsweek.com. We can ask experts for advice, and your story could be featured on Newsweek.