Laughter as Woman's Yard Covered in Clothes After Dog Shreds Package
A dog who has emptied his owner's delivery package in the backyard has left the internet in stitches.
In a viral TikTok video posted by @ughasif101, the Staffordshire terrier can be seen with a bag from online fashion and cosmetic retailer ASOS in his mouth surrounded by garments scattered across the grass.
Over 3 million people have watched the video, of which the overlaying text said: "[T]he delivery man didn't knock and left your parcels outside but you have a dog."
The hilarious video has been liked more than 202,000 times but Lili, the original poster, wasn't impressed.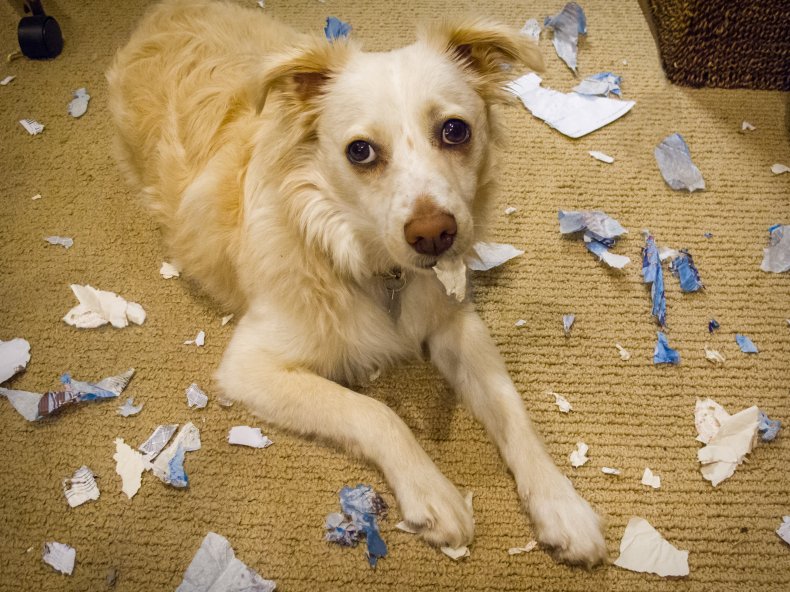 She tagged the online fashion store ASOS in the video. You can watch it here.
According to British postal service and courier company Royal Mail, 32 postmen and women on average were attacked by dogs weekly in 2021.
Luckily, in this U.K.-based video, the delivery person wasn't harmed but Lili's garments were potentially ruined as they may holes from the dog's teeth or grass stains.
To prevent this, Royal Mail has suggested using a wire letter boxes to ensure deliveries and posties' fingers remain intact.
The have also suggested putting pet dogs away in a different room when signing for a package. And to never open the door when your dog is behind you.
In total, Royal Mail has said there were 1,673 dog attacks reported on its staff in 2021, with some leading to permanent and disabling injuries.
It seems Lili isn't the only TikToker whose delivery driver has failed to leave their parcel in a safe space.
One user wrote: "This exact thing happened to me! Message customer services and explain what happened and add that you didn't select a 'safe place,' fingers crossed."
Lili responded: "What's worse is I think they just chucked the parcels over the gate and just left them in the garden, didn't bother to come and knock or anything !!"
While Lili was thrilled about her parcel, other TikTokers were grateful for the entertaining video.
The top comment received over 12,000 likes. It read: "I can't with your dog running away with the parcel at the end."
One TikToker implied the delivery driver "didn't wanna end up like the parcel."
Another wrote: "Sorry, him running with one of them at the end has me dying haha."
"He was just doing an ASOS haul," joked one user. "You know the dog was yelling MINE in their head lol," commented another.
"I don't mean to laugh but... the joy on his face as he does a runner," said another TikToker.
Newsweek reached out to @ughasif101 for a comment.