Laura Dern Says She Saw 'Baby Yoda' in a Surprising Place: 'I Think I Saw Him at a Basketball Game'
Star Wars actress Laura Dern bizarrely claimed she spotted the fictional character "Baby Yoda" at a basketball game.
A reporter from Variety asked Dern if she had seen the popular character from Disney+'s The Mandalorian in an interview at the Gotham Independent Film Awards in New York City on Monday. "Baby Yoda" has proven massively popular with Star Wars fans and has recently become a viral internet sensation.
"Have you seen Baby Yoda?" the reporter asked Dern.
"Yes, I just did, just today," she replied.
Newsweek subscription offers >
"What did you think of him? I don't know if it's a him, a he, a she, I don't know," the reporter pressed.
"I don't know, but I think he was at a basketball game. That's all I'm going to say. I think I saw him at a basketball game... It was NBA," said Dern.
No further details of Dern's "Baby Yoda" sighting appears to be available, other than the unlikely encounter apparently taking place at an NBA game. Her remarks were likely made in jest.
Dern did not specify in her joke whether the creature appeared as a fellow spectator or part of the basketball game itself.
The diminutive Jedi Master Yoda first appeared in 1980's original Star Wars sequel, The Empire Strikes Back. The infant character appearing on The Mandalorian is officially known as "The Child" but has been commonly referred to as "Baby Yoda" online. The series features The Child as an unlikely travel companion to the show's title character, a mercenary bounty hunter.
The name of the species that Yoda belongs to has never been revealed in official Star Wars cannon. Yaddle, a minor character that appeared in 1999's The Phantom Menace, was previously the only other character from the species to appear in the Star Wars universe. The species is said to be extremely long-lived and The Child is a sprightly 50 years old, despite looking and behaving like an infant.
The adorable character's popularity appears to have caught Disney somewhat off-guard. Merchandise featuring the small creature was not manufactured prior to The Mandalorian's November 12 debut, reportedly due to secrecy surrounding Star Wars plot lines and characters.
Disney have been scrambling to meet high "Baby Yoda" demand in the holiday season and only recently began offering what some have considered to be an underwhelming array of products featuring the character on their official web store. Bootleg products featuring The Child have quickly been selling out, according to reports. Toy manufacturer Hasbro do not expect to have any products featuring the character ready until 2020.
The Mandalorian is the first of several planned live-action Star Wars television series. Dern has experience with the franchise on film, appearing as Admiral Holdo in 2017's The Last Jedi. Recent rumors has also indicated that she may make an appearance in the upcoming The Rise of Skywalker. The film is set for release on December 20.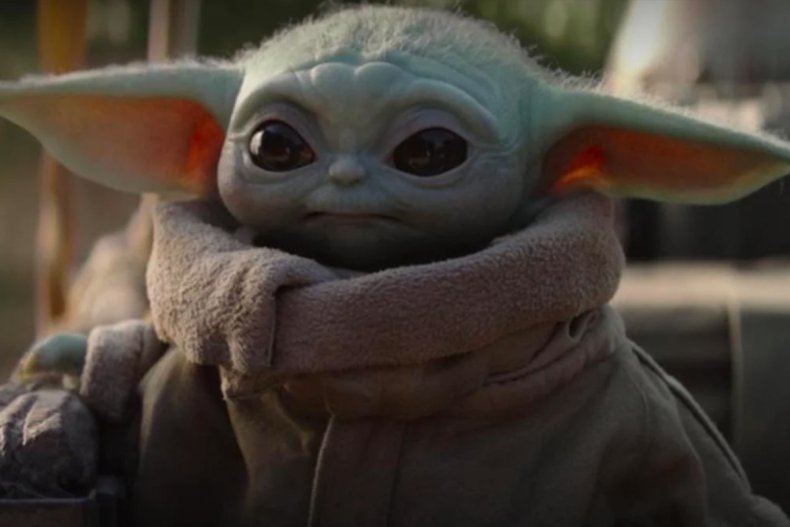 Laura Dern Says She Saw 'Baby Yoda' in a Surprising Place: 'I Think I Saw Him at a Basketball Game' | News