Laura Ingraham Accuses Democrats of 'Refusing to Accept the Agony of Defeat' in 2018 Elections
Fox News host Laura Ingraham accused Democrats of "refusing to accept the agony of defeat" in the 2018 midterm elections even though they retook control of the House from the Republican Party.
"In close or particularly contentious races, Democrats more so than Republicans seem to have a problem conceding defeat," Ingraham said during her show Thursday night, citing Stacey Abrams, Andrew Gillum and Brian Nelson.
Stacey Abrams, the Democratic candidate for Georgia governor, would not concede to Republican candidate Brian Kemp until all the votes were counted.
Kemp, who was Georgia's secretary of state, was accused by critics of suppressing the minority vote in the run-up to the election, which he denied.
Democrat Andrew Gillum, who ran for governor in Florida, did concede in a close-run contest against Republican Ron DeSantis, but later tweeted that he is "looking forward to seeing every vote counted."
And Bill Nelson, the Democrat running for Florida's Senate seat who narrowly lost to Republican Rick Scott, is demanding a recount because the margin is so slender. Under Florida state law, a victory by less than 0.5 percent triggers an automatic recount—which will likely happen.
"Now, it can't be that the other guy won fair and square," Ingraham said. "It has to be that either the election system broke down, or some mystery votes are hiding somewhere, or the entire process must be tainted.
"Or then there's the other way to explain a tough loss—well, the voters must be racist."
Ingraham then rolled clips of commentators hypothesizing that where Republicans performed well or won was because supporters of the party and President Donald Trump are white and bought into the "racial demagoguery," as one put it.
In the lead-up to the election, President Trump and the Republicans focused heavily on the migrant caravan heading north from central America toward the U.S. border.
The caravan is made up mostly of several thousand refugees fleeing violence and poverty, including many children.
But Trump calls it an "invasion" and claimed there are criminal elements within the caravan, perhaps even potential terrorists, despite evidence to the contrary.
Fox News was among the broadcasters and social media platforms to pull a political advert by the Trump campaign because it was criticized as racist.
The ad focused on immigration and seemed to link the migrant caravan with an undocumented migrant from Mexico called Luis Bracamontes who murdered two police officers.
In the midterm elections, the Democrats won back control of the House of Representatives though the Republicans increased their majority in the Senate. The Democrats also picked up several more state governorships at the expense of the Republicans.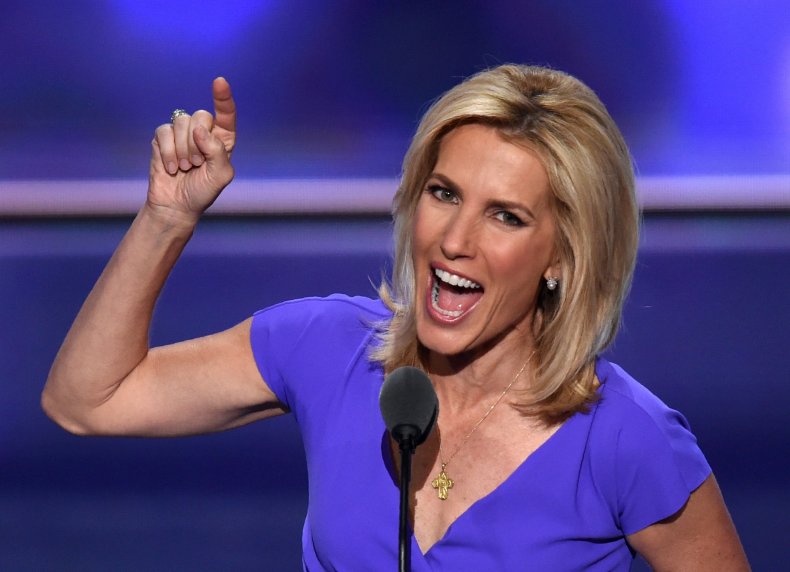 Laura Ingraham Accuses Democrats of 'Refusing to Accept the Agony of Defeat' in 2018 Elections | U.S.