Laura Ingraham, Alex Jones and Other Right-Wing Media Allies Turn on Trump Over Syria Strikes
Some of Donald Trump's most fervent supporters in the media turned on the president Friday over his decision to launch military strikes against Syria in retaliation for an alleged chemical weapons attack.
On Fox News, hosts Tucker Carlson and Laura Ingraham were uncharacteristically critical of the president, questioning Trump's decision to launch the strikes.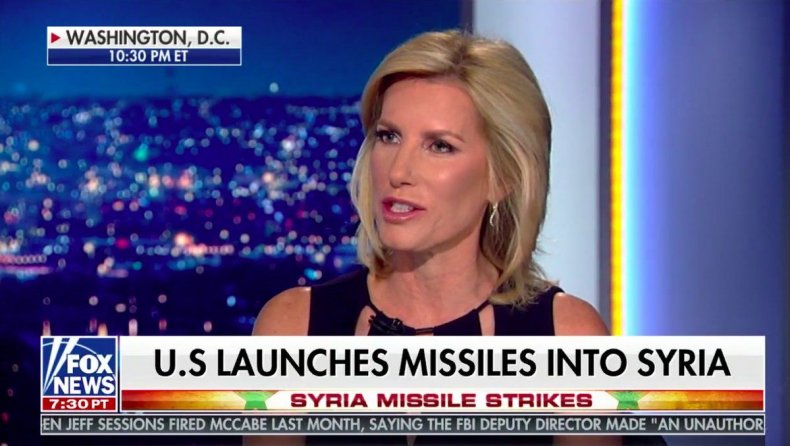 "I guess it feels good because there are horrible things happening there," Ingraham said, sparring with former White House official Sebastian Gorka. "But what do we really accomplish here tonight in Syria? This is not why Donald Trump got elected."
Noting Trump's criticism of the Iraq war on the 2016 campaign trail, Carlson remarked "This is clearly not something he ran on, and and it's inconsistent with a lot of things that he's said over the years."
Pro-Trump Far-right media personalities were apoplectic.
"Fuck Trump, and fuck these fucking people," said Infowars' Alex Jones, and launched into series of conspiracy theories about the raids before bursting into tears.
"If he had been a piece of crap from the beginning, it wouldn't be so bad," Jones said of Trump. "We've made so many sacrifices and now he's crapping all over us. It makes me sick."
In 2015 Jones interviewed Trump as the then presidential candidate sought to cultivate support among far-right media outlets promoting conspiracy theories.
Formerly pro-Trump activist and media personality Ann Coulter retweeted out a series of messages from Infowars' Paul Joseph Watson and others critical of the decision to launch the airstrikes.
"Attacking a foreign nation that has not attacked or threatened America is globalist interventionism. This is not 'America First'. This is not what Trump was elected for," tweeted Watson in a message shared by Coulter.
But not everyone agreed. Senior Breitbart editor Joel Pollak was was supportive of Trump's decision.
"I am grateful we have a @POTUS who will not tolerate the use of chemical weapons. #USA," he tweeted Friday night.
The populist outlet formerly run by ex-White House chief strategist Steve Bannon was a key backer of Trump in 2016, but has been critical of the GOP establishment that took the U.S. into the Iraq war.
Many of Trump's most ardent supporters among the so-called alt-right though have criticized U.S. involvement in foreign conflicts, and have spoken of their admiration for Syrian President Bashar al-Assad.