Laura Ingraham Says Attempted Bribery Isn't on List of Impeachable Offenses: 'Ukraine Got Its Military Aid'
Laura Ingraham rolled out a new defense of President Donald Trump last night, telling her viewers that "attempted bribery" was not an impeachable offense under the constitution.
The Fox News host suggested House Democrats had pulled a possibly bribery charge against the commander-in-chief "out of a hat" and said they were "frantically grasping for something that people can actually understand about this Ukraine thing."
She also said on The Ingraham Angle last night that Ukraine "got its military aid" after a delay, which she sarcastically called a "big deal."
Her comments last night came after House Speaker Nancy Pelosi suggested that a charge of alleged bribery could be brought against Trump when articles of impeachment are drafted.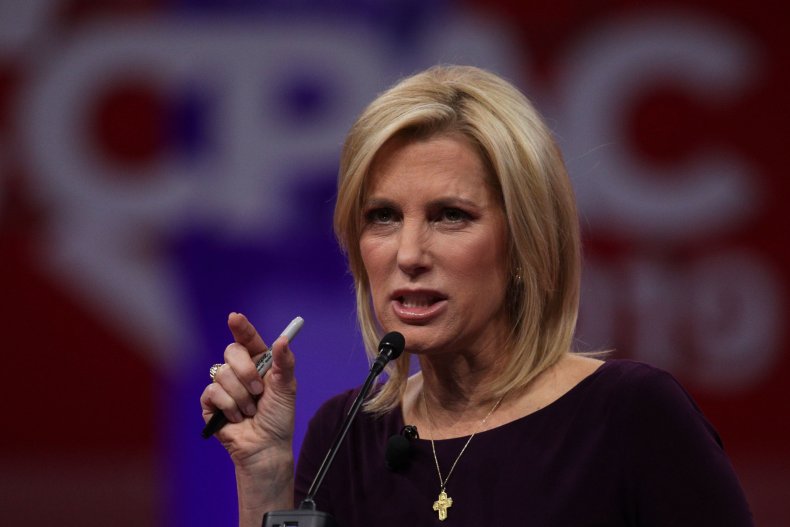 She also told reporters at her weekly news conference yesterday the alleged "bribe" that took place was "to grant or withhold military assistance in return for the public statement of a fake investigation into the elections," The New York Times reported.
Speaking about the latest impeachment development on her show last night, Ingraham said: "After the claim of a quid pro quo has fizzled, Democrats are frantically grasping for something that people can actually understand about this Ukraine thing: 'Let's just pick bribery out of a hat.'"
After playing a snippet from Pelosi's press conference, Ingraham said: "Yeah, of course, Nancy it's in the constitution. We can read. The president may be impeached for treason, bribery, or other high crimes and misdemeanors.
"But even assuming the Democrats strained and ridiculous interpretation of the facts, and I do not assume them, but just for the sake of their argument, attempted bribery isn't in the constitution.
"Remember Ukraine got its military aid. It was 14 days delayed. Big deal. And remember Ukraine never made any public statement about any investigation."
U.S. military aid amounting to around $400 million was frozen for 55 days, not a matter of two weeks—a fact highlighted by Ingraham's fellow Fox News personality Andrew Napolitano.
"And the fellow on the other end of the call, [Ukraine President Volodymyr] Zelenskiy, said he didn't feel pressured at all," Ingraham added. "He didn't even know aid was frozen to his country until weeks later. So the call, in his words, was normal."
In her opening monologue, she also said Speaker Pelosi had "better pray that they have a videotape of President Trump offering a lifetime stay at Mar-a-Lago" to Zelenskiy, because Democrats "had nothing approaching to impeachable acts at all" so far.
Her fresh attack on the impeachment inquiry came on the eve of today's public hearing with former U.S. Ambassador to Ukraine Marie Yovanovitch, who is due to appear before lawmakers and TV cameras this morning.
Further impeachment witnesses are due to give testimony next week, including U.S. Ambassador to the European Union Gordon Sondland and National Security Council staffer Alexander Vindman.