Laura Ingraham's Brother Slams Fox News Host: 'I Think She's A Monster'
Fox News host Laura Ingraham's latest social media critic is her own brother, Curtis Ingraham, who has recently slammed his sister as a "monster" and that her heart is "just kind of dead."
"I think she's a monster," Curtis Ingraham told The Daily Beast in an interview. He went on to characterize his sister as intelligent but also "destructive" and "extremely angry."
"She's very smart, she's well spoken, but her emotional heart is just kind of dead," he said. "And you see it in her face when you see her on TV. She's ready to destroy. She does not listen to understand—she listens to respond. And her response is always an attack."
Laura Ingraham has been a host of her Fox News show The Ingraham Angle since October 2017, though she regularly appeared as a guest for the network for years.
As an avid Donald Trump supporter, she has often gotten into hot water for defending some of the president's more unpopular stances like the administration's "zero tolerance" immigration policy and Trump's one-on-one meeting with Russian leader Vladimir Putin.
In the interview, her brother added that he is revealing this information on his sister in an attempt to "unveil hypocrisy." He added that the country is in a "divisive state" and that he feels the need to speak out for his own "sanity."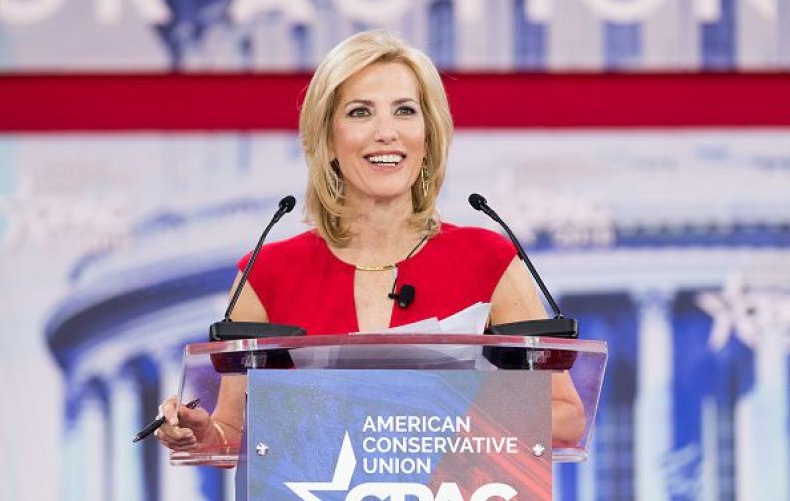 It's not the first time Curtis Ingraham, a teacher in northern California, has deeply criticized his sister. On Twitter he has repeatedly attacked his sister for her "lack of integrity."
In a post on September 4, he writes that "my sister, Laura Ingraham, needs to search her own moral closet and history as she rolls forward in support of this candidate." The "candidate" he refers to is Brett Kavanaugh, Trump's Supreme Court nominee who has faced criticism by Democrats for previous writings on presidential power and reproductive rights.
Curtis Ingraham has blasted his sister's behavior as "monstrous" and states that her remarks "only serve to harm and destroy the fabric of human decency."
In another social media post from earlier this month, Curtis Ingraham states that his "sister's racist comments date back to her freshman days at Dartmouth when she would mock her black roommate by speaking jive with her friends. Shameful!"
The comment came after Laura Ingraham played the song "Shock the Monkey" in the background while discussing a controversial, racist comment made by Republican candidate for governor of Florida Ron DeSantis. DeSantis had used the phrase "monkey up" in reference to voters potentially choosing his Democratic opponent Andrew Gillum, who is African American.
In a statement to The Daily Beast Laura Ingraham wrote: ""My siblings and I are shocked and saddened to learn of these false and hurtful online postings. Although we've been estranged from him for many years, we love our brother and miss him very much.