Fox News host Laura Ingraham defended Democratic Senator Cory Booker after an anonymous allegation of sexual assault against him was posted online.
But Ingraham also referred to Booker's comments about the allegations leveled at Brett Kavanaugh, claiming that Booker had been "tarring" the now Supreme Court Justice with a "mountain of evidence," which she said "ended up being nothing."
After Trump nominated Kavanaugh to the Supreme Court, Christine Blasey Ford testified to senators about allegations that Kavanaugh sexually assaulted her at a party in the early 1980s, when they were both teenagers.
Kavanaugh denied Ford's allegations, initially made in a letter to a senator and leaked to the media without revealing her name. Other women also came forward with allegations of sexual misconduct against Kavanaugh, which he also denied.
Booker described Ford's testimony as "raw and visceral and credible, a profoundly powerful testimony with this committee and the world, and she was believable. I believe her."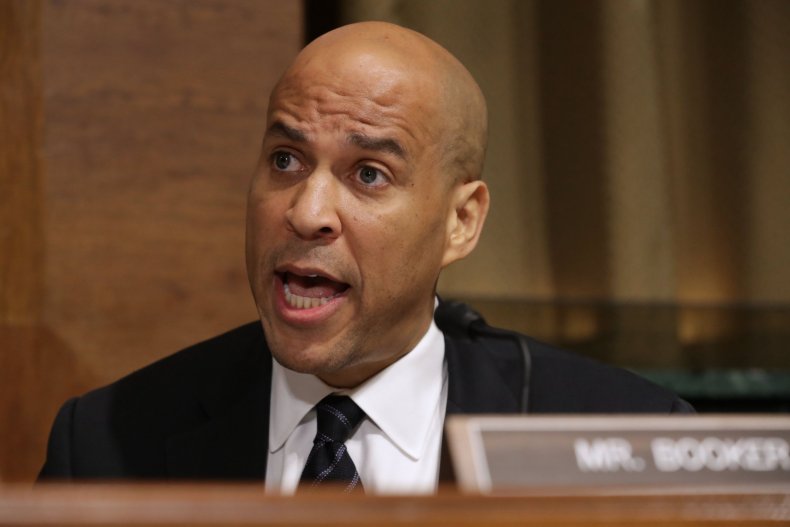 "We don't raise this issue because we automatically assume it has credibility," Ingraham said during her show on Monday night, regarding the vague allegations made anonymously against Booker.
"I don't like anonymous allegations. We actually think everyone should wait for the details to come in before we say something like this, right?"
Ingraham then played a clip of Booker asking if Kavanaugh is "the right person to sit on the highest court in the land for a lifetime appointment when their credibility has been challenged...ultimately, have enough questions been raised that we should not move on to another candidate?"
Ingraham said, "We don't lend much, if any, credence to anonymous accusations without any more detail. I think if you're gonna make an allegation like this, you've got to put your name to it."
"I don't like it when people do this kind of stuff," Ingraham continued.
"I believe it is a smear. I mean, if you're going to make an accusation—this is a supposedly a man making an accusation that something happened in a bathroom—if you're going to make that kind of accusation, you better put your name to it.
"Our point is a simple one: We have major media outlets during Kavanaugh rolling with this anonymous stuff. And you have people like Cory Booker out there tarring Brett Kavanaugh because of the mountain of evidence, which ended up being nothing."
Civil rights attorney Leo Terrell appeared on the show and seemed to raise doubts over Ingraham comparing an anonymous letter posted online with Ford's testimony. "Are we equating this anonymous person with Professor Ford, who came before the Senate, went to the F.B.I., are we making the equivalence?" he asked.