Fox News Host Laura Ingraham Calls Flynn Sentencing Memo a 'Big Zero,' Says What Mueller Did Is 'Disgusting'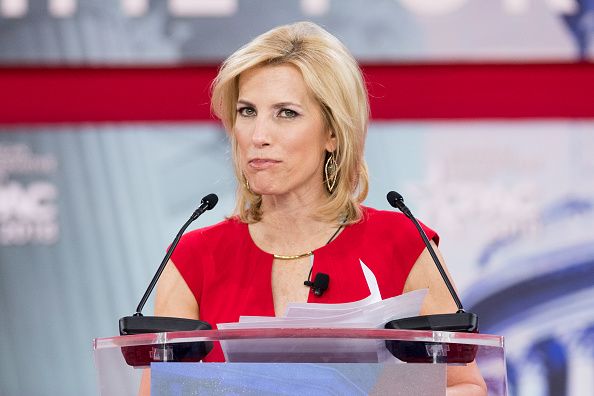 Fox News host Laura Ingraham says that what Robert Mueller "did to Michael Flynn was disgusting" as the special counsel recommended that Donald Trump's former adviser serve no prison time for lying to the FBI after cooperating with the Russia investigation.
"After 18 months—and you've got this guy in a vice grip for 18 months—this?" Ingraham said, referring to Mueller's sentencing memo. "I mean, unless those redactions are really, like, knock your socks off, maybe they will be, I think this is a big zero. I think this Mueller thing, and what they did to Flynn is disgusting."
Ingraham's response was similar to that of fellow Fox News host Sean Hannity, who said the memo was a "disgrace" before pivoting to Hillary Clinton and James Comey, arguing that they should be the first people to face punishment in "a long list of Democrats and Trump haters who have lied under oath before Congress and have faced no consequences."
The highly anticipated sentencing memo, filed by Mueller's team hours before the court's deadline on Tuesday evening, recommended that Flynn serve no jail time for his federal crimes. Trump's former adviser pleaded guilty in 2017 to making false statements to the FBI about his communication with then–Russian ambassador Sergey Kislyak.
Flynn was the first high-ranking Trump official to agree to cooperate with Mueller, who is leading the ongoing investigation into Russian election interference and possible collusion between Russia and the Trump campaign.
While the memo acknowledged Flynn's transgressions as "serious," it also noted that his assistance in the investigation was substantial enough to keep him from going to jail.
"Given the defendant's substantial assistance and other considerations set forth below, a sentence at the low ends of the guideline range—including a sentence that does not impose a term of incarceration—is appropriate and warranted," Mueller's team wrote.
According to the heavily redacted 13-page memo, Flynn participated in 19 interviews with the office of the special counsel or lawyers from the Justice Department as part of his cooperation with the investigation.
"The defendant deserves credit for accepting responsibility in a timely fashion and substantially assisting the government," the filing reads.
Flynn was not the first defendant in Mueller's probe to have made false statements to federal investigators, though he may be the first to not have to serve a prison sentence. Two other defendants, Alex van der Zwaan and George Papadopoulos, served a 30-day sentence and a 14-day sentence, respectively.
While the maximum sentence for Flynn's crimes is five years, cooperating with the special counsel was expected to reduce his sentence to zero-to-six months. But Ingraham suggested on Tuesday night that Mueller was threatening Flynn with a 30-year sentence.
"When a prosecutor says, 'You want to see your wife again? Your son, your little grandchild? He's never going to see his grandchild, he's going to go to jail for the next 30 years," Ingraham said. "It's scary for some people."
Sol Wisenberg, a guest on the show and a former deputy independent counsel involved in the Whitewater probe, pointed out to Ingraham that Flynn "never would have gone to jail" for a "significant period of time."
President Trump has yet to comment on Mueller's memo, but his attorney Rudy Giuliani immediately downplayed Flynn's cooperation, telling NBC News that if the former adviser "had information to share with Mueller that hurt the president, you would know it by now."
"There's a Yiddish word that fits," Giuliani said. "They don't have bupkis."