Fox News Host Laura Ingraham Warns of 'Economic Calamity' Under Biden
Fox News host Laura Ingraham claimed a Joe Biden administration would spark "economic calamity" as Trump campaign figures celebrated record economic growth in the third quarter of this year.
The conservative commentator also claimed the economy would suffer a similar fate to those in Europe, which have been damaged by further lockdown measures.
Latest figures show the U.S. economy is now 3.5 percent smaller than its pre-pandemic level, while Europe's economy is 4.3 percent smaller.
The Quote
"Under President Biden, prepare for the economic calamity that is happening in Europe. You can run, but you cannot hide from the virus. The president understands that a free nation of our size cannot play with people's livelihoods like this."
Ingraham later added: "The left here and abroad is using the tragedy of this pandemic to turn over decision making to unelected health experts who have zero accountability to you.
"And regardless of how wrong they've been in model after model, they want us to have no choice in the matter whenever they decide to put the brakes on freedom."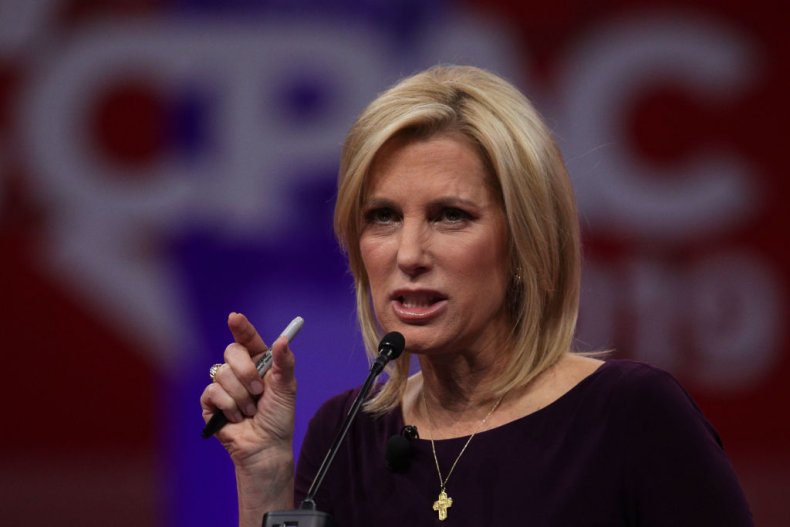 Why it Matters
U.S. gross domestic product soared by a record-breaking 33 percent on an annualized basis in the third quarter of this year, according to the Bureau of Economic Analysis. Meanwhile, Europe's economies grew 12.7% during the same period.
It marks a partial recovery from losses in the first six months of 2020 and comes after the U.S. economy plunged a record 31.4 percent in the second quarter.
Overall, it leaves the U.S. economy 3.5 percent smaller than its pre-pandemic level, and Europe's economies 4.3 percent smaller.
President Donald Trump was quick to tout the latest economic data as his team urged voters to back him to keep the recovery going.
"GDP number just announced. Biggest and Best in the History of our Country, and not even close. Next year will be FANTASTIC!!!" Trump tweeted. "However, Sleepy Joe Biden and his proposed record setting tax increase, would kill it all. So glad this great GDP number came out before November 3rd."
Republican Party Chairwoman Ronna McDaniel also told voters to vote for Trump on November 3 to "keep this recovery going" after news of the record economic growth.
Counterpoint
The Biden campaign has sought to pour cold water on the idea that Trump is good for the economy on the basis of GDP and the performance of key stock market indices, and his instead focused on household incomes and joblessness.
Reacting to the BEA report in a statement on Thursday, Biden said: "Even with today's report, GDP still remains $6,000 per household below its pre-crisis level, payrolls are down by nearly 11 million workers, and 23 million people are claiming unemployment – including 750,000 new claims last week. Today's report is not a victory for these families."
Goldman Sachs analysts also forecast that a Biden presidency would have no adverse impact on the economy at the end of September, forecasting an 4 percent move upward by 2024.