Laura Ingraham Tells George Floyd Protesters Donald Trump Knows How 'Poisonous' Law Enforcement Process Can Be
Fox News host Laura Ingraham said President Donald Trump's knew how "poisonous" out of control law enforcement could be amid protests over the death of an unarmed black man in police custody.
Speaking on Fox News on Thursday night, Ingraham suggested the president's experience with "unfair investigations" meant he could empathize with those angered by the death of George Floyd in Minneapolis.
But she was also critical of protesters as fires were set and businesses were looted, saying the "real change agents" of America were those who built up their communities rather than burning them down.
In her opening monologue yesterday, Ingraham said: "I'm not going to pretend for a millisecond to know what it's like to be a black person in America. I don't. What I do know is that we all need to do better. We need to love more, we need to respect more. Do better."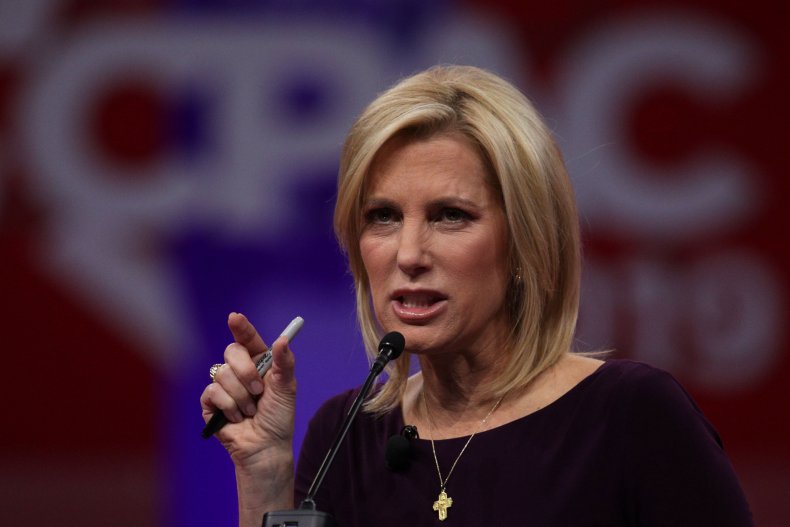 The Fox News host added: "Once again, we see that the real change agents in America are those who stay in their communities and build them up, not burn them down.
"Rosa Parks is a beloved global symbol of freedom and justice because of the determination and dignity with which she carried out her civil disobedience. Would burning a store have been more powerful and transformative? I don't think so.
"And to our African-American fellow citizens I say this: given his own experience with an out of control FBI and unfair investigations, given all his work now on criminal justice reform, President Trump knows how poisonous an out of control law enforcement process can be."
Ingraham made her remarks just hours before Trump threatened to send the National Guard into the city of Minneapolis to deal with protests over Floyd's death.
"Either the very weak Radical Left Mayor, Jacob Frey, get his act together and bring the City under control, or I will send in the National Guard & get the job done right," the president tweeted.
"These THUGS are dishonoring the memory of George Floyd, and I won't let that happen. Just spoke to Governor Tim Walz and told him that the Military is with him all the way. Any difficulty and we will assume control but, when the looting starts, the shooting starts. Thank you!"
Twitter has since ruled that the president's post violated its rules on glorifying violence, but has decided to keep it online as it "may be in the public's interest" for the tweet to be accessible.
Protesters and police in Minneapolis clashed again on Thursday night after more than 30 fires were set on Wednesday. Demonstrations against the killing of Floyd have also erupted in other U.S. cities—with one protest in New York City leading to more than 40 arrests.
Floyd died on Monday as Minneapolis police officers arrested him on suspicion of using a counterfeit $20 bill. The Minneapolis Police Department claims that the unarmed man resisted arrest.
Footage of the attempted arrest shows one officer holding his knee down on Floyd's neck while he gasps for breath and tells police that he is struggling to breathe.