Laura Ingraham and Guest Round on 'Unassimilated' Spanish-speaking Immigrants Because They 'Are Not Diverse'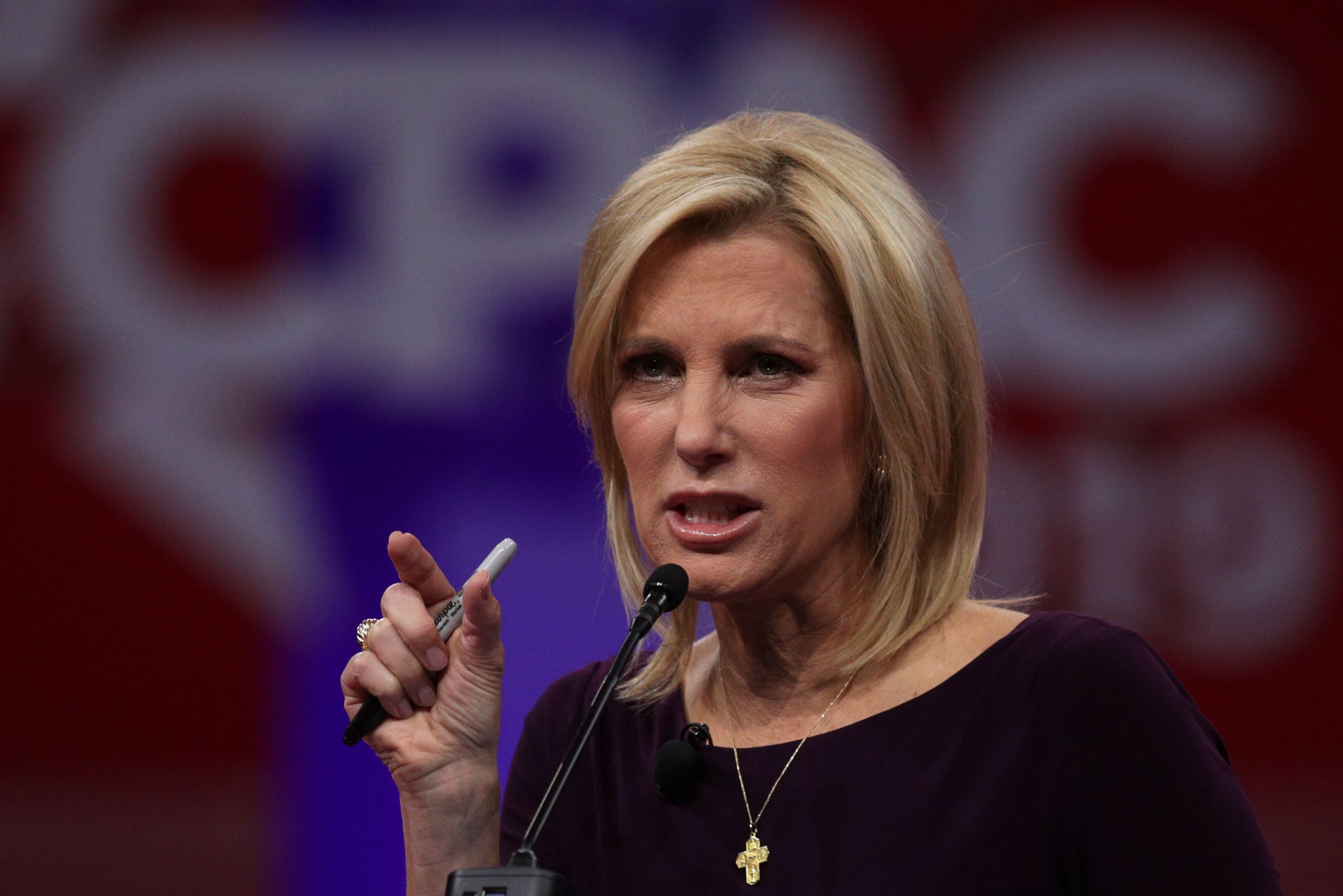 Laura Ingraham and a guest on her eponymous PodcastOne show blasted "illegal immigrants" from Mexico and central America for speaking Spanish in public and allegedly dumping trash in the streets.
Describing Spanish-speaking migrants as "unassimilated," military historian Victor Davis Hanson blamed their supposed behavior on a lack of diversity, during an audio clip from the Tuesday show shared by Media Matters For America.
"I'm told that illegal immigrants do not throw trash…yet I pick up mounds of trash out in front of my farm. I have the addresses of the people…I know exactly where they live," Hanson said. "It would really work if we had people coming from Korea or Africa or Europe, all coming legally, all measured numbers, all mixed up, and they would assimilate.
"That's what happens when…unassimilated immigrants [come] in illegally in large numbers, that are not diverse," he continued.
Hanson made the comments after claiming "almost everything" Americans hear about immigrants—from personal circumstances to the "degree of criminality" among "quote unquote refugees"—is "not true."
"When I go in town, and I go to my cleaner, and everybody's speaking Spanish… And people walk out of the cleaner's, and they throw their McDonald's sack right in the gutter, it gets me really angry," Hanson continued. Ingraham agreed, saying: "Oh no, I get enraged."
Ingraham claimed to have recently spotted migrants faking familial relationships to cross the U.S.-Mexico border. She said a "look" in certain children's eyes gave them away.
"When I was in Del Rio, Texas, a couple of weeks ago, I spoke to a few of the migrants where the kids looked really uncomfortable… something in their eyes just didn't look right," Ingraham said. "So I went up and I started talking to them in Spanish and… if I had to bet, I would have bet those kids had no relationship with the adult they were with."
The Department of Homeland Security has warned that human traffickers are posing as parents to ensure a quicker release from detention at the border. The Department has been testing a DNA testing programme to verify relationships, according to CNN, but this has been criticized by some experts.
Media Matters is known for its role in a recent scandal surrounding Fox News host Tucker Carlson. The organization released old clips of Carlson making comments widely condemned as racist, homophobic and misogynist, as a guest on The Bubba The Love Sponge radio show.
Advertisers began pulling their commercials from his Fox News slot, but the television personality refused to apologize for his previous comments.