Laura Ingraham Clashes With Republicans Over Sending Ukraine MiG-29 Jets
Fox News host Laura Ingraham has criticized Republican senators who want the U.S. to send jet fighters to Ukraine.
During her show on Wednesday night, Ingraham showed a clip of Senator Mitt Romney calling for Kyiv to be given MiG-29 jets in its conflict with Russia.
"[Ukraine's President Volodymyr Zelensky] has asked us for aircrafts, specifically MiGs. We need to get them those MiGs. It is a bipartisan message," Romney said in a press conference on March 10.
He continued: "Enough talk, people are dying, send them the planes they need. They say they need MiGs. People say, 'Well, maybe that is not the ideal weapon for them.' That is what they say they want."
Ingraham criticized Romney's pleas, warning of escalation and potentially more deaths if Ukraine is given the jets.
"Why don't you pay for them?" Ingraham said.
"Did he ever stop to think that more people could die if we send Ukraine MiGs? And I'm not talking about Russians."
Another GOP senator, Tom Cotton of Arkansas, spoke on Ingraham's show on Wednesday and echoed Romney's plea.
The host disagreed and questioned whether the U.S. would be giving false hope to Ukrainians if it sent the jets. It is also not clear how much difference the MiGs would make in the air battle.
"I do think that President Zelensky and the Ukrainian army have proven that they can take this fight to the Russians," Cotton said. "They can close their own skies if we support them with the weapons and aircraft that they need.
"These MiG aircafts are not a silver bullet. There are no silver bullets in warfare, it is about the total mix of weapons, vehicles and aircraft you can bring to bear.
"Ukraine has these aircrafts, they are familiar with flying them. Poland is willing to send them. It was ridiculous for the secretary of state to say that we have green-lit the transfer one day and then two days later say it would be escalatory if the United States transferred them."
Cotton went on to criticize President Joe Biden's leadership, but insisted the U.S. should give Kyiv the weapons.
"You don't think we are giving the Ukrainians at this point, and the rest of the world, false hope?" Ingraham asked.
"You think, given the fact that Russia is closing in on Ukraine at this moment, that we are not building people up to this false hope at this point? I am worried about that, given the fact that still, so many people are in those cities."
Cotton disagreed, arguing that Russia's initial invasion plan has failed.
He conceded that there has been significant bloodshed, but said Moscrow continues to bomb Ukraine "indiscriminately" because it has not been able to achieve its military objectives.
Analysis by the U.K.'s defense ministry, released on Thursday, suggests that Russian forces have made minimal progress on land in recent days.
"Ukrainian resistance remains staunch and well-coordinated," the ministry said. "The vast majority of Ukrainian territory, including all major cities, remains in Ukrainian hands."
Ingraham's reservations about giving MiGs to Ukraine have been echoed by the chairman of the House armed services committee, Rep. Adam Smith.
Smith, a Democrat who represents Washington's 9th district, told The Hill on Wednesday: "The MiG wouldn't last a second in Ukrainian airspace right now.
"You'd be better served to get drones or Javelins, more Stingers or surface-to-air missiles. Those are the things that are proving most effective for the Ukrainians to use right now. That's where our focus should be."
Follow Newsweek's live blog for updates on the Russia-Ukraine conflict.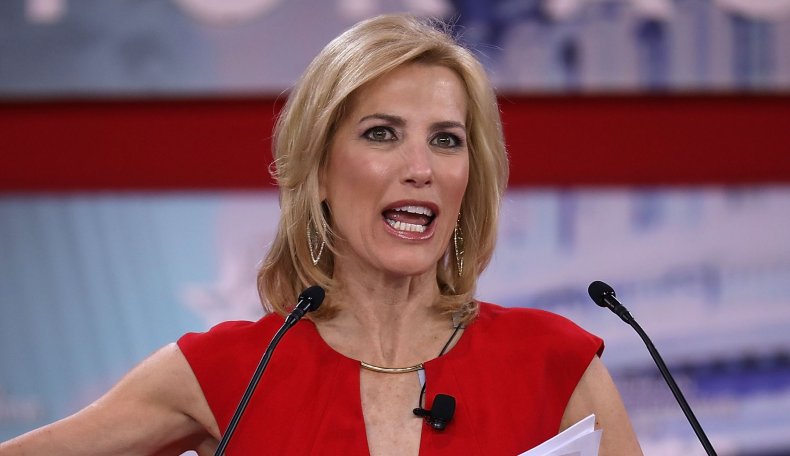 Update 03/17/22, 2:00 p.m. ET: This article was updated to add extra information.