Laura Ingraham Says Ron DeSantis Should 'Demand Apology' From Opponent He Made Racist Comment About
Florida gubernatorial Republican candidate Representative Ron DeSantis said Wednesday that if elected, his African-American Democratic opponent, Andrew Gillum, would "monkey" up the state. Republicans and Democrats alike denounced the statement, saying that even if it wasn't intended as a racial slur, DeSantis should apologize.
But on Thursday morning, Fox News host Laura Ingraham said that DeSantis should "demand an apology" from Gillum "for falsely accusing him of racism."
During an interview with DeSantis on her radio show, she imparted her advice on the candidate, "You know what I'd do? I'd demand an apology of him. That's what I would do," Ingraham said. "'You want me to apologize? You apologize for falsely accusing someone of racism to avoid a debate on the issues."' I'd turn it right around on them. "'You should apologize because it's pathetic to try to turn this into some kind of racial litmus test.'"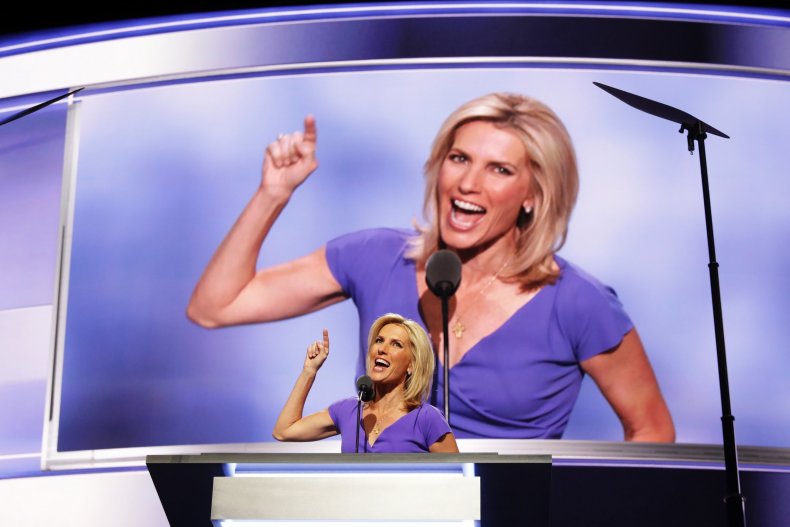 DeSantis agreed with Ingraham's take on the situation. "Yeah," he said. "Look, and Laura, I had people from college texting me saying, "Yeah, I remember you used to say that."
Earlier in the day Fox & Friends hosts downplayed the DeSantis comment. "People are saying, 'Wow, it's a dog whistle, this is a race [sic]. And Andrew Gillum says, 'Hey, you know what, it's not a dog whistle, it's a bullhorn.'" said host Brian Kilmeade. "I actually don't think, if you hear those remarks, you wouldn't think for a second -- if you know Congressman DeSantis and his background, you don't think for a second that he's racist."
Fox host Sean Hannity also had DeSantis on his program to discuss the incident. "We are now in an environment where people want to purposely take things out of context, your life's work, who you are, what other people have said, even on their side that they support politically, it doesn't seem to matter," he said.
DeSantis ran his campaign largely on his endorsement from President Donald Trump. In a television ad, he was shown "building a wall" with his young child, and reading "The Art of the Deal," to another. In a Fox & Friends interview, White House adviser Kellyanne Conway said that she couldn't think of a candidate in this country who has leaned in more to the presidential endorsement than Ron DeSantis."
Gillum, meanwhile, told MSNBC that DeSantis was vying to "join Donald Trump in the swamp," and that "We're going to leave them there, and we continue to press toward a higher mark."