Laura Ingraham Says Ad Boycott Is 'Stalinist' Attempt to Change American Society
Fox News host Laura Ingraham fired back at activists pushing a boycott of her show The Ingraham Angle, saying they were left-leaning "speech czars" who wanted to suppress political dissent.
Late last month, Ingraham, 54, took to Twitter to mock David Hogg, the 17-year-old Parkland shooting survivor turned gun control activist, for not being accepted into four colleges. Hogg retaliated by encouraging advertisers to boycott The Ingraham Angle.
"Their efforts are Stalinist, pure and simple. Their objective is a total transformation of American society not through rational discourse and open debate, but through demonization and silencing," Ingraham said on her show on Monday (April 9), after a week-long hiatus.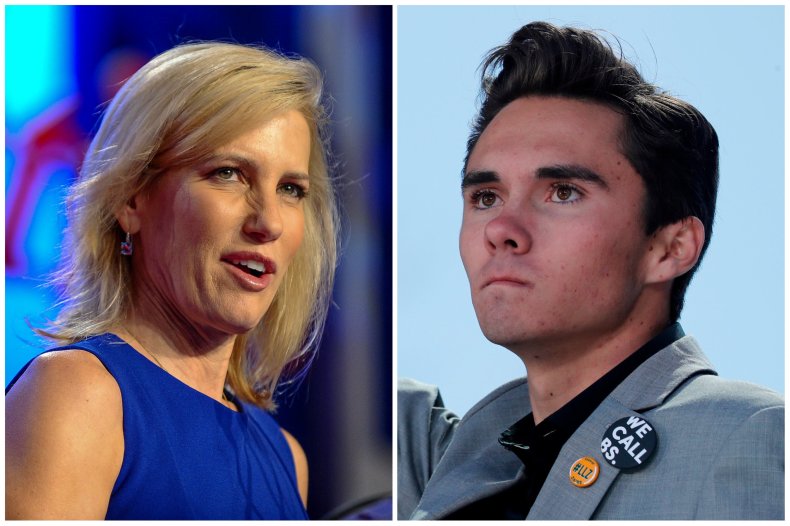 Following the mass shooting at Marjory Stoneman Douglas (MSD) High School in Parkland, Florida, on February 14, Hogg co-founded Never Again MSD, a gun control advocacy group led by himself and other MSD students. Hogg's role in leading a nation-wide gun reform movement and participation in the group thrust him into the limelight, which resulted in conspiracy theories and personal attacks from conservatives.
After Ingraham's March 28 Tweet, Hogg responded by posting the names 12 companies who advertised on The Ingraham Angle and encouraging them, and others, to boycott her show.
Nutrish, a pet food company and third on Hogg's list, were the first to respond. The company tweeted to Hogg: "We are in the process of removing our ads from Laura Ingraham's program."
So far, at least 18 companies, including Nestle, TripAdvisor, Expedia, Joseph A. Bank and Wayfair have distanced themselves from The Ingraham Angle.
On March 29, Ingraham apologized to the teen.
Hogg rejected Ingraham's apology and criticized her for being a bully in an interview with CNN.
"It's disturbing to know that somebody can bully so many people and just get away with it, especially to the level that she did," he said.
"No matter who somebody is, no matter how big or powerful they may seem, a bully is a bully, and it's important that you stand up to them."