Laura Ingraham Says Alexandria Ocasio-Cortez Is 'Really Impressive' and Invites Her on Fox News Show
In a rather surprising move, Fox News host Laura Ingraham complimented newly elected Democratic Congresswoman Alexandria Ocasio-Cortez, who has recently bashed both Ingraham and the conservative network many times.
OnThe Ingraham Angle Wednesday night, the host said it was easy to brush off people like Ocasio-Cortez as funny, but unwise to do so.
"I've got to say, I said it at the very beginning, it's really impressive that she goes from being, you know, she was working at a coffee shop, fairly modest means, and she takes on this very liberal Crowley, Congressman Crowley, third in the leadership in the Democratic Party," Ingraham said, referring to Ocasio-Cortez defeating New York's 14th district incumbent Joe Crowley in the primary.
"And she just organizes the heck out of it and rolls right over him," Ingraham continued. "I kind of like the fact that she's like, 'You guys lost to Trump. I'm going to help take this party in a new direction.' I kind of admire that."
Ocasio-Cortez made history in the November midterm elections, becoming the youngest woman to be elected to Congress at age 29.
Ingraham was less warm when she brought up Ocasio-Cortez's tweet from last Thursday, a biting critique of Ingraham, fellow Fox News host Tucker Carlson and the cable news network as a whole. The congresswoman quote-tweeted a video from Vox about why white supremacists apparently love Carlson:
"Let's learn about this, shall we? Many have recognized that @FoxNews has crossed a line beyond conservatism and into outright bigotry with their financing of Tucker Carlson and Laura Ingraham," Ocasio-Cortez tweeted. "Tucker finances the @DailyCaller, which posted fake nudes of me. Here's a breakdown."
Ingraham ripped what she called Ocasio-Cortez's "little tweet" about her.
"My authentic self, I mean... she's questioning my own truth, I think. As a single woman, I felt so offended by what she said about me," Ingraham said. "Woman to woman, as a single mother."
Guest Matt Schlapp, a conservative lobbyist, then said Ingraham should ask Ocasio-Cortez to come onto her show, adding that the outspoken new congresswoman would do just fine.
"We called her. We tried to get in touch with her, but I haven't heard back. We'd love to have you on," Ingraham said into the camera. "We'd have a good conversation, actually."
Ingraham concluded that she doesn't think it's smart for conservatives to ridicule Ocasio-Cortez and write her off as an anomaly.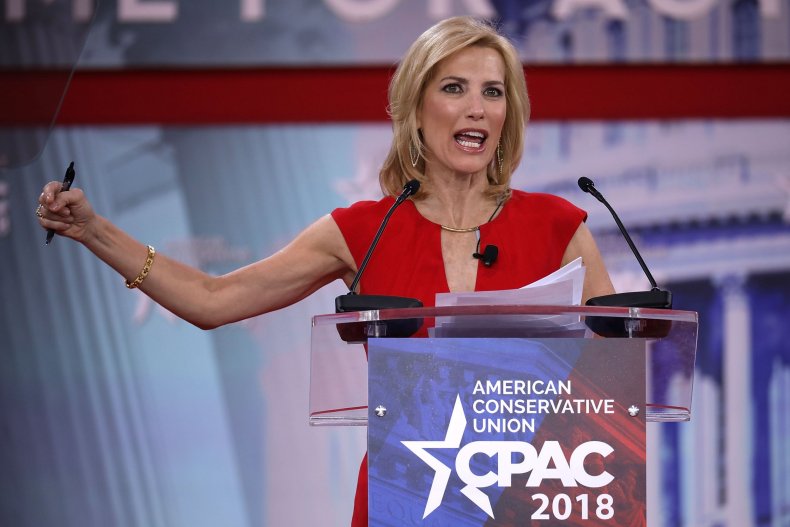 In recent years, the Republican Party has frequently been criticized as behind the times and lacking young leaders.
Ocasio-Cortez has bad-mouthed Fox News on multiple occasions. In November, she spoke out against the network for broadcasting stories about her appearing to wear expensive clothing while claiming she could not afford an apartment in pricey Washington, D.C.
Ingraham is not the only Fox News host to say something nice about Ocasio-Cortez. In November, Carlson said, "Hate to admit it" but acknowledged Ocasio-Cortez had been correct in scrutinizing Amazon and tax breaks it is set to receive for opening a new office in Long Island City, Queens.