Laura Ingraham Says Christine Blasey Ford Had Easy Ride: 'Everyone's Afraid to Ask Tough Questions'
Fox News host Laura Ingraham slammed the way the U.S. Senate Judiciary Committee questioned Christine Blasey Ford.
During a panel discussion on The Ingraham Angle, the Fox News host questioned the memory of Ford, who says she was "100 percent certain" that Supreme Court nominee Brett Kavanaugh sexually assaulted her when they were teenagers.
Ingraham asked if that was so, why could Ford not remember upon questioning whether she had shared her therapist's notes from 2012, which outlined her trauma from the assault, with The Washington Post.
"It's understandable to forget things from 36 years ago… but that was interesting. It was just seven weeks ago," said Ingraham. "She couldn't remember whether she gave notes? I mean, those are her therapist's notes. I mean, it would seem like you would really remember that."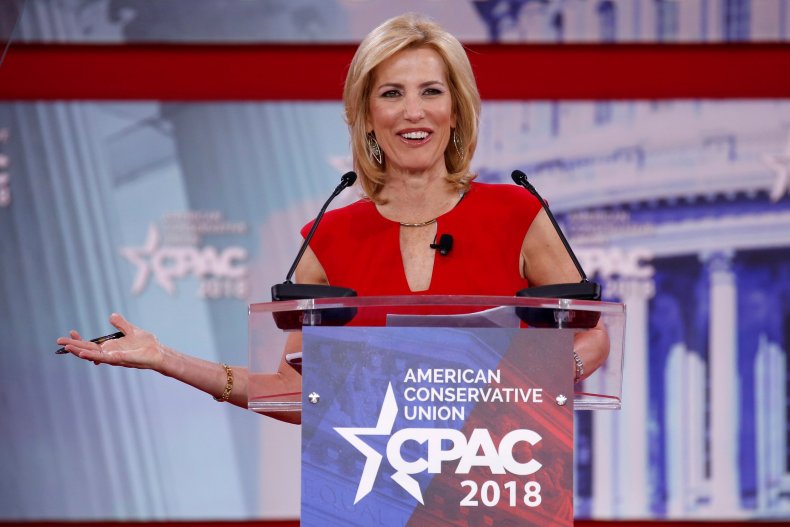 Ingraham also believed that Ford got an easy ride during the questioning from Rachel Mitchell, the Arizona sex crimes prosecutor who, Ingraham said, was "too slow" with her line of questioning.
"No one wanted to touch this. Everybody was afraid, I think, because of the #MeToo hashtag. Everyone's afraid to ask tough questions. They asked a lot of tough questions of Brett Kavanaugh. Didn't kind of push that. I was surprised. I was like, 'C'mon! C'mon!'" Ingraham exclaimed, adding that the two-part hearing was "a joke."
On Thursday, Ford told the committee that an assault by Kavanaugh 36 years ago had "drastically" affected her life. However, the Fox News panel claimed there were discrepancies over her account of how the trauma from the attack meant she did not like being stuck in enclosed places but was still able to fly from California to Capitol Hill.
Former U.S. Attorney Joe diGenova said that she "flies an awful lot for somebody who does not want to fly from California to the East Coast… She flew around a lot."
Ford's testimony prompted Donald Trump Jr. to tweet: "I'm no psychology professor, but it does seem weird to me that someone could have a selective fear of flying. Can't do it to testify, but for vacation, well it's not a problem at all."
Kavanaugh angrily denied Ford's allegations, saying he was the victim of an "orchestrated political hit" and that the confirmation process "has become a national disgrace."
Republicans met after the hearing and will vote on Friday on Kavanaugh's nomination. Majority Republicans also scheduled the full Senate to cast a first procedural vote on Saturday. That means Kavanaugh could be confirmed as early as Tuesday.
Laura Ingraham Says Christine Blasey Ford Had Easy Ride: 'Everyone's Afraid to Ask Tough Questions' | U.S.