Laura Ingraham Show Plays 'Shock The Monkey' Song Before Interviewing Ron DeSantis About 'Monkey Up' Controversy
Conservative radio host Laura Ingraham railed Thursday against Democrats for employing "identity politics," specifically citing Florida's gubernatorial race, while the Peter Gabriel song "Shock the Monkey" played in the background.
Ingraham was previewing her interview with Florida Republican candidate and current Representative Ron DeSantis, who was slammed this week for using the phrase "monkey up" in reference to Florida voters potentially picking Democratic opponent Andrew Gillum in November. Gillum is African-American.
"Well, this is not at all surprising. We're going to be talking to Ron DeSantis, Republican candidate for governor of Florida in just a few moments here on The Laura Ingraham Show. But this is the way the Democrats are going to play this all the way to 2020," Ingraham said in comments first reported by media watchdog Media Maters.
Ingraham continued: "It is identity politics 24/7, no issue discussion really except we want free stuff, and then the other person has to be just racist. If it's an African American candidate and a Republican is running against that candidate, more often than not, the left will try to figure out a way to call that Republican opponent racist. And until the public just says no to this, they say, 'No, we're not going to accept this type of bullying from the left, to intimidate people from speaking out,' then this is going to keep happening."
It's unclear if Ingraham made the decision to play the song or if it was chosen by a producer.
A representative for Podcast One, the podcast network that carries Ingraham's show, did not immediately respond to Newsweek's questions about the segment.
DeSantis later said he did not intend for his choice of words to be a racial slur toward Gillum. But when he joined Ingraham on the air, the host said Gillum should be the one apologizing for labeling DeSantis a racist.
"You know what I'd do? I'd demand an apology of him. That's what I would do," Ingraham said. "'You want me to apologize? You apologize for falsely accusing someone of racism to avoid a debate on the issues.' I'd turn it right around on them. 'You should apologize because it's pathetic to try to turn this into some kind of racial litmus test.'"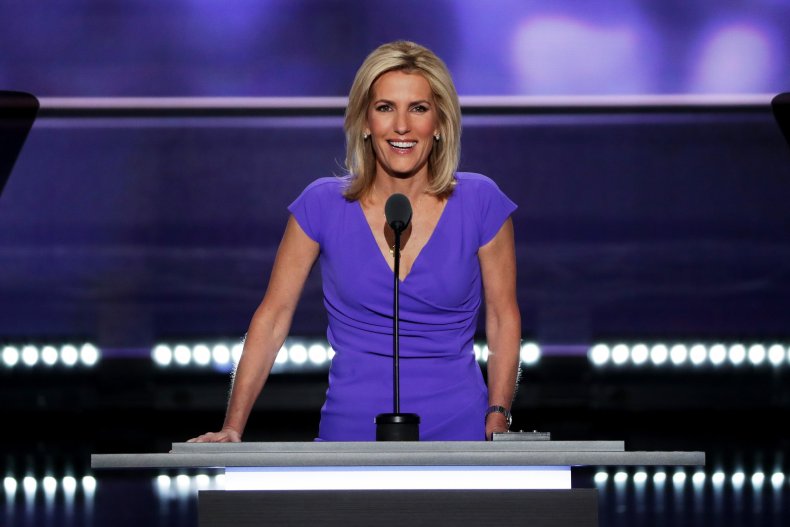 Earlier this month, Ingraham was criticized for claiming "the America we know and love doesn't exist anymore" during a segment about immigration and demographic changes around the country on her primetime Fox News cable program.
Ingraham said during the segment, and after the backlash, that she was not speaking about race.