Laura Ingraham Mocks Taylor Swift After Tennessee Democrat Defeat: 'Haters Gonna Hate'
Fox News host Laura Ingraham took to Twitter Tuesday to mock Taylor Swift after Republican Bill Lee was elected governor and Republican Marsha Blackburn was elected to Senate in Tennessee, the singer's home state. Democrats had hoped to flip Tennesse's Senate seat blue during the 2018 midterm elections.
To slam Swift further, Ingraham used one of the pop star's own lyrics. "Hey @taylorswift13, haters gonna hate. #shakeitoff," she tweeted, referencing Swift's 2014 hit "Shake It Off." She sings, "'Cause the players gonna play, play, play, play, play/ And the haters gonna hate, hate, hate, hate, hate' Baby, I'm just gonna shake, shake, shake, shake, shake/ I shake it off, I shake it off."
Swift, who was long rumored to be a Republican, generally kept quiet about politics. However, the pop star endorsed Tennessee senatorial candidate Phil Bredesen, a Democrat, over Blackburn. "In the past I've been reluctant to publicly voice my political opinions, but due to several events in my life and in the world in the past two years, I feel very differently about that now," she wrote. "I always have and always will cast my vote based on which candidate will protect and fight for the human rights I believe we all deserve in this country. I believe in the fight for LGBTQ rights, and that any form of discrimination based on sexual orientation or gender is WRONG. I believe that the systemic racism we still see in this country towards people of color is terrifying, sickening and prevalent."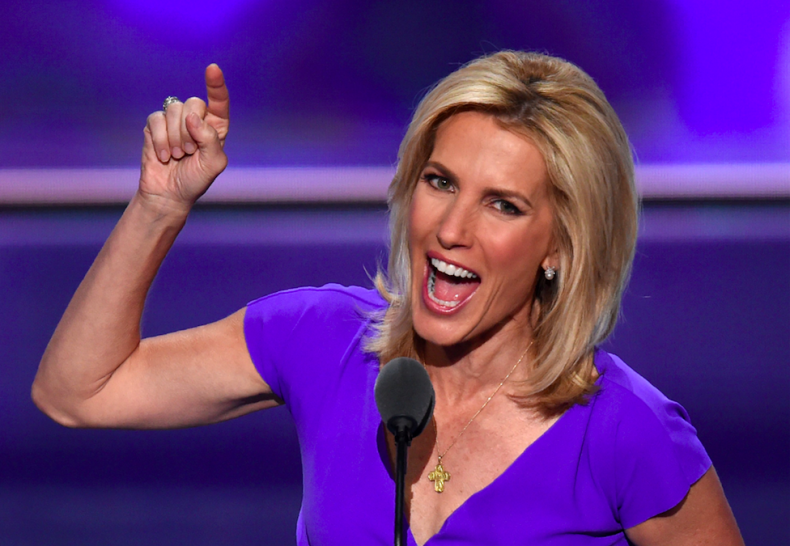 She specifically said she would not vote for Blackburn. "I cannot vote for someone who will not be willing to fight for dignity for ALL Americans, no matter their skin color, gender or who they love. Running for Senate in the state of Tennessee is a woman named Marsha Blackburn. As much as I have in the past and would like to continue voting for women in office, I cannot support Marsha Blackburn," Swift wrote.
Not everyone was pleased with Swift dabbling in politics, including Fox News guest Charlie Kirk, a conservative activist. "This is what I used to love about Taylor Swift, is she used to stay away from politics," Kirk, 24, said during a Fox & Friends appearance last month. "She was just all about music, all about female empowerment."
He then compared her to rapper Kanye West, who has openly voiced his support for President Donald Trump. "So look Taylor Swift, I love your music. Personally, Kanye West, I'm a bigger fan of his. Stay away from politics," Kirk said.
Laura Ingraham Mocks Taylor Swift After Tennessee Democrat Defeat: 'Haters Gonna Hate' | U.S.