Laura Ingraham on Trump's Press Conference: Foreign Policy Is Complex and He's New to It
Fox News host Laura Ingraham played down concerns about President Donald Trump's foreign policy strategy after his performances at a NATO summit, on a visit to the U.K., and after a one-on-one meeting with Russia's President Vladimir Putin.
"It's complex," Ingraham said of foreign policy during a panel discussion on her show The Ingraham Angle Monday night. "[Trump is] new to it… he's a year and a half into this."
She was responding to Ian Bremmer, a political scientist and president of the Eurasia Group risk consultancy, who said "foreign policy is not his bag."
Ingraham said she thought Trump, who in a CBS News interview called the European Union a "foe," had made some "verbal missteps" but the "substantive policy coming out of this administration toward Russia in my mind is quite realistic and pragmatic."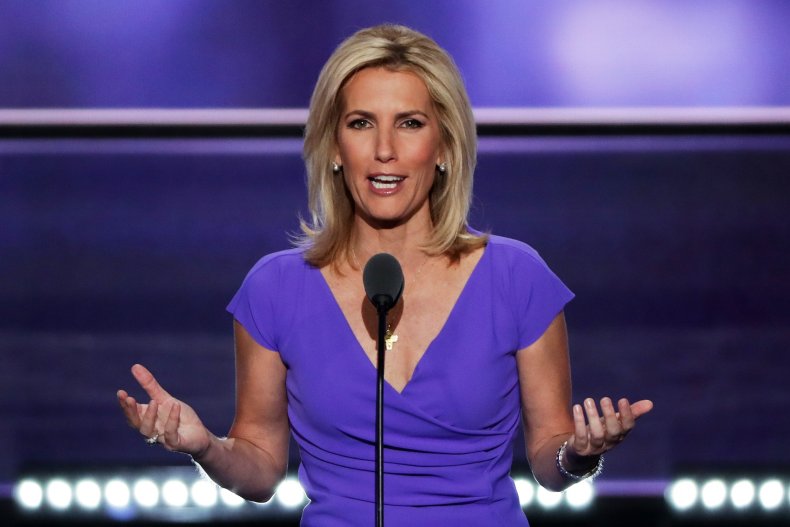 Trump's critics accuse him of threatening the future of NATO with his combative and aggressive rhetoric at the recent Brussels summit.
He claimed "Russia controls Germany" because of the Nord Stream 2 gas pipeline and demanded that allies drastically increase their defense spending to double NATO's 2 percent of GDP target.
In the U.K., Trump gave an interview to The Sun criticizing Prime Minister Theresa May's handling of Brexit, and said her Conservative party rival Boris Johnson would make a great leader of Britain. Trump subsequently apologized to May.
Then in Helsinki, Finland, Trump appeared to side with Putin over his own intelligence agencies who believe the Russian government attempted to undermine the 2016 election in an act of cyber warfare. Putin denies any involvement.
"I have President Putin. He just said it's not Russia," Trump said at a press conference after the pair met.
"I will say this: I don't see any reason why it would be… I have great confidence in my intelligence people, but I will tell you that President Putin was extremely strong and powerful in his denial today.
"And what he did is an incredible offer. He offered to have the people working on [Mueller's] case come and work with their investigators with respect to the 12 people [Russians indicted for electoral interference]. I think that's an incredible offer."
Republican Senator John McCain described Trump's Helsinki press conference as "one of the most disgraceful performances by an American president in memory.
"It is clear that the summit in Helsinki was a tragic mistake. President Trump proved not only unable, but unwilling to stand up to Putin," said the Senate Armed Forces chairman in a statement.