Laura Ingraham Speaks Out About Claims 'You' Viral Video Was Staged
Fox News host Laura Ingraham made a dig at liberals when she addressed the popularity of the viral clip between herself and host Raymond Arroyo.
In the clip that spread like wildfire across the internet on Tuesday, Arroyo mentioned the popular Netflix show You and an episode that contained mention of the measles disease and vaccine as the pair discussed viewing figures.
Many viewers took to social media to weigh in on the interaction with some claiming it was genuine while others insisting it was staged.
Ingraham then, seemingly confused, questioned when on The Ingraham Angle had she mentioned the measles disease or vaccine.
The pair went back and forth with Arroyo repeating the show name, to the apparent confusion of Ingraham.
He then clarified it was a show on Netflix to which Ingraham asked whether there was a show entitled Laura Ingraham on Netflix.
Arroyo addressed the popularity of their viral clip while at Fox News' Patriot Awards in Florida.
He laughed as he reflected on the debate it sparked over whether the clip was genuine or a joke.
He said: "Nothing has exploded like the segment you and I did on Monday.
"I casually brought up this show You on Netflix and suddenly it was covered.
"The TikTok video has been viewed more than 20 million times."
The pair looked over some tweets from viewers and joked about their comedic and acting skills.
When asked for her input on whether it was real or staged, Ingraham replied "What do you think?." She then took the opportunity to mock liberals who believed it was a real interaction.
She said: "Do you know what I think Raymond? I think there are a lot of liberals out there who don't like conservatives having fun, that is what I think.
"Do you know what else I think? I think they haven't got a laugh in 30 years.
"Something that we practised for 30 seconds got like 20 million views."
The pair then attempted to repeat the gag, this time with Arroyo being the one to get confused over the word you.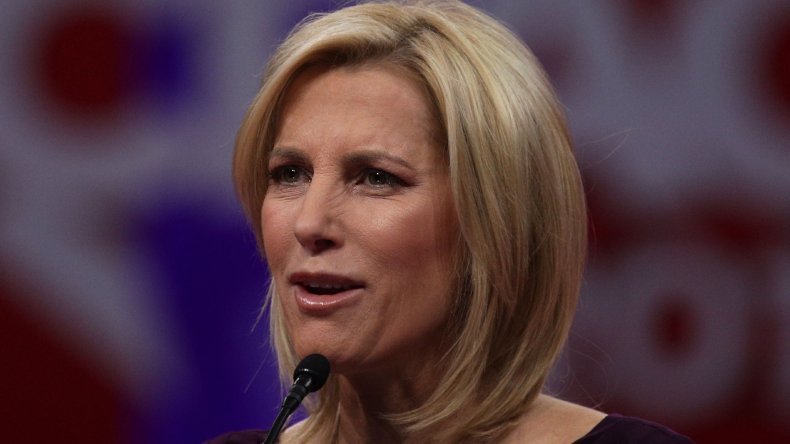 Ingraham continued: "Whatever the case, with all the publicity, I think the show You should be really happy."
Arroyo replied: "The show me and the private me are very happy, Laura."
Ingraham hit back claiming she meant the Netflix show You to which Arroyo questioned "show me what?"
Ingraham hit back: "This is so stupid now, I can't do this.
"No, the show You because of all the publicity it got."
Ingraham then joked she could not deal with Arroyo and said she was not doing this joke anymore.
When Fox News was contacted for comment, a spokesperson directed Newsweek to the tweets of Arroyo on Monday.
The Fox News host had tweeted: "My favourite part was that only regular viewers realized it was totally scripted #YousonFirst."