Laura Ingraham's Brother Calls Out Fox News Host for 'Describing the Truth' Supporting Impeachment as 'Messaging'
Laura Ingraham's brother took shots at the Fox News host on Twitter Tuesday, saying she has a propensity to "attack and smear those true Americans" who believe Democrats concerning the impeachment of President Donald Trump.
Curtis Ingraham was responding to a Twitter post from his sister where she shared an article about House Speaker Nancy Pelosi travelling to San Francisco's Chinatown to try to mitigate recent coronavirus fears, while claiming that Pelosi was guilty of "terrible messaging" during the Trump impeachment.
"Laura, leave it to you to describe the truth and facts supporting the articles of impeachment as messaging," tweeted Curtis. "That is what you do every night as you attack and smear those true Americans defending our democracy. Do you get my message?"
Laura Ingraham is an ardent supporter of Trump and consistently defended the president throughout the impeachment proceedings. Her political views strongly clash with those of her brother, who says that his sister's "angry" opinions were informed by their "Nazi sympathizer" father.
"We grew up with an abusive, alcoholic father who was a Nazi sympathizer. Like father like daughter?! This was the familial soil that gave bloom to my sister's anger," Curtis wrote in an August 2018 tweet.
Laura began her career as a speechwriter for former President Ronald Reagan, before moving on work as a commentator for several cable news outlets and host a conservative talk radio show. She is currently the host of The Ingraham Angle on Fox News.
There has been bad blood between the Ingraham siblings for many years. One of the issues that could have created a wedge between the pair is Laura's opinions on homosexuality, especially in light of Curtis being gay.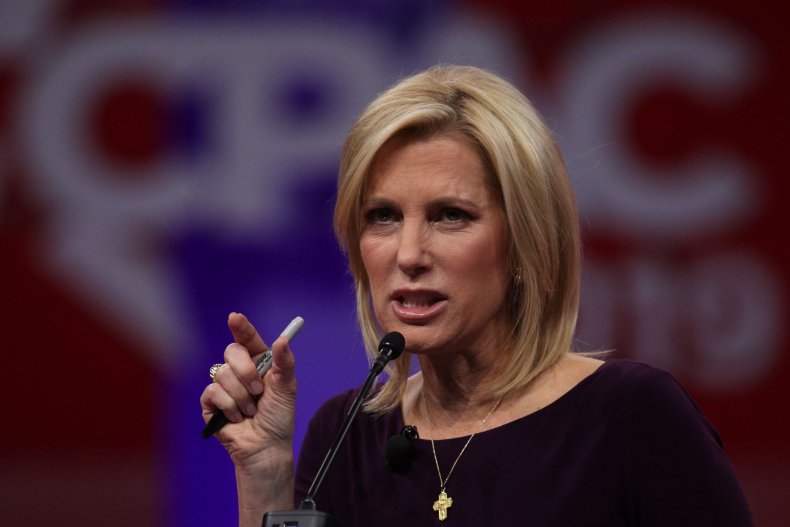 In the 1980s, Laura Ingraham used her position as editor-in-chief of her college's conservative newspaper The Dartmouth Review to out gay students after an undercover investigation into what she called "sodomites" on campus.
The siblings may have made amends for a time after Laura wrote a 1997 Washington Post opinion piece claiming that her views on homosexuality had softened due to Curtis, whose partner was fighting a losing battle with AIDS at the time.
However, over time they grew further apart as Curtis said she became more religious and her views more rigid. Curtis has been publicly speaking out against his sister on social media and elsewhere in recent years.
"I think she's a monster," said Curtis in a September 2018 interview with The Daily Beast. "She's very smart, she's well spoken, but her emotional heart is just kind of dead. And you see it in her face when you see her on TV. She's ready to destroy."
"She does not listen to understand—she listens to respond. And her response is always an attack," he added.
Newsweek reached out to Fox News for comment but did not receive a response in time for publication.