Laura Ingraham's 'You' Confusion Over Netflix Show Has the Internet in Stitches
A moment of on-air confusion between Fox News host Laura Ingraham and author Raymond Arroyo on her Monday night show has gone viral, with one video of the interaction being viewed over 5 million times.
Arroyo appeared on The Ingraham Angle on November 15 to discuss the viewing figures for "woke-free TV." In the segement, Arroyo claimed that the popular drama Yellowstone saw strong viewing figures because it could act as a counterbalance to the "politics and woke storylines in so many shows."
He then moved on to discussing the popular Netflix thriller You which appeared to confuse Ingraham.
The confusion between the two saw many viewers in stitches as they took to posting the video online. One TikTok video of the exchange, posted by Olivia Winter, has been viewed over 5 million times.
Arroyo said: "There is a reason people are in love with Yellowstone, Laura.
"It is an antidote to the politics and all those woke storylines in so many shows today.
"I was watching an episode of You, where measles came up."
The host then interrupted to ask when she had ever mentioned the measles disease, seemingly under the impression Arroyo was talking about her news show.
Arroyo then reiterated and said the show name as Ingraham questioned when she had ever brought up measles.
She interrupted again to add that she had never had measles nor had she done an episode of her show on measles or the measles vaccine.
She also questioned whether Arroyo was joking as the pair continued to try and understand each other.
Arroyo repeatedly said the name of the Netflix show, You in hopes of resolving the misunderstanding.
Ingraham in response said: "We have never done a measles and vaccine episode, is this a joke?
"I don't know what you are talking about.
"Raymond, I have never had measles, what are you talking about? This is stupid."
Appearing to lose his patience, Arroyo repeated: "You, it is called You."
"It is a show called You on Netflix."
Ingraham then paused and replied asking if there was a show on Netflix called Laura Ingraham on Netflix.
Arroyo then proclaimed that he had given up attempting to explain what he was trying to talk about and wanted to move on to the next topic of singer Adele.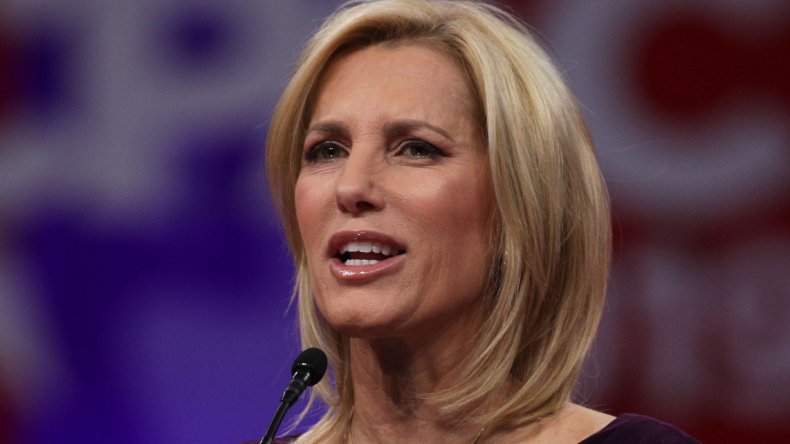 After the confusion between the two hosts, a number of viewers took to social media to express their amusement and surprise at the interaction.
Twitchy Team tweeted out "This exchange between Laura Ingraham and Raymond Arroyo makes for quite possibly 'the best TV in years."
While many took the clip to be unscripted, others speculated that the mishap was likely staged. Justin Baragona, media reporter at The Daily Beast, said "Lot of folks on Twitter this morning wondering about this Laura Ingraham segment and whether she was serious or not.
"It was 100 percent a bit."
While The Daily Show head writer Dan Amira chimed in: "People roasting Laura Ingraham for being oblivious, oblivious to the fact that she was in on the bit"
Netflix confirmed last month that You is the most popular show on the streaming platform with South Korean smash hit Squid Game and miniseries Maid following.
The popular psychological thriller's third season premiered on October 15 and will continue to the story of serial killer Joe Goldberg, played by actor Penn Badgley.