Laura Jane Grace and Hari Nef Speak Out About North Carolina's Anti-LGBT Bill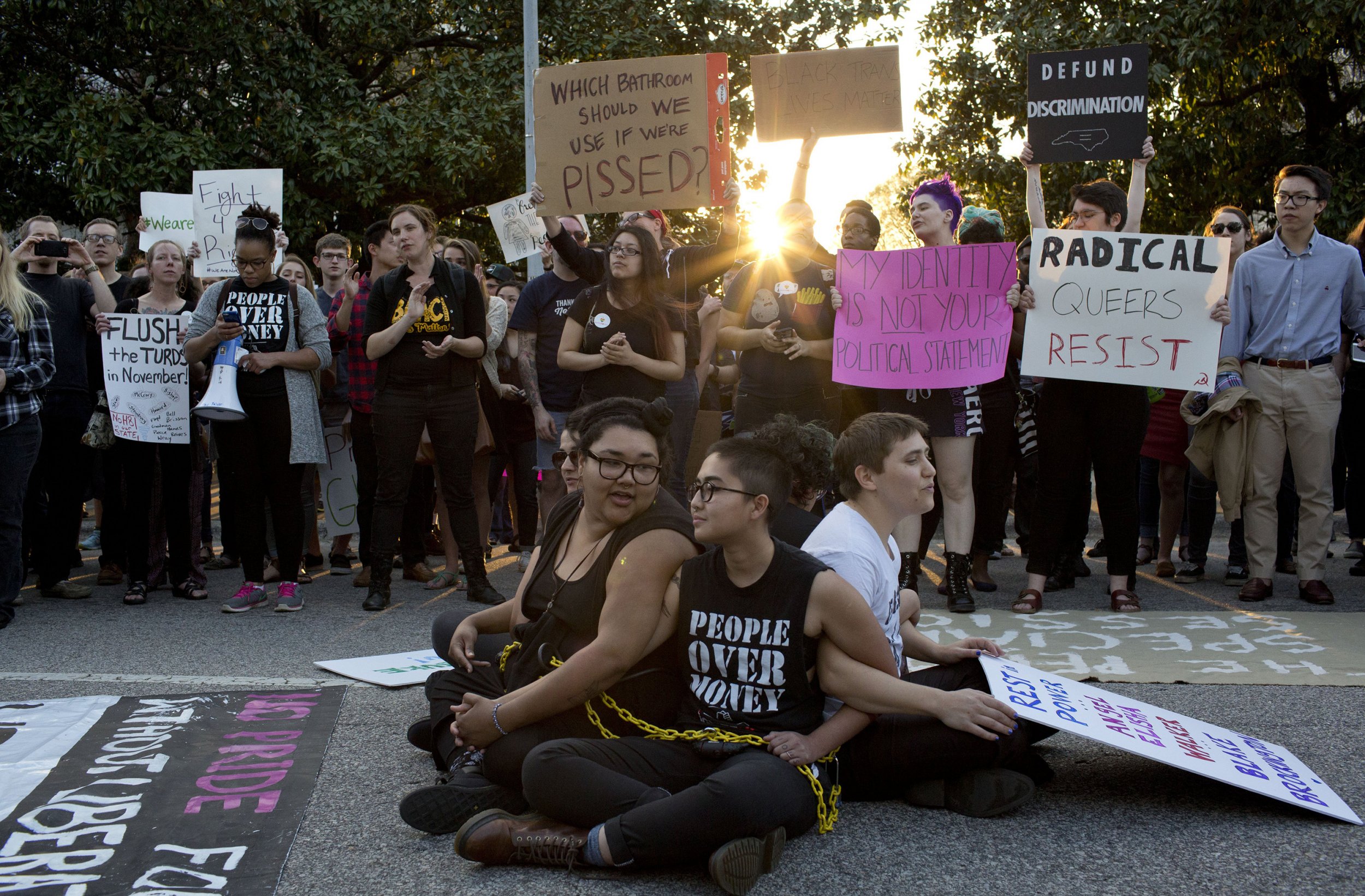 One of the first times Laura Jane Grace experienced violence in a public restroom was at her daughter's soccer practice. For Hari Nef, an incident in the bathroom at a ritzy New York City nightclub where she was hosting a party stands out.
Grace, the lead singer of American punk band Against Me!, came out as a transgender woman in 2012, in what Rolling Stone called a first for a major rock star. About a year after her transition, Grace was at her then-3-year-old daughter's practice when the little girl ran into the men's bathroom.
"A guy jumped out in front of me and blocked me from entering the restroom. He stood there with my daughter on the other side of him inside the bathroom," Grace tells Newsweek in a telephone interview. "Seeing a way bigger person than me obviously willing to enact violence" was frightening, she says.
Nef, a transgender model and actress who appeared in the Amazon show Transparent, says she had to explain that she is a trans woman before being let into the women's room. A couple of months later, her friend was similarly "obstructed" in the same club.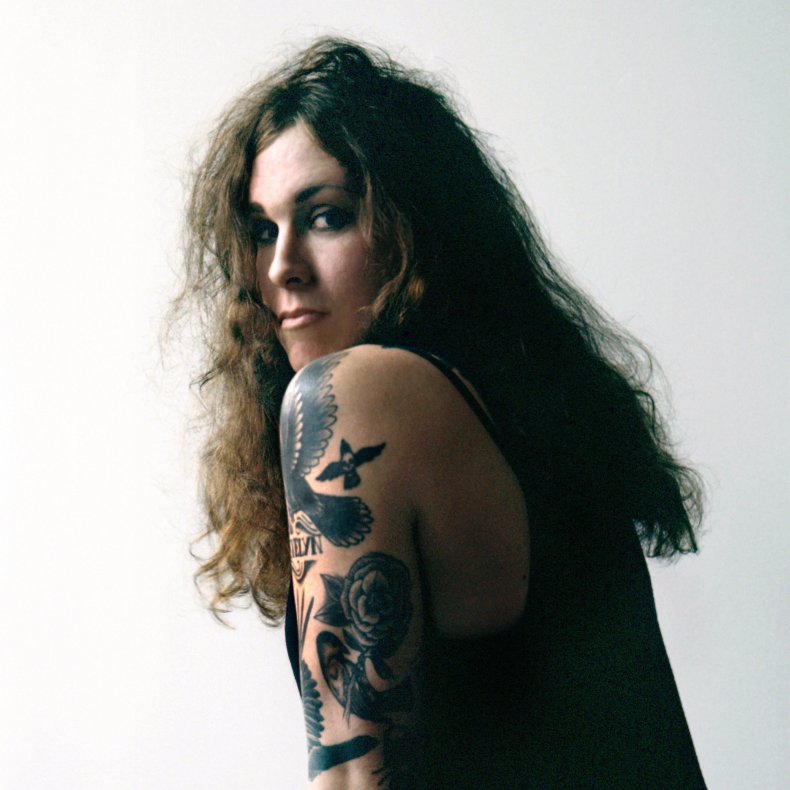 Grace and Nef are speaking out about the potential danger faced by trans people in public restrooms a week after North Carolina Governor Pat McCrory signed a sweeping new law that bars any new LGBT anti-discrimination legislation from being enacted in the state. The law, House Bill 2 (HB2), was introduced, debated and signed within 12 hours and also revoked a Charlotte City Council ordinance that would have allowed trans people to use public restrooms according to their gender indentity.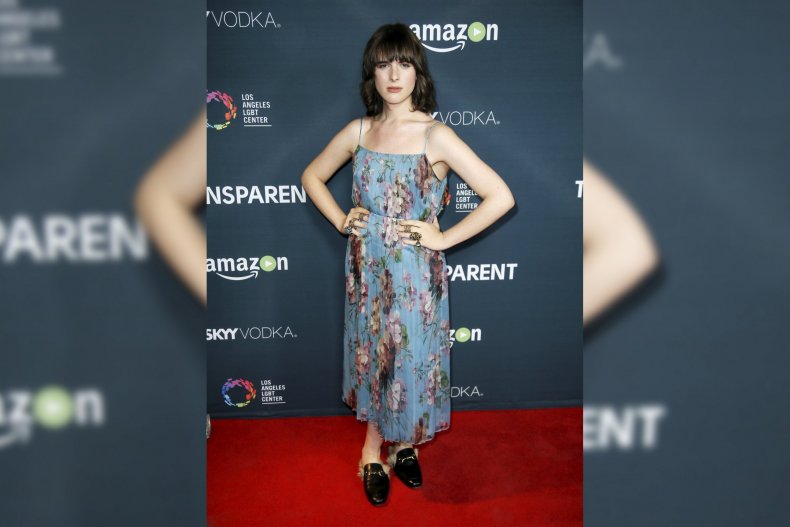 North Carolina law now states that people in public buildings must use the bathroom according to the gender on their birth certificate. Only trans people who have amended their birth certificate to the gender they identify with now—which can be a complicated and difficult task—are exempt from HB2. After he signed the bill last week, McCrory said: "The basic expectation of privacy in the most personal of settings, a restroom or locker room, for each gender was violated by government overreach and intrusion by the mayor and city council of Charlotte."
According to McCrory's office, HB2 "simply says people must use the bathroom of the sex listed on their birth certificate. Anyone who has undergone a sex change can change their sex on their birth certificate."
Public outcry against HB2 has mounted over the past week. Prominent businesses, including American Airlines, Google and Facebook, have condemned the bill. The mayors of Washington, D.C., and San Francisco, as well as New York Governor Andrew Cuomo, have now banned nonessential government travel to the state. And North Carolina Attorney General Roy Cooper has said he won't defend the state against a lawsuit filed this week by the American Civil Liberties Union. Still, McCrory doubled-down, saying, "North Carolina has been the target of a vicious, nation-wide smear campaign." Those who support HB2 say it stops "grown men from sharing locker rooms and bathrooms with young girls."
Being a trans woman in the U.S. "places a target on you. Even in states where there isn't a specific [anti-LGBT] bill, that is the current state of existence for the modern trans person," says Grace. "The fear is of violence, very real violence."
North Carolina's HB2 is one of roughly 200 anti-LGBT bills introduced this legislative session, and more extreme legislation is still pending. LGBT advocates say that two bills in Kansas, SB 513 and HB 2737, would, if passed, essentially place a bounty on trans people's heads. The bills would allow students to sue their schools for $2,500 in damages if they discover a trans person in a bathroom that doesn't correspond with their sex. The bills say sex is "determined by a person's chromosomes and is identified by a person's anatomy."
When Nef first found out about HB2, "it kind of felt like this thunderbolt coming out of the sky," she says.
"Reading about it was very triggering as someone who deals with gender dysphoria on a daily basis, but this was gender dysphoria on a national scale," she adds. "I was not only dysphoric about being a trans woman, but I was dysphoric about being American."
Bills like HB2 are taking advantage of the public's lack of knowledge around trans issues, says Dru Levasseur, national director of the Transgender Rights Project at Lambda Legal, one of the groups that filed suit against North Carolina earlier this week. For many trans people, the most important part of transition is social transition, which includes using the bathroom according to gender identity, says Levasseur.
"It was incredible to see that something could be turned around so quickly and be so bigoted and ignorant," Levasseur tells Newsweek. "The Department of Education has been explicit about the protections under Title IX for transgender students, and this law is in direct conflict with federal law. That means that schools are going to be risking federal funding if they're going to comply with this law."
Title IX law protects people from discrimination based on their sex or sexual orientation in schools and programs that receive federal funding, including LGBT individuals. Earlier this week, the White House said it was "concerned about the potential harmful impact of [HB2], especially on transgender youth," and called the law "mean-spirited."
For Nef, North Carolina's law sends a potent message: "We don't want you here. You don't deserve to go outside and participate in the things you pay taxes to participate in. It's saying, 'Get the fuck out of the country, out of the planet,'" she says.
After a long pause, she adds: "I can't sit here and make someone who's reading this try to understand how much it hurts."
In the wake of HB2's passing, James Sheffield has found minor Internet fame by turning his pain into a humorous viral tweet. Wearing a camouflage baseball cap and a confused expression on his bearded "grumpy hillbilly face," Sheffield tweeted at McCrory with the caption, "It's now the law for me to share a restroom with your wife." The tweet has been liked and shared more than 8,000 times since last Wednesday.
Sheffield, 36, works for an LGBT health nonprofit in Decatur, Georgia, and says he didn't set out to attack anyone, but "just wanted to point out the absurdity" of the fact that McCrory has legislated men to use the women's bathroom and vice versa. Despite looking typically masculine—Sheffield describes himself as "rugged"—he still feels unsafe and uncomfortable in every public restroom.
"It's really hard as trans person not to think in the back of your head that open season has just been declared on you," says Sheffield. "Now people are actively going to be trying to figure out if you're in there."
Georgia Governor Nathan Deal vetoed an anti-LGBT "religious freedom" law earlier this week, and it remains to be seen if McCrory will repeal HB2. Unlike the businesses, tech firms and film directors who have threatened to boycott North Carolina until HB2 is overturned, Grace says Against Me! will still go ahead with a planned show in Durham, North Carolina, on May 15.
"Knowing now that this is happening, I will definitely be raising awareness and doing something about it around the show," she says.
For trans and gender-nonconforming people in North Carolina, Nef suggests looking up lists of businesses that offer safe and welcoming bathrooms and visiting the National Center for Transgender Equality website.
"Just keep doing what you're doing," Nef says, defiance resonating in her voice. "Walk in there, do your thing and walk out."
"This is not the end, and this is not what being trans is going to be like forever."