Laura Loomer Ambushes Twitter CEO Jack Dorsey, Accuses Him of Election Meddling
Far-right political activist Laura Loomer heckled Twitter CEO Jack Dorsey during the first day of the Bitcoin 2021 conference and accused him of meddling in the 2020 presidential election.
After Dorsey took the stage Friday in Miami for a discussion about bitcoin as the native currency of the internet, he was interrupted by someone in the crowd, who later identified herself as Loomer.
"How can you say that this is a currency for everyone in the world when you are the king of censorship?" Loomer shouted from the crowd. "Bitcoin is about decentralization, and you have no right to be here today speaking about this."
As conference organizers tried to regain control of the room, Loomer was heard telling Dorsey that "censorship is a human rights violation" and "you are interfering with elections."
When the audience quieted down, Alex Gladstein, the chief strategy officer at the Human Rights Foundation, who joined Dorsey onstage, shifted the conversation to censorship and social media.
"Can social media be more like bitcoin? Bitcoin is censorship resistant. Nobody controls it. What is your thought on that?" Gladstein asked Dorsey.
"Yes, I do believe it can," the Twitter CEO responded. "I know there's a number of you out there who disagree with a lot of actions that Twitter's taken. I know there's a lot of you out there who disagree with our policies and the way we've evolved them. I appreciate it. I recognize it."
Dorsey's remarks were met with cheers and applause from the audience.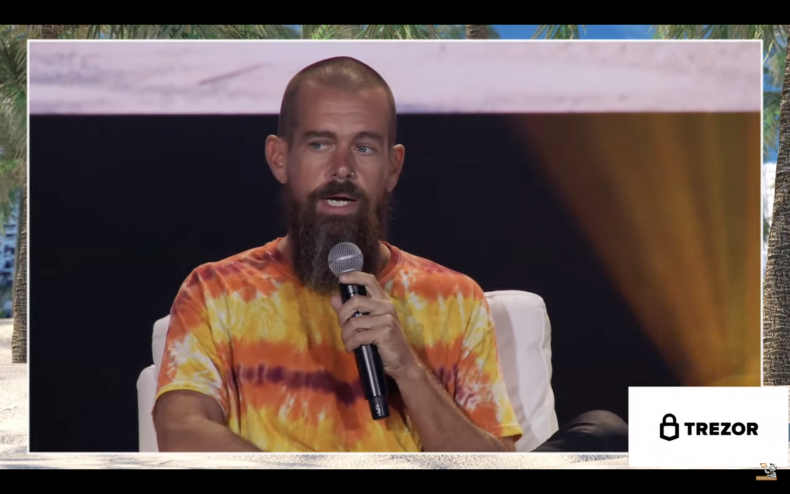 Last year, Twitter began flagging a number of tweets from former President Donald Trump for containing false, disputed or misleading information—both about the 2020 election and the coronavirus pandemic—as well as for "glorifying violence" in tweets about last summer's racial justice protests.
On January 6, following the deadly riot at the U.S. Capitol, Twitter locked Trump's account for 12 hours in response to his perceived role in "incitement of violence." While his account was later unlocked, the social media giant went on to indefinitely block Trump from Twitter two days later. Other social media platforms quickly followed.
On Friday, Facebook announced it would suspend Trump from the social network until at least 2023.
Trump has rallied against the social media companies that have banned him from their platforms, accusing them of "getting away" with censorship.
Loomer has also been banned from numerous social media platforms, payment processors, vehicles for hire and food delivery mobile apps for violating hate speech policies and spreading misinformation.
In September 2018, she disrupted a congressional hearing to accuse Dorsey, who was testifying, of censoring conservatives on Twitter and of attempting to influence elections in favor of Democrats.
Two months later, Twitter banned her from the platform for her anti-Muslim tweets attacking U.S. Representative Ilhan Omar. A week after the ban, she chained herself to a door at Twitter's New York City headquarters. Her handcuffs were removed by police with a bolt cutter, and she was not arrested.
Loomer was also banned from the 2019 Conservative Political Action Conference after she attempted to heckle reporters and chase them through the convention site.
On Friday, Dorsey said that while Twitter has strict policies for users, he was working on a new open-source website that would be censorship-resistant. Several audience members shouted "liar" as he spoke.
"We're doing everything in our power [to find better intersections with the open-source community], and we're trying to do the same thing with Twitter by creating a new platform—a new open-sourced standard called Bluesky," Dorsey told the crowd.
"We're just starting it, and it will have none of the restrictions that you see on Twitter. Inspired entirely by bitcoin, we want to do the same thing for social media," he continued. "And again, I know you're not going to believe me. I know you're saying liar. I'm going to prove it to you, and then we can have another conversation later."
In 2019, Twitter formed a team dedicated to building Bluesky, a new decentralized media system. In its latest update, Bluesky released a review of the decentralized web ecosystem and said it is hoping to find a leadership team in the coming months.