Allegations from activists opposed to Colorado Rep. Lauren Boebert that she had two abortions despite advocating against abortion rights are "totally false", a spokesperson for Boebert said.
The activists making the allegations had previously been behind a campaign against North Carolina Rep. Madison Cawthorn—who subsequently lost his re-election bid.
American Muckrakers PAC, created by co-founders David B. Wheeler and Colonel Moe Davis, shot to fame with a damning campaign targeting far-right conspiracy theorist Cawthorn, who lost his bid for re-election in May to Sen. Chuck Edwards.
The group has now made allegations against Boebert, with Wheeler describing her as a "hypocrite" for opposing abortion rights.
In response to Newsweek's request for comment, a spokesperson for Boebert called all the accusations made against her by American Muckrakers PAC "totally false" and said the congresswoman "is consulting her attorneys on next steps."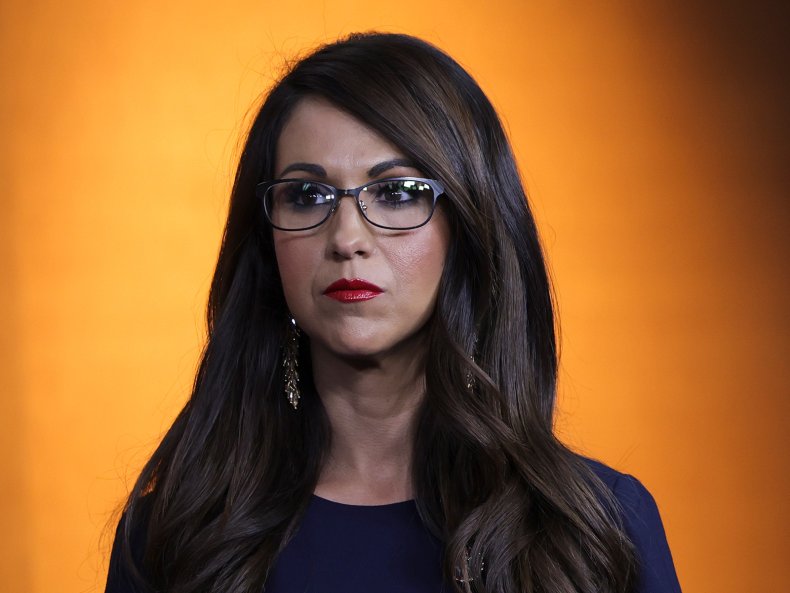 What Are the Claims About Boebert?
American Muckrakers PAC alleges Boebert worked as an unlicensed paid escort and met clients through a website called SugarDaddyMeet.com.
"According to our investigation, Boebert was hired by a wealthy male client in Aspen, Colorado, who was a Koch family member. Boebert's rich client subsequently introduced her to U.S. Senator [Ted] Cruz to run for political office," a press release from the PAC read.
The group also accused Boebert of taking at least $136,250 from Senator Cruz for her campaign for Congress announced in 2019, and failing to disclose a $70,500 donation noted in Cruz's Federal Election Commission filings.
The PAC said Boebert has had two abortions, one of which was at Planned Parenthood—a claim that, if true, would contrast with Boebert's proclaimed strong opposition to abortion rights.
"Boebert had an abortion at a clinic in Grand Junction, Colorado, sometime in 2004 or 2005 when she was approximately eighteen years old. It is not known whether this abortion was related to SugarDaddyMeet.com clients or someone else," said the PAC.
"Then Boebert, twenty-three at the time, had an abortion in 2009 at the Planned Parenthood Clinic in Glenwood Springs, Colorado, 'due to her work with a SugarDaddyMeet.com client.'"
In 2021 Boebert pushed a bill to block funding to Planned Parenthood, as well as other health centers providing abortions. In the same year, she notoriously told Planned Parenthood "to go fund yourself." On her website, Boebert prides herself in supporting "overturning Roe v. Wade and restoring the sanctity of life to the law."
Other claims accuse Boebert of crashing an off-road 4x4 vehicle she was driving while drunk in Grand County, Utah, endangering the lives of her son and sister-in-law Tori Hooper who were on board, and failing to report the incident as required by Utah law. The group said it called Tori Hooper, who told them Boebert "begged" her to say nothing of the incident two weeks before the 2020 primary elections.
According to Utah Code for motor vehicles, drivers involved in accidents that cause injuries, death or damage to the vehicle of $2,500 or more are requested to report the accident within 10 days.
American Muckrakers PAC said Boebert's sister-in-law was brought to St. Mary's Hospital in Grand Junction by helicopter after the accident, as per audio evidence it obtained.
Other claims are that Boebert paid for restaurant rent and her taxes with donor money, and has threatened her employees if they protested about not being paid the money she allegedly owes them.
The New York Times reported on June 8 that Colorado officials are currently examining allegations that Boebert inflated the mileage she logged on the campaign trail in 2020 and used more than $20,000 in reimbursements from donors to pay off years of tax liens on her restaurant.
The group said it obtained this information after an "exhaustive investigation" and a tip from an anonymous verified source close to the matter.
David B. Wheeler, president of the group and one of its co-founders, called Boebert "as big a hypocrite as Madison Cawthorn."
"He says one thing and does another. She says she is against abortion but has apparently had at least two abortions. She claims to be a devout Christian but is paid to escort wealthy men without a license and has two abortions she wants to make illegal for other women."
What Has Boebert Said About the Claims?
A spokesperson for Boebert told Newsweek, "these horrific claims are totally false."
"David Wheeler is using fakes txts from an 'anonymous source' to make disgusting and false allegations. He's provided zero proof. He's also using fake photos that are verified not to be Rep. Boebert.
"Rep. Boebert is consulting her attorneys on next steps. Not a single reputable paper has covered these allegations because there's not a single shred of evidence to back up the claims. For Newsweek to promulgate these assertions without asking for any evidence or any third-party verification is reckless and inappropriate."
In a letter obtained by Fox News, Boebert's attorney Jonathan Anderson wrote to American Muckrakers PAC, "we have irrefutable evidence that each one of these statements is patently false. You knew this though."
"Muckrakers published these outlandish statements knowing they were fabricated but you likely operated under the inaccurate assumption that publishing false statements against a public figure would not create legal liability. This will be a costly miscalculation for Muckrakers, Wheeler and Muckrakers' donors," Anderson added.
Earlier, Boebert appeared to reply to the allegations in a tweet that says: "Fact Check: Not true. Fake News. Four Pinocchios. Also...Y'all need Jesus!"
Update, 6/15/2022, 10:22 a.m. ET: This article has been updated to include comment from Boebert's spokesperson.
Update, 6/15/2022, 3:25 p.m. ET: This article has been updated with additional material