Republican Rep. Lauren Boebert of Colorado on Saturday night accused Democrats of being "obsessed with conspiracy theories" as she railed against Capitol security measures enforced in the aftermath of the insurrection on January 6.
Speaking on Fox News' Justice With Judge Jeanine, Boebert told host Jeanine Pirro that Capitol security measures should be relaxed because she believes that the threats have subsided.
"No one on the outside can get into the Capitol, it is only staffers and members of Congress who are allowed at the people's house," she said. "At our nation's Capital. This is complete bonkers that we are keeping people out of the U.S. Capitol. There's clearly not a threat. There was nothing that happened on March 4."
This week, authorities in D.C. ramped up security measures over fears of another Capitol attack on March 4. Despite countless failed QAnon predictions, some supporters of the conspiracy theory believed that Thursday was the day that ex-President Donald Trump would be inaugurated again.
QAnon supporters, typically conservative Trump fans, believed that the "storm" would see the ex-president order mass arrests and executions of satanic "deep state" pedophilies on January 20. When Biden took office, some believers shifted the date to March 4, when presidents were inaugurated pre-1933. Then the day arrived and nothing happened.
"The Democrats are obsessed with conspiracy theories and they won't let them go," Boebert said Saturday. "We have a border fence around the people's house, with miles of razor wire. And Speaker [Nancy] Pelosi wants to keep it up."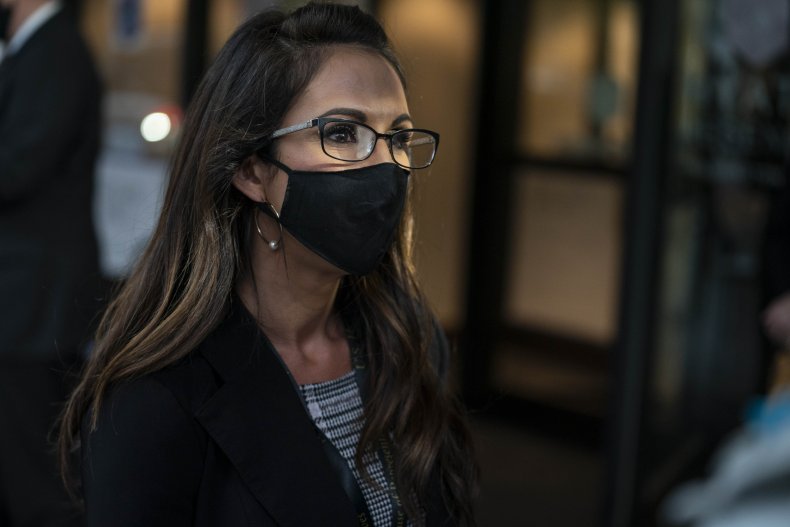 The security measures were put in place as the United States Capitol Police (USCP) announced Wednesday that they had uncovered threats by militia groups to breach the Capitol on March 4. They said the "possible plot" appeared to be connected to the QAnon conspiracy theory.
Boebert continued to rail against Democrats to Pirro on Saturday. Pelosi "doesn't want a southern border to protect us from illegal aliens," she said. "We have Biden and his handlers who aren't just dropping bombs on foreign countries, they're blowing up our own agencies from within... I want the wall to come down, I want our National Guards to go home and stop this nonsense."
The freshman congressman's remarks come less than two months after she faced calls for her resignation after tweeting out Pelosi's location during the Capitol riot. "Speaker has been removed from the chambers," she wrote on the day of the attack, as lawmakers took cover in secure locations.
Boebert has also been labeled the "QAnon Congresswoman" by her critics after saying she hopes the baseless conspiracy is "real." Boebert has since insisted that she's not a QAnon supporter.
Newsweek reached out to Boebert's office for further comment.