Lauren Boebert Has Reason to Fear Her New 2024 Challenger
Representative Lauren Boebert of Colorado has her first major challenger for the 2024 election cycle, and it's one she might have reason to fear.
Democrat Adam Frisch made it official on Tuesday that he is running against Boebert, the controversial far-right firebrand, to represent Colorado's 3rd Congressional District. In a message on his official Twitter account, Frisch said that he hopes to "restore dignity" to the district by unseating Boebert and included a video detailing how close he came doing it during the recent midterms.
"I. AM. RUNNING," Frisch tweeted. "You heard it here first! I am officially launching my campaign to unseat Lauren Boebert and restore dignity to #CO03 representation. We lost by a mere 546 votes in '22 — the closest race in the country — and know we can make that up in '24."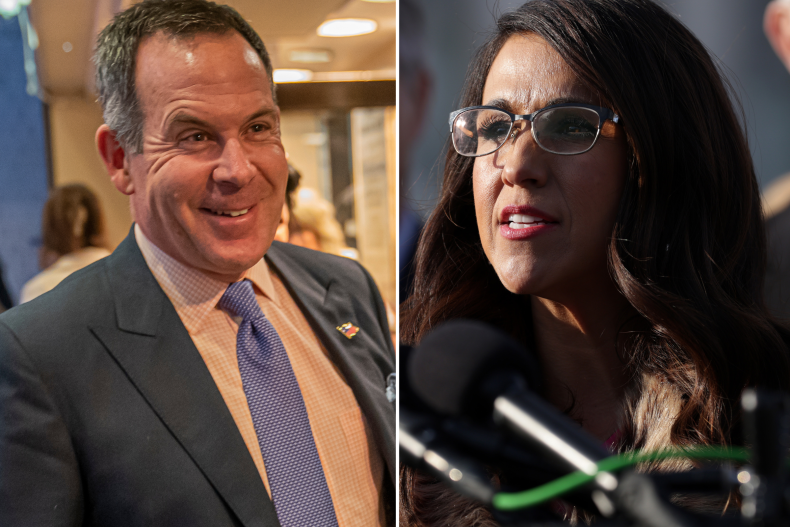 Previously serving on the Aspen, Colorado, city council from 2011 to 2019, Frisch ran against Boebert during the 2022 election cycle. Prior to the midterms, his campaign was considered a longshot in the predominantly Republican district which Boebert carried by 9 percent when she first won office in 2020.
Frisch ultimately became one of the major surprises of the midterms, significantly overperforming expectations and, for a time, leading Boebert by a slim margin. He ultimately lost to the incumbent Republican by 546 votes following a recount.
In the new campaign announcement video, his wife, Katy Frisch, attributed her husband's narrow loss last year to a lack of resources and support from the Democratic establishment, and further highlighted the efforts he made for voter outreach.
"Lauren Boebert is everything that's wrong with Congress," Frisch states in the video. "She's an election denier that encouraged the attack on the Capitol and wants to make all abortions illegal, even for rape and incest. She's part of the anger-tainment circus that's tearing our country apart."
The video also highlighted Boebert's slim margin of victory compared to those of other far-right Republican representatives, including Marjorie Taylor Greene of Georgia, Matt Gaetz of Florida and Jim Jordan of Ohio, who each won by margins of 66-70 percent. Boebert, the video argues, "is the only one of the crazies in Congress that can be beaten."
Boebert's narrow reelection was among the most notable examples of Republicans underperforming in the 2022 midterms, which saw the party fail to regain the Senate and gain a much smaller House majority than was anticipated. More extreme Republicans like Boebert were among the candidates who most underperformed.
Newsweek reached out to Boebert's office for comment.