Representative Lauren Boebert (R-Colo.) released a photograph of her family holding guns on Tuesday, apparently in support of Representative Thomas Massie (R-Ky.), who had posted a similar photo days prior.
Boebert, who was elected in 2020, posted a picture on Twitter that showed herself surrounded by her four children. While Boebert herself does not appear to be holding a gun, her kids are each holding what appear to be assault rifles.
"The Boeberts have your six,@RepThomasMassie!" the tweet was captioned, with the congresswoman jokingly adding that they did not have any spare ammunition for Massie.
Massie's similar photograph, posted to Twitter on December 4, had depicted the congressman with his entire family, all holding similar-style long guns. The tweet also asked Santa to "please bring ammo."
The tweet was quoted by Boebert, who retweeted the picture, saying that it was, "[her] kind of Christmas card!"
Boebert and Massie are both known for their strong pro-gun stances, as well as their strong support of the Second Amendment.
Boebert previously released an ad stating that she planned to carry a firearm with her around Washington, D.C., and her firearm also set off a metal detector in the Capitol building this past January.
Additionally, Boebert owns a pro-gun restaurant in Rifle, Colorado. Known as Shooters Grill, the eatery is run by open-carrying staff and describes itself as "armed and ready to feed you."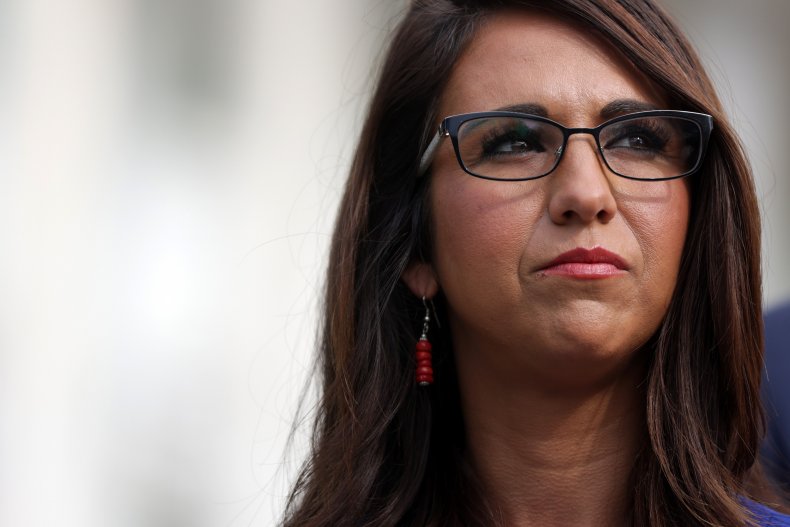 Both photographs received significant criticism on social media. Particularly, people questioned the callousness of posting pictures with guns in the immediate aftermath of the Oxford High School shooting that killed four students and injured seven others.
MediasTouch, a liberal SuperPAC, tweeted that it would "not be posting the deranged photo of Lauren Boebert and her young children holding weapons of war."
"Instead, let's honor the teens who were murdered due to this fetishization of guns," the tweet continued, and then proceeded to list the names and share photos of the four students killed at Oxford.
Additionally, in the aftermath of Massie's picture being posted, Manuel Oliver, whose son Joaquin died during the Marjory Stoneman Douglas High School shooting in Florida in 2018, denounced the image.
"That's a huge part of the problem," Oliver told CNN's Jim Acosta. "Someone elected leaders like this one that think that, I don't know, if they're trying to be ironic, funny, or what, but it's the worst taste ever that you could handle on social media."
"This is also something that should teach us who we should elect and not. It's a very nasty post," Oliver continued.
He then offered up a message for the families of those who had lost loved ones in the Oxford shooting.
"I have a reason to keep on being a father, a strong reason to keep on being a father," Oliver said. "And it didn't happen, I didn't feel this immediately after I lost Joaquin, but you start feeling that urgency of doing other things as a father."
Newsweek has reached out to Representative Boebert's office for comment.