Colorado GOP Congresswoman Lauren Boebert dismissed any internal Republican debate of who is running the party, as she touted former President Donald Trump's Sunday upcoming speech at the Conservative Political Action Conference (CPAC) as "the State of the Union address."
Boebert, a Republican who was elected to her first congressional term in November, reiterated her belief Sunday that Trump is not only still head of the GOP—he's also still president in her mind. "Looking forward to the State of the Union address today," Boebert tweeted Sunday, hours before Trump is expected to take the stage in Orlando, Florida, for the annual conservative conference.
Trump's Sunday speech at CPAC will mark his first major public remarks since being defeated by Biden. The former president delivered his third and final State of the Union address as president in February 2020, just as he was acquitted by the Republican-majority Senate on two impeachment trial charges. The speech was widely remembered for House Speaker Nancy Pelosi tearing up pieces of paper behind the president as he finished his remarks to Congress last year.
The representative has waded into numerous controversies in just the few weeks since she was elected to serve Colorado's 3rd Congressional District. But she has continuously expressed her baseless belief that President Joe Biden "stole" the election from Trump, and that the former president's CPAC remarks will direct the GOP moving forward.
Boebert has received widespread ridicule since November for controversies that range from her decision to carry a Glock firearm around Capitol Hill to her remarks last week mocking transgender youth. But she's also drawn in ardent backing from vehemently pro-Trump supporters who said the former president is the face of the Republican Party.
The former president's son, Donald Trump Jr., appeared to agree with Boebert's sentiment that Trump will assert his authority over the GOP at CPAC.
"The people, the base are 100 percent united behind Donald Trump. You see those who aren't, all of a sudden they're backtracking really quick, because as the Republican Party typically does, they don't know how to read the room very well. As I walk around the floor here at CPAC, the amount of love for my father for his policies," Trump Jr. said in an interview with Fox News host Jesse Watters Saturday. "When I see what's going on around the country, I know there's hope for this party, but it's following Donald Trump's methodologies, not the establishment."
Boebert's 3rd Congressional District represents almost the entire rural western and southern third of the state of Colorado, including cities Aspen and Pueblo. Newsweek reached out to her office Sunday.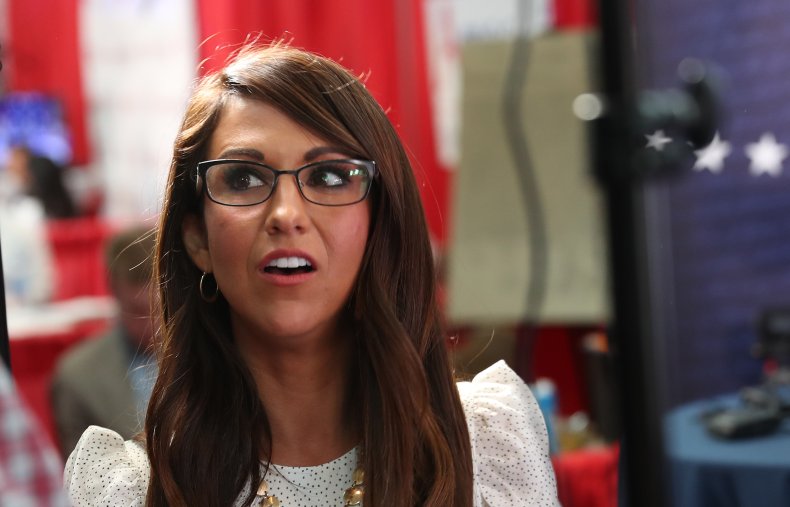 .