Rep. Lauren Boebert (R-Colo.) has slammed her Democratic colleagues in Congress for suggesting that she held a "reconnaissance tour" for rioters ahead of the January 6 Capitol insurrection, calling the allegations "disgusting" and "baseless."
Boebert, who was elected to the House in November, insisted that she was providing a tour for members of her family around the time of her swearing in ceremony on January 3 during a Wednesday night appearance on Fox News' Hannity. The congresswoman told host Sean Hannity that she was disgusted by evidence-free suggestions that she had been helping insurrectionists learn the layout of the building.
"This was my family, Sean, coming to celebrate this moment where I was being sworn in as a newly elected member of Congress," Boebert said. "This is absolutely disgusting. There has been... about 30 members of the Democratic party who signed onto a letter asking for an investigation of this so-called reconnaissance tour and there's not a shred of evidence."
Although dozens of Democrats, led by Rep. Mikie Sherrill of New Jersey, did sign onto a letter urging that the purported reconnaissance tours be investigated last week, far fewer have accused any of their GOP colleagues of taking part specifically. Boebert called out Rep. Steve Cohen (D-Tenn.) for naming her as the allegedly suspicious tour guide during her Hannity appearance.
"You have Representative Steve Cohen, who went on television saying that I was definitely part of this," she said. "[I was] bringing my family to our nation's Capitol to celebrate this moment with me and it's just absolutely disgusting and baseless. It just shows their hypocrisy on full display."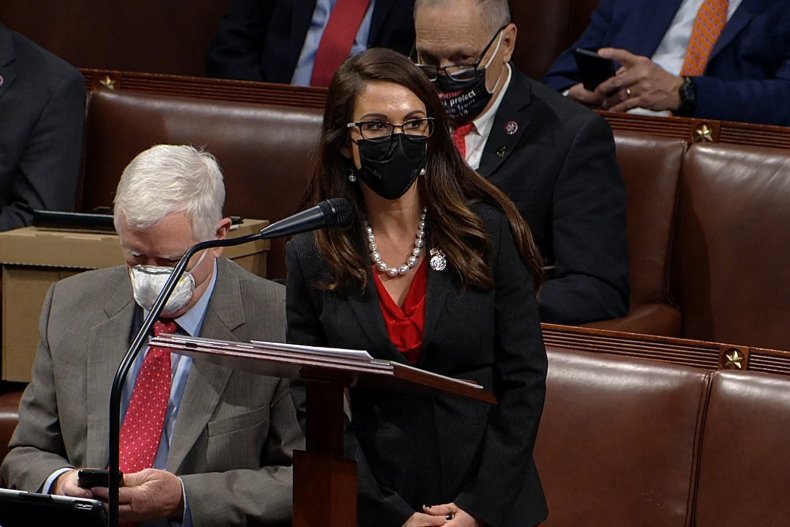 Although some Democrats have suggested that more than one of their GOP colleagues gave the alleged tours, Cohen identified only Boebert during an interview with CNN's Jim Sciutto on Monday. Cohen claimed that he and Rep. John Yarmuth (D-Ky.) had both seen Boebert with a large group in the days before the insurrection, an unusual sight due to the building generally being closed to tours amid the COVID-19 pandemic.
While Cohen specified that he did not recall seeing Boebert host anyone he recognized as known rioters and allowed for the possibility that she may have been touring friends or family after being freshly sworn into office, he suggested that she was not playing for "the home team."
"Congressman Yarmuth refreshed my recollection the other day," Cohen said. "We saw [Congresswoman] Boebert taking a group of people for a tour sometime after the 3rd and before the 6th, I don't remember the date... I'm confident who she was and she had a large group of people with her.... she might have had a large number of people with her on this historic occasion and just wanted to give them the opportunity to have a tour."
"But it's pretty clear that her team, she's not on the home team," he added. "She's with the visitors."
Boebert campaigned on a conservative platform that included fierce opposition to gun control and ardent support of former President Donald Trump. She is also known for having made comments that were favorable to the pro-Trump QAnon conspiracy theory prior to being elected.
Newsweek reached out to Cohen's office for comment.