Lauren Boebert Dismayed Americans Only Own 46 Percent of World's Firearms
Colorado Representative Lauren Boebert expressed concern on the House floor Wednesday over reports that Americans own 46 percent of the world's civilian firearms, saying "we need to get our numbers up."
Boebert, a Republican known for her staunch pro-gun stance, made the comment while condemning a new mandate by the Bureau of Alcohol, Tobacco, Firearms and Explosives (ATF) that went into effect Tuesday, requiring gun owners to register any firearms that use "stabilizing braces."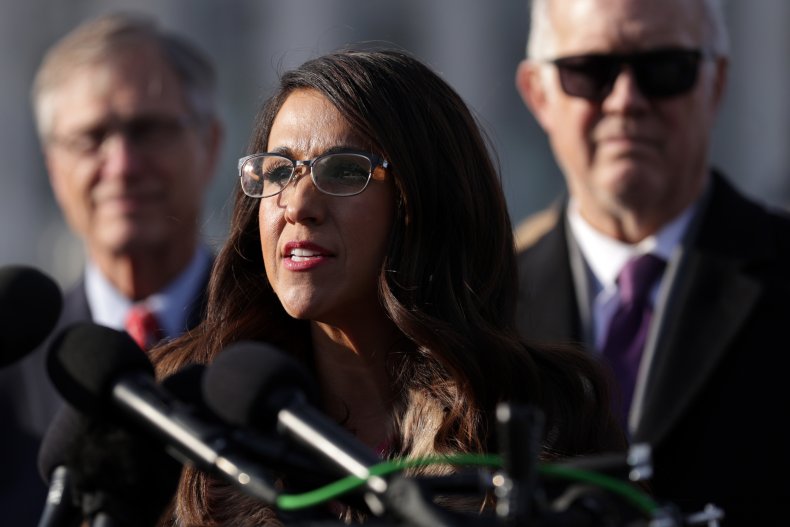 In her speech during a special order period on the House floor, Boebert accused the ATF of violating the separation of powers, saying the new rule "functions like a law that Congress never had."
"ATF. Alcohol, tobacco and firearms," the congresswoman continued. "In western Colorado, we call that a fun weekend. But D.C. bureaucrats have used this agency to infringe on the rights of the American people."
Boebert ended her critique of ATF's latest regulation by reiterating her belief that the "Second Amendment is absolute," and claimed that "gun-free zones are the most dangerous places in our country."
"A recent report states that Americans own 46 percent of the world's guns," Boebert added. "I think we need to get our numbers up, boys and girls."
While Boebert does not clarify the report to which she is referring, a study conducted by the Small Arms Survey in 2017 found that American citizens owned nearly 46 percent of the world's 857 million firearms held by civilians. The same study also concluded that for every 100 residents, there were about 120.5 firearms in the U.S.
According to the U.S. Census Bureau, Americans account for roughly 4 percent of the world's population.
The new ATF rule, titled "Factoring Criteria for Firearms with Attached 'Stabilizing Braces,'" clarifies when a rifle is "designed, made and intended to be fired from the shoulder." If a rifle falls under this category, it changes the outlines that gunowners must follow to carry such a firearm.
Under the new criteria, any weapon with a "stabilizing brace" or similar attachment and constitutes as a rifle under the new law must be registered within 120 days of the regulation's enactment.
Other gun-supporting politicians have also expressed dismay at the ATF's new ruling, including Florida Representative Matt Gaetz, who introduced a bill to eliminate the federal bureau after it had finalized its ruling on firearm braces.
Fox News reported on Tuesday that the ATF is facing legal challenges to its latest regulation, including a lawsuit filed by the Firearms Policy Coalition, which accused the ATF of attempting to "expand its authority."
On Thursday, Erik Longnecker, deputy chief of public affairs for the ATF, defended the new regulation in a statement to Newsweek.
"The Bureau of Alcohol, Tobacco, Firearms and Explosives is the lead federal law enforcement agency responsible for enforcing the National Firearms Act which requires the registration of short-barrel rifles," Longnecker wrote. "As such, it is ATF's duty to enforce those acts of Congress."
Update 2/2/23, 4:00 p.m. ET: This story has been updated with comment from the ATF.