The Texas Youth Summit, an annual conference for young conservatives, appeared to drop Representative Lauren Boebert from its flyers amid backlash over her behavior during a recent production of Beetlejuice.
Boebert, a Colorado Republican who has painted herself as a supporter of "family values," was removed from a September 10 production of Beetlejuice at the Buell Theatre in Denver for allegedly vaping, taking photographs with flash photography and fondling the man she attended the show with. Her behavior has drawn bipartisan backlash, with critics arguing the behavior was not appropriate for a sitting member of Congress and reflects hypocrisy over her stance opposing LGBTQ+ rights.
Amid the criticism over her actions, the Texas Youth Summit has appeared to backtrack on using Boebert's image to market their upcoming event scheduled for September 29 and 30 in The Woodlands, Texas.
Boebert was announced as a speaker in an Instagram post on Friday, with the conference organizers praising her as "a devout Christian who seeks to honor God in all that she does," according to Instagram posts first reported by MeidasTouch and Business Insider.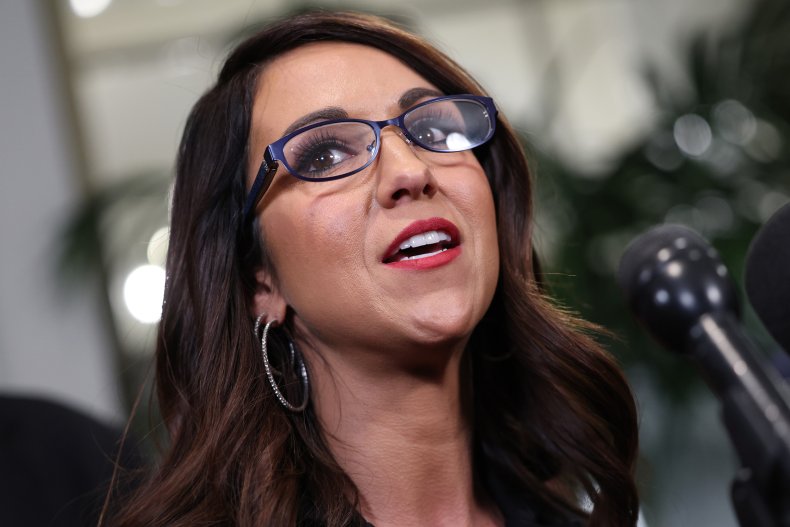 By Monday, however, that Instagram post had been deleted, and mention of Boebert was removed from the summit's website. The conference has not confirmed why Boebert was removed from the flyers, whether it be related to the latest controversy or another reason. It remained unclear whether she would ultimately attend the event.
Newsweek reached out to Boebert's office and the Texas Youth Summit for comment via email.
The Texas Youth Summit describes itself as an event on how conservatives can "counter the effects of the Left and begin to win back the hearts and minds of our nation's most precious resource: our future generations." Other headliners include conservative commentator Charlie Kirk, Congressman Byron Donalds, Donald Trump Jr. and Kimberly Guilfoyle.
The summit in years past used Boebert's attendance in its marketing. An August 14, 2022, Instagram post advertised that "the next 25 people who register" for the conference would get to meet Boebert at the 2022 event.
Over the weekend, Boebert has apologized over the incident, writing in a statement that the behavior "simply fell short of my values."
"The past few days have been difficult and humbling, and I'm truly sorry for the unwanted attention my Sunday evening in Denver has brought to the community. While none of my actions or words as a private citizen that night were intended to be malicious or meant to cause harm, the reality is they did and I regret that," she said.
The apology came after she initially denied reports that she was vaping during the performance. CCTV footage released from the theater appeared to show the alleged behavior. She said in her apology that she "genuinely did not recall vaping that evening."
Boebert's date has since been identified as Quinn Gallagher, a co-owner of Hooch Craft Cocktail Bar in Aspen, a venue that has posted LGBTQ+ events such as drag shows in the past. Boebert has notably spoken out against LGBTQ+ pride events, urging boycotts of the North Face over their campaign.