Lauren Boebert Faces Nightmare Bill in Her Home State
Colorado lawmakers are considering a Democrat-sponsored bill that would define the term "assault weapons" and ban their sales and ownership transfers, in the state in which Republican Representative Lauren Boebert has established herself as one of the most vocal gun advocates in the country.
House Bill (HB) 23-1230, also known as "Prohibit Assault Weapons in Colorado," was introduced by Democratic state Representative Elisabeth Epps of District 6 in Denver and state Senator Rhonda Fields of District 28 in Adams and Arapahoe counties.
The debate surrounding the bill stems from what can be considered an assault weapon. The bill's text would define an assault weapon as a "semi-automatic rifle" that uses detachable magazines and has one of a number of features including a pistol grip, a barrel stock, a threaded barrel and more.
Under the proposed measure, certain .50-caliber rifles, semi-automatic pistols and shotguns with revolving cylinders would also be banned. If the bill is passed by the House and Senate, people in Colorado would be banned from "manufacturing, importing, purchasing, selling, offering to sell, or transferring ownership of an assault weapon." Owners would be allowed to keep the firearms they already possess.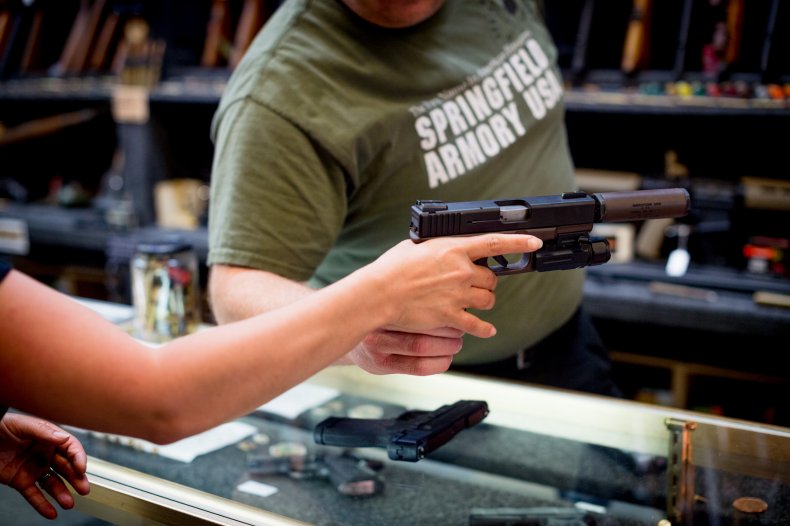 The bill would also prohibit a person from possessing a rapid-fire trigger activator. Any violation would be considered a class 2 misdemeanor, which under Colorado law is punishable by up to 120 days in jail and/or a fine of up to $750.
The introduction of the assault weapons ban bill has upset Colorado's gun advocates, including, of course, the National Rifle Association. The NRA's state association and the Colorado State Shooting Association reportedly shared an email with supporters before the introduction of the bill, calling the measure "tyrannical," according to CPR News. The NRA said it is ready to legally challenge the bill should it become law.
Boebert has been a vocal critic of assault bans. After the U.S. House passed a ban on assault weapons by a narrow 217-213 margin last summer, Boebert claimed that banning assault weapons in the U.S. would lead to Americans eating dogs like she claimed they do in Venezuela for lack of firearms to defend themselves "against a tyrannical government."
Last month, Boebert, along with fellow Republican Representatives George Santos of New York and Andrew S. Clyde of Georgia, introduced a bill that would declare the AR-15 assault-style rifle—a weapon that has come under the spotlight after being used in many recent mass shootings in the country—the "National Gun of the United States."
The ban would potentially be a major change for Colorado. The state is one of only a few that support the gun industry by providing liability protections for gun manufacturers and dealers, requiring those who file lawsuits to pay for the defendant's legal fees if the case is dismissed.
Lonnie and Sandy Phillips, an Aurora couple who, after being involved in a mass shooting at a movie theater where a gunman killed 12 people before his gun jammed, tried to sue the companies that sold the firearms used by the killer. Their case was dismissed by a Colorado judge who ruled that state and federal laws protect ammunition sellers from these types of lawsuits, and the Phillipses were left to pay more than $200,000 in legal fees, KMGH-TV in Denver reported. The couple said they believe the gun industry tried to make an example of them.
But there's a growing movement in Colorado—and across the country—asking for lawmakers to do more about addressing gun violence, as the state has been the site of several mass shootings in recent years. On Friday, as the bill was introduced by the two Democratic lawmakers, Denver high school students marched to the Colorado Capitol building to protest gun violence after a student was shot dead outside of the city's East High School last month, The Colorado Sun reported.
If passed, HB 1230 would go into effect once signed by Democratic Governor Jared Polis. Gun traders would have until July 1 to sell or transfer their unsold firearms to non-Colorado residents.
Newsweek emailed Boebert's, Epps' and Fields' teams with a request for comment.