Lauren Boebert in Precarious Position as Final Votes May Sway Election
As Colorado heads into its final day of ballot counting, one of the state's eight districts remains undecided: the unexpectedly tight race between Republican Representative Lauren Boebert and her Democratic challenger Adam Frisch.
Wednesday marks the final day to cure ballots, meaning it's the last chance for voters to fix any issues related to missing signatures or copies of identification, according to the Colorado Secretary of State's office.
Although the other seven districts have already been called—Republicans held two seats, while Democrats held three and won the competitive, newly-drawn 8th district—a return to Congress remains uncertain for Boebert.
The race between the conservative firebrand and Frisch is currently separated by 1,122 votes, with Boebert leading by 0.35 percent. It's the tightest race of the remaining uncalled House races at this time.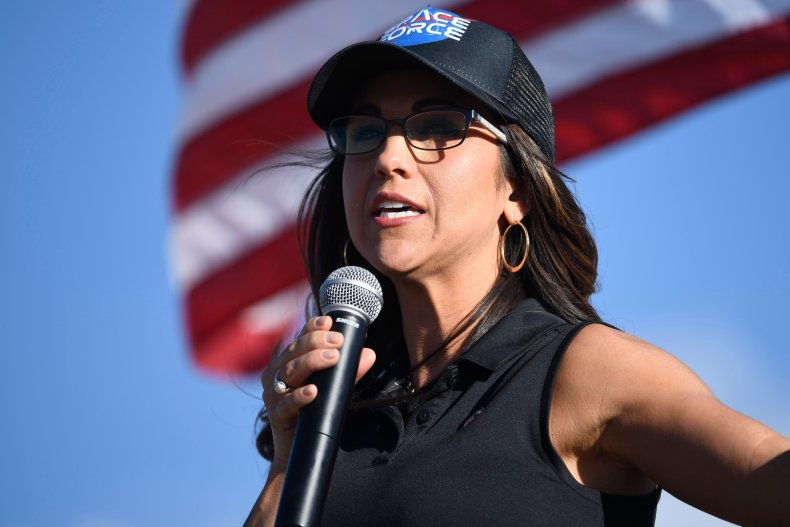 Because Colorado law requires a recount for any contest where the gap between the final two candidates is 0.5 percent or less, Colorado's 3rd district is likely headed for another round of tallying unless Boebert can break the threshold.
Of the four counties where there is still more than two percent of votes to be counted—and thus where either candidate is most likely to see a bump—Frisch is leading by an overwhelming margin in three. In Eagle, Pitkin, and San Juan County, the Democrat leads with 71.7 percent, 79.2 percent and 79.5 percent of the vote, respectively.
Boebert is leading in one county where a larger portion of ballots is still being tabulated: Otero County, with 58.7 percent of the vote.
The contest has been one of the biggest surprises in the midterm election. The district is not only a Republican stronghold, but Boebert has become a national GOP star since being first elected four years ago. FiveThirtyEight had projected her with a 97 in 100 chance of winning re-election.
Experts told Newsweek that the vote is largely a referendum on the congresswoman, who "has managed to alienate a number of unaffiliated voters and possibly some Republicans in her district," according to Seth Masket, the director of the Center of American Politics at the University of Denver.
While Frisch had led in the early vote counts, Boebert overtook her opponent with a razor-thin edge last Thursday.
On Wednesday, Frisch thanked his staff for helping his campaign "beat expectations" while the final votes were being counted.
"Waiting this long for election results is going to make firing Nancy Pelosi as Speaker of the House that much sweeter," Boebert tweeted on Monday.
Under the calendar outlined by Colorado's Secretary of State, December 13 will be the final day to complete a mandatory recount and December 15 will be the final day to complete a requested recount.