Lauren Boebert Suggests God Behind Her Success: 'A Sign to the Unbeliever'
Colorado Representative Lauren Boebert suggested that God was behind her political success in an interview with radio host Eric Metaxas, saying that "it was a sign and a wonder to the unbeliever."
Speaking to Boebert in Friday's interview, Metaxas said: "You were just talking about the idea of God calling you to run for Congress."
"If someone doesn't believe in the God that we know personally, they just think that is loony stuff.
"You know that you are not making this up, this was not an ambition of yours when you were little, this is just something you had fallen into.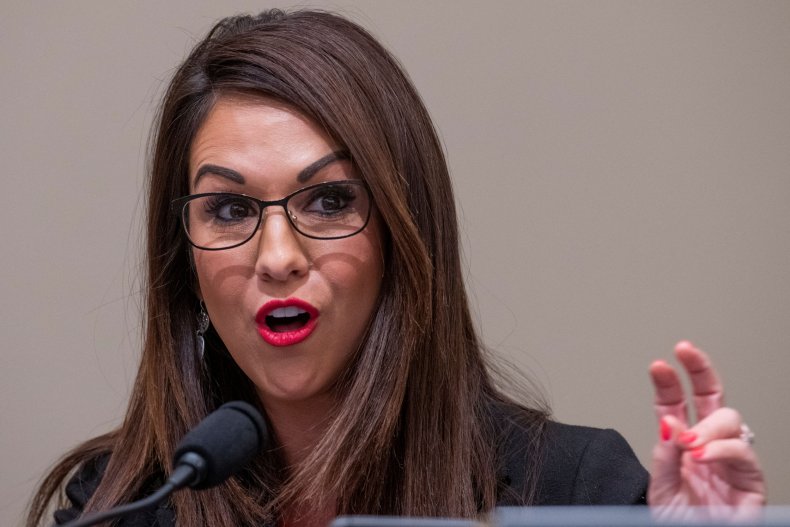 "But it does seem that it is God and it seems like you are triggering your opponents particularly well, it is a joy to see."
Boebert responded by highlighting that she did not have a conventional route into politics.
"It is absolutely a sign and a wonder to the unbeliever. I wasn't supposed to win this seat.
"I didn't have the money, I didn't have the name recognition, I didn't have the education, I didn't work my way up the political ranks.
"I took out a five-term incumbent. That was the first time in 48 years that an incumbent had lost a primary in Colorado.
"This was absolutely a sign and a wonder to the unbeliever and even to myself."
Newsweek has contacted Lauren Boebert for comment.
Boebert saw criticism recently for attempting to use Jesus in her pro-gun argument while speaking at an event organized by Charis Christian Center on June 11.
"[Twitter trolls] like to say: 'Oh, Jesus didn't need an AR-15. How many AR-15s do you think Jesus would have had?' Well, he didn't have enough to keep his government from killing him," Boebert said in a clip that has since gone viral.
Many accused Boebert of not understanding Bible scripture correctly.
"Jesus voluntarily being killed was pretty important to the whole deal, Lauren," wrote Washington Examiner's deputy editor Grant Addison.
"With that, one of Jesus' companions reached for his sword but Jesus said to him, 'Put your sword in its place, for all who take the sword will perish by the sword," Matthew 26:51-52," journalist Ashton Pittman tweeted, quoting a Bible verse.
He added: Lauren Boebert doesn't understand the Christian Gospels. At all. A pretender, that's all."
"This is a woman who has not read the Scriptures," wrote NBC News analyst Claire McCaskill.