Lauren Boebert, Matt Gaetz Sit and Smirk as Zelensky Calls for U.S. Unity
Republican U.S. Representatives Matt Gaetz and Lauren Boebert refused to applaud or stand for Ukrainian President Volodymyr Zelensky during his in-person address to Congress.
The Ukrainian president received a standing ovation from an overwhelming majority of lawmakers when he entered the House chamber on Wednesday night. Boebert and Gaetz were among the few who did not applaud Zelensky as he made his way to the podium, according to a tweet from Punchbowl News founder Jake Sherman.
Zelensky said that Ukraine was "alive and kicking," thanked the American people for their support and urged unity during the speech. His visit to Washington came as a $1.7 trillion omnibus spending bill, which includes $45 billion in aid to Ukraine, was making its way through Congress.
Boebert and Gaetz, who both oppose additional aid to Ukraine and have called for investigations into previous aid, were also spotted apparently scrolling through their phones as Zelensky delivered his speech.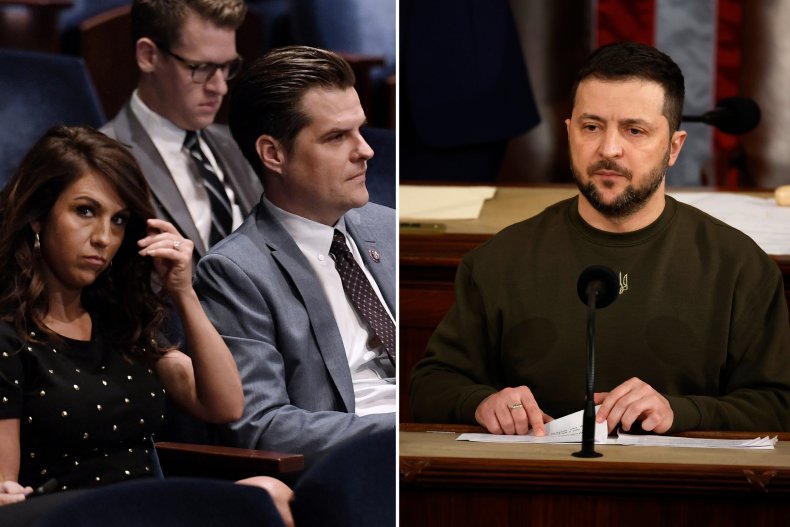 Although Zelensky received a standing ovation while describing U.S. aid to Ukraine as an "investment in global security and democracy" that is handled "in the most responsible way," Boebert and Gaetz remained seated. Gaetz appeared to briefly smile or smirk during the ovation.
When asked for comment on the apparent lack of enthusiasm, Gaetz's office pointed Newsweek to a statement that the congressman shared to Twitter shortly after the speech.
"President Zelenskyy should be commended for putting his country first, but American politicians who indulge his requests are unwilling to do the same for ours," Gaetz said. "He did not change my stance on suspending aid for Ukraine and investigating fraud in transfers already made."
Newsweek has reached out to the office of Boebert for comment.
Boebert and Gaetz faced a significant amount of backlash on social media for their behavior during the speech.
"These classless individuals are a stain on the institution of Congress," tweeted author Nina Jankowicz, former head of the Department of Homeland Security's short-lived Disinformation Governance Board. "Yesterday, Zelenskyy stood meters from Russian rocket fire, but today, Boebert and Gaetz couldn't be bothered to stand up to applaud him."
"During this stirring, historic and masterful address by Zelensky, Matt Gaetz and Lauren Boebert sat on their hands," American Enterprise Institute Emeritus scholar Norman Ornstein tweeted. "Nauseating."
"Lauren Boebert and Matt Gaetz are an embarrassment," tweeted political commentator Meghan McCain. "Have some respect for the man who stands in front of you and get off your phones."
While they refused for most of the address, Gaetz and Boebert did rise and clap as Zelensky ended his speech, according to Los Angeles Times congressional reporter Nolan McCaskill.
Prior to Zelensky's speech, the Ukrainian president visited President Joe Biden at the White House. His choice to wear military fatigues instead of a suit prompted heavy criticism from some on the political right, including opinions that he had displayed a lack of "respect."
Earlier in the day, conservative outrage focused on Zelensky's appeals for military aid, with Donald Trump Jr. being among those accusing him of being a "welfare queen."
A small number of other hard-right Republican lawmakers who oppose aid to Ukraine, such as Representative Marjorie Taylor Greene and Senator Josh Hawley, were not present during Zelensky's address to Congress, according to Wall Street Journal congressional correspondent Lindsay Wise.