Representative Lauren Boebert, who is already facing an unexpected uphill battle for re-election, may be risking her chances at a third term by leading the House Republican's efforts to impeach President Joe Biden.
Boebert has been one of the most vocal supporters of a Biden impeachment, introducing resolutions against the president before an inquiry was announced Tuesday and even sparring with Representative Marjorie Taylor Greene over who made the push first.
The Colorado Republican is also running for a third term in the 2024 election and although the 3rd congressional district has long been a GOP stronghold, a challenge from Democrat Adam Frisch almost caused a political upset last year. Winning by a margin of 546 votes, Boebert's race was the closest U.S. House race of the midterms.
"As her last election demonstrated, I believe she is sitting on a razor's edge," veteran Republican strategist Alex Patton told Newsweek. "A push for a bogus impeachment while getting escorted out of Beetlejuice will just amplify the caricature she has become."
Over the weekend, Boebert was escorted out of a "Beetlejuice" musical performance in Denver after other attendees complained about her taking photos of the show and other disruptive behavior. Boebert's campaign previously confirmed the incident to Newsweek and the congresswoman "strongly encouraged" people to go see the show.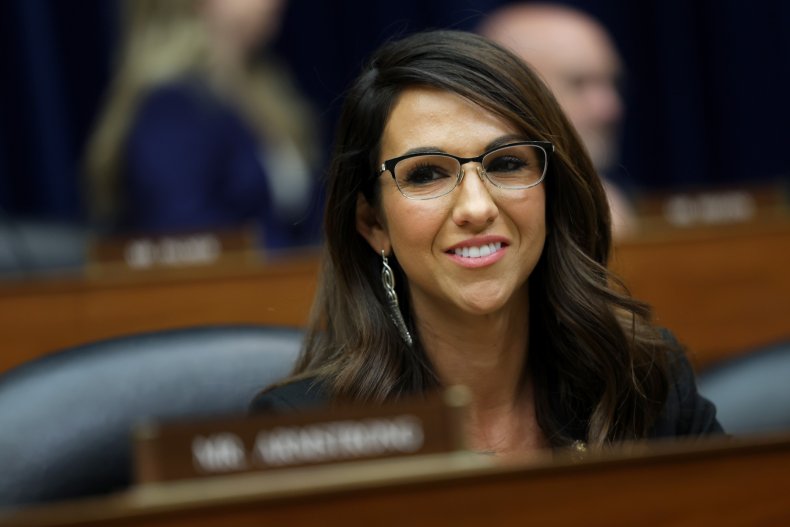 Patton said Boebert's efforts to impeach Biden would likely give her a fundraising bump, which could be welcome news since Frisch has continued to outraise Boebert nearly 3-to-1. But Patton warned, "at some point, if the voters of CO decide enough is enough no amount of money can save her."
Greg Brophy, a former Colorado state senator who described himself as a longtime friend of Boebert, also told Politico that Boebert may risk losing the support of independent voters in her district if she becomes the face of the Biden impeachment.
"I don't think that leading the upcoming fight of impeachment of Joe Biden is overly beneficial to swaying those people that were center-right and center-left voters for Scott Tipton," Brophy said. Boebert defeated Tipton, the incumbent congressman, in the 2020 primaries in what was considered a massive upset.
Early polling shows those centrist voters are going to be crucial to the race in Colorado. Even though the district has an eight-point Republican registration advantage, a survey released last month showed Frisch, who is running to unseat Boebert again, with a two-point lead in a hypothetical 2024 rematch. Frisch's edge was largely driven by support from independent voters, who the Democrat had a 17-point advantage from over Boebert.
But other experts say leading a Biden impeachment may have no detrimental impacts on Boebert's re-election effort and that ultimately, it will come down to voter turnout and whether or not the MAGA darling can get enough of her supporters to show up at the polls.
GOP political consultant Matt Klink told Newsweek neither voters who like or dislike Boebert would be surprised by her position on impeachment.
"Her race will likely be close but her positions are 'backed in' and she has and will remain critical of a Biden Administration," Klink said. "Congresswoman Boebert's re-election will hinge more on national issues like whether Trump is on the ballot and voter turnout."
Craig Agranoff, a professor specializing in political campaigning at Florida Atlantic University, agreed.
"The support for Lauren Lauren Boebert is pretty baked in. People that like her are going to like her and the people that do not are going to vote against her, so this one is just a question of turnout," Agranoff told Newsweek. "She's not persuading anyone at this point."